This bye week mailbag starts off with a long answer. I'd apologize for that, but it would be insincere. The question was a valid one and I understand the thinking. That is why I took the time to dissuade it outright.
"One question I've been toying with in my head is, if we run the table, do I want us to make the playoff? I think we'd have the résumé for it, particularly given the back half of our schedule, but I'm worried the one-point loss to a potentially really good Georgia team is kind of obscuring the fact that we got Jake Fromm in his first start and honestly he played pretty poorly. I still don't think we're really playoff caliber.
I'd like to see us get to a winnable bowl that sets the table for next season."
— "Marcus"
I've known Marcus for nine years. And no, his name isn't Marcus. I look forward to him trying to figure out why I used that pseudonym. I'll give only one clue: It has nothing to do with "The Matrix." That's a movie, and this is life we're wasting here.
In nearly a decade, this may be the first time I have ever thought Marcus was 100 percent wrong. He has taught me much, led me toward both vice and virtue, even paid me a few compliments over the years. But here, he's off-base. Then again, he probably was with those kind words, too.
Aside from getting ahead of yourself — it's only natural during the bye week, and it isn't even beyond comprehension considering fivethirtyeight.com gives Notre Dame an 11 percent chance of finishing 11-1 — and not questioning your assessment of the Georgia game, you want to make the playoff. Yes, Alabama and Clemson appear to be better than everybody else. The other two playoff entrants will likely leave with nothing but the wrong end of a rout on national television.
But what if? Sometimes it takes just one bounce.
Basketball and football are very different games, but when it comes to the performances of 18- to 22-year-olds, some things translate. If you talk to many college basketball coaches, their goal is not a national championship. Rather, they aim to make a Final Four in their career. At that point, they know one bounce could change the entire weekend.
One deflected pass could lead to a 14-point swing. Perhaps at that point, a still-proving-himself quarterback (Clemson's Kelly Bryant) doubts himself and makes another mistake before getting his head on straight. Suddenly, a defense has more moxie than anticipated and that New Year's Day hangover you are nursing goes out the window as you realize "What if" might have some validity.
That is not an outlandish scenario. Is it less likely than a 42-14 beatdown? Yes, much less likely, but it is not beyond feasibility.
Furthermore, bowl game wins are overrated. They do not offer as much momentum as fans like to think. The biggest perk, a few weeks of added practice time, comes in both victory and defeat.
Consider Notre Dame entering the 2009 season. The previous Christmas Eve, the Irish routed Hawaii 49-21 in the aptly-named Hawaii Bowl. Led by Jimmy Clausen (22-of-26 passing for 401 yards and five touchdowns) and Golden Tate (six catches for 177 yards and three scores), that was supposed to mark the arrival of a long-awaited offensive explosion no collegiate defense could stop. Instead, Notre Dame went 6-6 in 2009, leading to Charlie Weis' dismissal.
Just this past bowl season, LSU beat then-No. 13 Louisville (and Heisman-winner Lamar Jackson) 29-9 in the Citrus Bowl, Tennessee finished a hectic season with a 38-24 victory over Nebraska in the Music City Bowl, and Boston College notched a postseason victory for head coach Steve Addazio, slipping past Maryland 36-30 in the Quick Lane Bowl.
LSU lost to Troy two weeks ago. Volunteers head coach Butch Davis is firmly on a hot seat after starting this season 3-2 — one of those victories came in overtime against Georgia Tech while another was by only four points at home against Massachusetts. Addazio's job is also in jeopardy thanks to a 2-4 beginning to his fifth season with the Eagles.
For an even more distinct example of bowl games not setting a tone for the coming season, take a look at Washington State the last two years. The Cougars finished 2015 with a 20-14 victory over Miami in the Sun Bowl. It was supposed to mark the turning point in the rise of Mike Leach's program. Instead, Washington State started last season 0-2 before winning eight straight to seemingly put those struggles in the rearview mirror. That momentum did not last long. The Cougars lost their final three last season, including a 17-12 defeat to tumult-plagued Minnesota in the Holiday Bowl.
How did that that dismal end to the season set the table for this year? Washington State is currently 6-0 and No. 8 in the AP top 25. If you put off reading this until Saturday, the Cougars are probably now 7-0 thanks to a matchup at Cal late Friday.
Bowl games make December tolerable and provide an excuse for fans to slip off to a southern clime for a few days. They inevitably produce fluke outcomes and comical conclusions. They do not provide or destroy any momentum for a season beginning nine months later.
"Do you think there is credence to the term good teams win, but great teams cover?"
— @IRISH_GL
To an extent. This next sentence is not meant to say Notre Dame is a great team, because the Irish aren't.
Great teams do what Notre Dame did against Miami (OH). This space's first sentence after that 52-19 victory, in fact, was, "The Irish did what good teams do, they blew out their opponent."
That does not need to be the case every time. Great teams also find a way to win in close games. The last few years, Notre Dame has lacked in both categories. Notching five lopsided victories in the season's first half speaks to developing one of those characteristics. The one-point loss to Georgia shows the other is still lacking, though more chances to prove otherwise will undoubtedly come in the next six weeks.
As for the general concept, spreads in expected blowouts attempt to factor in one fluke, be it a turnover, a garbage time touchdown or a broken tackle leading to an unlikely score. Covering a spread of three touchdowns or more means none of those things happened, a sure sign of a focused and disciplined team.
Great teams are focused and disciplined. Thus, great teams tend to cover.
"Odds we come out in the green jerseys against USC?"
— @pe11iott
You had my attention by opening with that delightful four-letter word. Considering this year is the 40th anniversary of the first time the green jerseys were used, and considering that occasion was indeed against the Trojans, let's knock the odds down by half from 40-to-1 to 20-to-1.
"Biggest positive and negative surprise of this year's football team?"
— @PrinceLeo103
The positive is easy: the defensive line. In retrospect, the world should have listened to Irish coach Brian Kelly, to defensive coordinator Mike Elko and even to fifth-year left tackle Mike McGlinchey. They all said Notre Dame's defensive line was pretty good. No one, yours truly included, took them at their word.
The Irish defensive line is pretty good.
The negative is also easy: The ineffectiveness of the Irish passing game to date does not bode well for some of the challenges coming in the second half of the season. By no means was junior quarterback Brandon Wimbush expected to challenge records or the Irish receivers thought to be potential All-Americans, but a certain degree of potency was a reasonable prediction. Clearly, that has not yet been the case.
Notre Dame will need that to change if it wants to manage much offense against North Carolina State and Miami.
On that note …
"Are the problems with the passing game more of a reflection of the play calling, the QB, the receivers not getting separation or a combination of any of them? From my couch, it appears the issue is a combination of the QB and play calling. The play calling Saturday gave the QB a lot of easy reads, but in other games that has not been the case. If the QB is struggling, and we all agree he is, than why not give him easy reads and simplify things?"
— codenamegee
All of the above.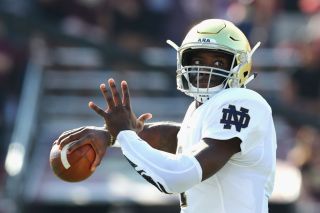 Why not give Wimbush easier reads? It is not necessarily that simple. Wimbush is most-dangerous when the defense fears both his arm and his legs, but he has not shown much accuracy while on the move, unlike sophomore Ian Book. Thus, to set up Wimbush for success in the passing game, calling plays keeping him in the pocket makes more sense. The flipside of that is in those situations, the defensive backs and linebackers can focus more on coverage, no longer worrying as much about Wimbush breaking off on his own to gain the first down.
The Irish receivers have not made Wimbush's job any easier. Sophomore Chase Claypool's increased involvement in the passing game should help with that in a few ways. Not only does he provide Wimbush a big, sure-handed threat on the sideline, but he also draws a bit of the coverage away from junior Equanimeous St. Brown.
St. Brown's slow start to the season is the most startling of all the receivers' struggles. At some point, one has to think he will break loose, assuming he is completely healthy. At that point, it may be akin to a basketball player making a layup. Seeing the ball go through the rim gives the shooter enough confidence to make a three-pointer on the next trip down. If St. Brown can break just one six-yard slant for a 45-yard touchdown, he may start approaching defenders with the expectation of making them miss rather than simply holding onto the ball.
"I'd like to see a comparison of Wimbush to date compared to other first-year starting quarterbacks with five games under their belts. I think he will compare well, exceeding in some areas but behind in others."
— glowplugv
That selection of quarterbacks could be skewed any which way. At some point or another, every quarterback fit the description in the beginning of their careers and common sense will quickly tell which ones were successful from the outset and which ones were not. USC's Sam Darnold and Miami (OH)'s Gus Ragland both started their careers with winning streaks in excess of five games. Their statistics reflect that.
Instead, let's acknowledge the coincidence of Notre Dame thus far facing five first-year starting quarterbacks (the exception being Ragland), and take a look at their numbers.
Wimbush in five games: 52.3 percent completions, six touchdowns, two interceptions, 782 yards, 5.92 yards per attempt.
Temple's Logan Marchi in six games: 53.9 percent completions, eight touchdowns, seven interceptions, 1,302 yards, 6.82 yards per attempt.
Georgia's Jake Fromm in six games: 60.0 percent completions, 10 touchdowns, two interceptions, 836 yards, 8.80 yards per attempt.
Boston College's Anthony Brown in six games: 53.1 percent completions, six touchdowns, seven interceptions, 909 yards, 4.73 yards per attempt.
Michigan State's Brian Lewerke in five games: 61.3 percent completions, nine touchdowns, two interceptions, 1,057 yards, 6.82 yards per attempt.
North Carolina's Chazz Surratt in six games: 58.8 percent completions, six touchdowns, three interceptions, 1,167 yards, 6.86 yards per attempt.
"Any predictions for players who have flown under the radar so far this year but end up with a big second half of the season? I'm not sure any of the RBs can even qualify anymore, but maybe a Boykin, Studstill or Cam Smith?"
— jimharbaughcanbeunpleasant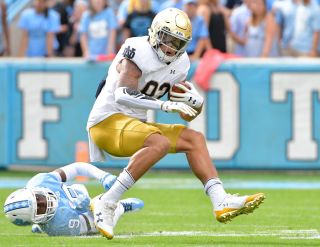 Let's start with Claypool. He has 12 catches for 144 yards and one touchdown this season. Nine of those catches, 120 of those yards and that score have come in the last three games.
Then let's go to junior receiver Miles Boykin. All four of his catches for 84 yards and a score have come in the last three games.
Lastly, let's include junior defensive tackle Jerry Tillery. He has performed excellently thus far this season, but he has also flown under the radar in doing so. Well, as much under the radar as one can while making 27 tackles with three sacks and 1.5 more tackles for loss and a forced fumble. In fact, let's go ahead and boldly declare Tillery will record his first multi-sack game of his career in eight days against USC.
"How many carries do you see CJ Holmes getting per game the rest of the season? I realize it was garbage time against a terrible defense, but I think he showed great poise and patience running the ball."
— ripvanroo2
This is entirely dependent on running backs' health. Notre Dame will defer to juniors Josh Adams and Dexter Williams every step of the way in the high-profile matchups to come, bringing in sophomore Tony Jones anytime a multiple-back formation is desired. But, those three will need to be healthy, and thus far, they have had four troublesome ankles among them.
If those ankles hold up, and the coming games are as competitive as expected, don't look for Holmes to garner many carries. Do look for him to make a few tackles on special teams.
 "A few weeks ago, in response to Brian Kelly's arguably rude response to a reporter's question following the Georgia loss, ESPN's Paul Finebaum went on a rant about Kelly being a bad coach, a jerk and on his way out at Notre Dame. The comments felt more like a reflection of a preexisting dislike for Kelly (or ND?) than professional commentary. Is there some backstory to Finebaum/SEC and Kelly/Notre Dame?"
— cbhoov144
The sensitive among Irish fans will insist I give Finebaum too much credit here. Oh well.
Paul Finebaum knows his audience. It is that simple. He rose to prominence by catering to SEC fans. There is no reason for him to stop now. That means any non-SEC school is wrong in all regards. Notre Dame isn't in the SEC. Thus, Kelly is always wrong in Finebaum's eyes.
The Irish outrage is only frosting on Finebaum's cake. In today's debate culture, many will tune in looking to be upset. To ESPN, the tuning in is what matters.
"Does Doug Flutie have a chip on his shoulder about being rejected by Notre Dame during his recruiting? Seems like it sometimes."
— oxnardpat
Every Saturday morning, I reorder my columns in Tweetdeck to make any tweets directed to the @NDonNBC account show up on the edge of my computer screen. Five of six weekends this year, those tweets have been filled with anger at the announcers. Note: Only three Notre Dame games have been on an NBC channel thus far. Either no one tuned in to watch the Irish top North Carolina on ABC this past weekend, or everyone was okay with the commentary provided by play-by-play announcer Bob Wischusen and color analyst Brock Huard.
The point is, your dislike of Flutie fits in line with no announcer being liked by any audience, no matter the network. (Wischusen and Huard being the apparent exceptions.) Flutie very well might not be the greatest color commentator in the world, but that is not because he has any ill will toward Notre Dame. He is simply doing his job, and that job does not include flattering the Irish.
[protected-iframe id="4322d87b3e2eb4d11caa19723fa3b36c-15933026-22035394" info="//platform.twitter.com/widgets.js" class="twitter-follow-button"]