It may be a common exercise, but that is because it is a logical one. What fun are season-long predictions if not checked on throughout the fall? For that matter, a time will come to tally results and either offer self-congratulatory praise or quietly hang a head in shame. If nothing else, this update can remind Notre Dame fans of more specific expectations from a time when it was presumed the Irish would lean on the passing game and have a suspect defensive line.
That feels like a long time ago now, doesn't it?
If wanting a thorough refresher of this space's 40 predictions from mid-August: Friday at 4: 40 Predictions. For now, a look at ones already having occurred, somewhat in progress or already ruled out.
1) Campus Crossroads will receive positive reviews. — Deeming this as correct, as arbitrary as that may be.
2) Campus Crossroads will become an afterthought. — This reality is why No. 1 is correct. Thus, this is, as well.
3) Videos recognizing the 1977 national championship team will be a good use of the new video board. — Hasn't happened just yet, though there are four more home games for such.
4) Fans will initially balk at pre- and post-game shows on the video board. — I never heard anyone gripe about those, so if we're being honest here, perhaps this is a miss.
5) Those shows will be considered background noise before long. — A strict grader may argue this cannot be accurate if the shows were never in poor standing to start with, but since when does anyone grade their own paper by the letter?
8) No one has discussed the NFL with the junior trio of running back Josh Adams, receiver Equanimeous St. Brown or tight end Alizé Mack, so none have made the mistake of rashly declaring they'll return for their senior year. At this point, only Adams seems like an option to turn pro, lowering the odds on this prognostication entirely.
11) DeShone Kizer will throw more touchdown passes than Malik Zaire. — Kizer threw three touchdowns in the season's first five games before being cast to the bench last weekend. Even if he does not return to the field, he should hold off Zaire, currently with zero and little chance of much playing time at Florida.
12) Kizer will have more turnovers than Zaire. — Another gimme. Kizer has thrown nine interceptions and lost one fumble. Due to his lack of significant playing time, Zaire has only one turnover, a fumble lost in the season opener against Michigan.
13) Chase Claypool will lead Notre Dame in special teams tackles. — Claypool has just one tackle on the season. The odds do not look good for this prediction.
14) Claypool will have more receptions than tackles, unlike last year. — Thanks to that sole tackle, this looks like a lock. The sophomore receiver has 12 catches through six games.
15) Justin Yoon will set the Irish career field goal percentage record. — The junior kicker needs to make two of his next six attempts to achieve this. Presuming he does better than that in his next half dozen, it would take quite the cold streak to set him back far enough to fall behind John Carney's 73.9 percent.
16) Special teams will win Notre Dame at least one game. — Not yet, and given their performance thus far, somewhat unlikely.
17) Cam Smith will have the second-most catches. — St. Brown actually holds that distinction at the moment with 15, curious as that may be.
18) Mack will have the second-most receiving yards. — So far, so good. Mack's 154 edge Claypool's 144 while trailing St. Brown's 211.
19) St. Brown will lead in catches, yards and touchdowns. — It seems entirely reasonable to think the junior receiver will outpace Mack by at least two receptions in the season's second half, giving this prediction a strong chance of accuracy.
20) Tony Jones will rush for the second-most yards, behind Adams. — Brandon Wimbush probably has this locked up.
21) Adams will rush for between 1,174 and 1,274 yards. — He already has 776 on only 86 carries. That ambitious initial math is certainly the low-end of his range by now. Hard to believe, considering the figuring was a 21 percent increase over last year's rushing total prorated to 13 games. By no means would that have been a disappointment for Notre Dame.
22) Dexter Williams will finish with the fourth-most rushing yards. — This did not expect Deon McIntosh to be one of the three ahead of Williams, but that does not make the two-month-old prediction any less accurate, just less precise.
23) Wimbush will rush for more yards than Williams. — Not quite a lock already, but close to it (450 to 214).
24) The Irish offense will average between 34.9 and 36.4 points per game. — Through six games, Notre Dame is averaging 40.0 points per game. If it averages between 29.8 and 33.0 points per game in the second half of the season, then bullseye. Considering North Carolina State (No. 49 in scoring defense), Miami (No. 17), Wake Forest (No. 14) and Stanford (No. 55) all await, a drop in scoring seems rather likely.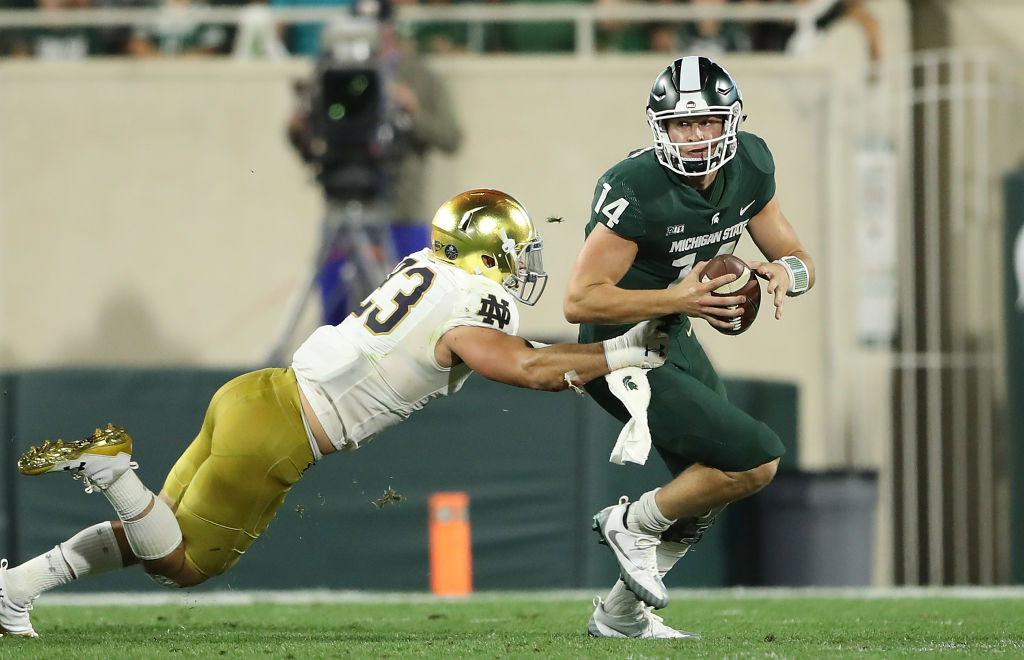 25) Nyles Morgan will tally the most tackles. — His current lead of two more than Te'von Coney seems safe, but it is far closer than was anticipated.
26) Drue Tranquill will make more "big" plays than Morgan. — Tranquill has 4.5 tackles for loss, including a sack, as well as an interception, two forced fumbles and a fumble recovery. Give him that nod.
27) The Irish defense will record between 25 and 29 sacks. — With 13 to date, this looks eerily prescient.
28) It will also force between 25 and 29 tackles. — Again, with 14 to date, this scribe just might look smart.
29) Notre Dame will give up between 23.6 and 25.1 points per game. — That would have been a distinct improvement over last year's 27.8. To date, the improvement has been much greater than that. The Irish have allowed only 16.5 points per game, highlighted by the 10 at North Carolina last weekend. How extreme of an improvement is that? If Notre Dame allows 33.7 points in the second half of the season, the 2017 average would be that mark of 25.1 points per game. Even with all of North Carolina State, Miami, Navy and Stanford in the country's top 40 in points per game, more than doubling the points allowed per week seems a rash projection.
30) The Irish will exceed the win total over/under of 8.5. — Currently at five with six to go, 4-2 will be needed for this to count as correct.
32) Some unders in win totals: South Carolina under five, currently with four; Georgia Tech under six, currently with three; Wake Forest under 5.5, currently with four; Stanford under nine, currently with four; and LSU under nine, currently with four. To be clear, if three of these are correct, it would be considered a success by a career gambler, and thus will be considered a success in these parts.
33) Some overs in win totals: North Carolina State over 7.5, currently with five; Ohio State over 10.5, currently with five; Rutgers over three, currently with one; Arizona over 4.5, currently with three; and Oregon over 7.5, currently with four.
34) Notre Dame will first reach the top 25 after beating Georgia. — Well, that was wrong on two fronts.
35) Four Irish opponents will finish the season ranked. — Currently, seven are in the top 25. Attrition may narrow that focus, but probably not by half. Then again, if seven are ranked, doesn't that mean four are? Again, it's accurate … just not precise.
36) Those four opponents will not be the same as at the beginning of the season. — This might be generously counted as accurate if any of Georgia, Miami (FL), USC or Stanford fall out of the top-25. Clearly, the Cardinal is the best bet in that regard.
37) Notre Dame will remain in the top 25 for the remainder of the season. — As soon as No. 34 was wrong, this was, too.
38) The Irish will finish between Nos. 13 and 18 in the polls. — At No. 16 in the Associated Press and No. 19 in the Coaches, a 4-2 finish might be enough for that range.
40) At least 15 of these guesses will be wrong. — A loose counting of those gauged here puts 14 at either already or likely correct and 10 at either already or likely incorrect. That pace would expect at least six more to miss.
---
While we're here, let's add four quick predictions for the second half of the season:
— Notre Dame will beat USC but lose to North Carolina State.
— The Irish will then blow out Wake Forest, becoming the first team to do so this year.
— A week later, Notre Dame junior cornerback Shaun Crawford will spend all night mirroring Miami receiver Braxton Berrios. This will be one of the first times, if not thee first time, the 5-foot-9, 176-pound Crawford matches up physically with an opponent, as Berrios is listed at 5-foot-9 and 186 pounds. It will also be one of Crawford's tougher assignments this year.
Yes, this is implying the Irish vs. Hurricanes tilt will be in primetime even though Nov. 11 is a day filled with tantalizing top-25 games. Georgia at Auburn, TCU at Oklahoma and Michigan State at Ohio State also fill that Saturday slate, not to mention Florida State at Clemson, Iowa at Wisconsin, Washington State at Utah and Virginia Tech at Georgia Tech.
— Adams will finish the regular season with between 1,347 and 1,447 rushing yards. The Notre Dame single-season record, set by Vagas Ferguson in 1979, is 1,437. Bowl games are now counted in those pursuits, so Adams should set the record easily in a 13th game, if need be.
[protected-iframe id="4322d87b3e2eb4d11caa19723fa3b36c-15933026-22035394" info="//platform.twitter.com/widgets.js" class="twitter-follow-button"]