One of the three heretofore remaining undefeated opponents on Notre Dame's schedule fell this weekend, largely due to its own mistakes. All in all, Irish opponents went 7-4 but are expected to go 3-5 this coming weekend, not counting Notre Dame's matchup with USC.
Temple (3-4): The Owls were favored by 9.5 points, but gifted a 28-24 win to Connecticut. Two separate Temple turnovers provided half of the Huskies scoring. A fumble set up a two-play, nine-yard Connecticut touchdown drive, and an interception courtesy of Owls junior quarterback Logan Marchi was returned for a touchdown. Interceptions continue to plague Marchi's debut campaign as a starter. He has now thrown nine in the last four games.
If he can avoid such a mistake at Army this weekend (12 p.m. ET, CBS Sports Network), perhaps Temple can overcome its six-point underdog status. A combined point total over/under of 49.5 indicates an expected final of 28-21.
Georgia (7-0): The Bulldogs ran right by Missouri, to the tune of a 53-28 score and 370 rushing yards on 51 attempts, part of an offensive explosion of 696 total yards. No Georgia rusher gained more than 100 yards, while six ran for at least 30, and freshman quarterback Jake Fromm completed 18 of 26 passes for 326 yards and three touchdowns. All in all, the Bulldogs had possession for a whopping 39:36.
Georgia certainly does not need a break, but it gets one this weekend, anyway.
Boston College (3-4): The Eagles finally came out ahead in a tough game against one of the ACC's better teams, topping Louisville 45-42. The shootout was certainly unexpected: The over/under was a mere 57 points.
Boston College's record does not do its season justice. The Eagles played Notre Dame close into the second half, hung with Clemson into the fourth quarter and were never phased by Virginia Tech. They just could not put together a complete performance.
Thanks largely to running back AJ Dillon, that changed this weekend. Dillon ran for 272 yards and four touchdowns on 39 carries, most notably including this piece of disrespect:
A quietly-solid Virginia awaits Boston College (12:30 p.m. ET, ACC Network). The Cavaliers are favored by seven with an over/under of 48.5. Quick math hints at a 28-21 conclusion. It is awfully tempting to put some faith in the Eagles in that situation.
Michigan State (5-1): The Spartans' 30-27 win at Minnesota was not as close as the field-goal margin implies. The Gophers put together two touchdown drives in the final six minutes to turn a blowout into a paper's version of a tight contest.
Michigan State running back LJ Scott finally broke loose, taking 25 carries for 194 yards and two touchdowns. The Spartans needed his solid performance to help cover up three turnovers. They got away with those mistakes against Minnesota, and may be able to this weekend against Indiana (3:30 p.m. ET, ABC) and next week at Northwestern, but such mishaps would likely prove crippling vs. Penn St or at Ohio State in November.
Michigan State is favored by seven against the Hoosiers, with an over/under of 44 pointing toward a 25-19 result. It should not be that close, unless Indiana follows the Gophers' example with late, meaningless scores.
Miami (OH) (2-5): This is not the season Chuck Martin expected. Without starting quarterback Gus Ragland, the RedHawks fell 17-14 to Kent State, one of the MAC's two bottom-dwellers. Miami already lost to the other, Bowling Green, just a week ago.
Junior backup quarterback Billy Bahl completed 12 of 29 passes for 174 yards, throwing two touchdowns along with two interceptions.
Martin and the RedHawks will look to save this escaping season against Buffalo (2:30 p.m. ET, Watch ESPN). Favored by three, they would be grateful to be on the right side of a 26-23 afternoon.
North Carolina (1-6): The Tar Heels lost 2017 continued with a 20-14 defeat to Virginia. In this week's illustration of just how dismal the day was for North Carolina, it managed all of 46 passing yards. The Tar Heels' next viable hope of a win comes after a trip to Virginia Tech (3:30 p.m. ET, ESPN2) and a weekend with Miami (FL). A bye will then precede a Thursday journey to Pittsburgh. That may also be their last legitimate chance of another FBS-level victory this season.
The Hokies are favored by 21 points and will likely exceed that and a hypothetical 36-15 margin.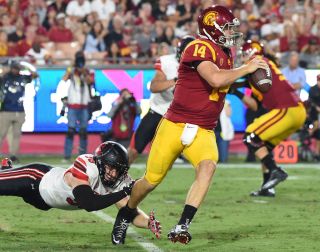 USC (6-1): The Trojans slipped past Utah 28-27, stopping a Utes' two-point conversion attempt in the final minute. The win should set up USC to cruise to the Pac-12 title game. Junior quarterback Sam Darnold threw for 358 yards and three touchdowns on 27-of-50 passing. Perhaps more importantly, he did not throw any interceptions, though the Trojans did lose three fumbles.
Running back Ronald Jones took 17 carries for 111 yards and a score.
USC visits Notre Dame (7:30 p.m. ET, NBC) as a 3.5-point underdog. A 31-28 Saturday night would hardly leave anyone lamenting a lack of entertainment.
North Carolina State (6-1): The Wolfpack made it six victories in a row after its season opening one-possession loss to South Carolina. North Carolina State's defense led the way in the 35-17 win at Pittsburgh, holding the Panthers to 95 rushing yards on 32 attempts. Pittsburgh managed only 5.1 yards per pass attempt and converted just four of 15 third down attempts.
The Wolfpack now enjoys a bye before traveling to South Bend for what could be a top-15 matchup filled with national implications.
Wake Forest (4-2): The Demon Deacons had the week off and undoubtedly used it to prepare for Georgia Tech's triple-option attack (7:30 p.m. ET, ESPNU). The Yellow Jackets enjoy nearly a touchdown's advantage per bookmakers' projections, prevailing in those views by something akin to 27-21.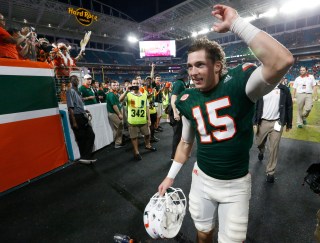 Miami (FL) (5-0): The good news: The Hurricanes again used a last-minute, drama-filled drive to notch a winning score.
The obvious news: Beating Georgia Tech should never be taken for granted.
The forward-looking news: Miami has only one genuine ACC challenge left, Nov. 4 vs. Virginia Tech, meaning an undefeated conference slate and a regular season as a whole are both distinct possibilities. That contest will also likely determine if the Hurricanes bring an unblemished record into their matchup with Notre Dame a week later.
The bad news: This week's opponent, Syracuse, could not be much more confident after beating No. 2 Clemson on Friday. Nonetheless, Miami is favored by 15 with an over/under of 57.5. Here's an eye on more points than a 36-21 result includes. (3:30 p.m. ET, ESPN)
Navy (5-1): The Midshipmen rushed for 314 yards on 68 carries against Memphis. That can cover up most anything, but not, apparently, five turnovers. Maybe four, but not five, as the Tigers topped Navy 30-27 thanks to those repeated giveaways.
Navy travels to Central Florida (3:30 p.m. ET, CBS Sports Network) staring a two-game losing streak in the face as eight-point underdogs. An over/under of 66 points to a 37-29 final.
Stanford (5-2): Oregon was missing its starting quarterback, and it showed. The Ducks threw for only 33 passing yards in a 49-7 loss to the Cardinal. Stanford quarterback Keller Chryst threw for 181 yards and three touchdowns on 15-of-21 passing while junior running back Bryce Love ran for only 147 yards and two touchdowns on 17 carries.
Stanford takes its second bye of the year this weekend, since it started the season a week early overseas.
[protected-iframe id="4322d87b3e2eb4d11caa19723fa3b36c-15933026-22035394" info="//platform.twitter.com/widgets.js" class="twitter-follow-button"]