Of Notre Dame's six games thus far this season, none of the opponents were necessarily-known commodities. Georgia has moved into prime playoff positioning by now, but as of the season's second week, the Bulldogs were simply a strong defense trying to keep a first-time starting freshman quarterback in the game. Four of the other five foes were also trotting out first-year starters, the not-so-vaunted Miami (OH) being the exception.
All that changes this weekend. No. 11 USC is clearly an oft-discussed team, both among Irish fans and all college football spectators. As is usually the case, the Trojans are led by a high-profile quarterback.
Those views come from far away, though. For a closer, perhaps more introspective perspective, let's turn to Zach Helfand of The Los Angeles Times …
DF: First off, how long have you been on the Trojans beat with The Los Angeles Times?
ZH: This is my second season filling the big shoes of Gary Klein, who moved to covering the Rams for us. I've covered USC basketball a bit longer. This will be my fourth basketball season.
I think I am legally required to start any USC conversation with junior quarterback Sam Darnold. His season may not have been as some predicted it would be, but it has certainly not been a failure. By a mile, he is the best passer the Irish secondary has seen to date, and that secondary is the defense's primary vulnerability. How can Notre Dame limit Darnold's effectiveness?
Yeah, this game will probably hinge on Darnold. If he plays like he did in the second half last week, USC can probably win. If he plays like he did the rest of the season, Notre Dame should be fine. For an opposing defense, the difference between great Darnold and average Darnold is usually a matter of two things. The first is the ability to disguise blitzes and coverages to give him a lot of different looks. Teams have had success with a mix of cover zero — bringing the house to test USC's fairly pedestrian receiving corps —  and dropping eight into coverage, rushing three and limiting Darnold's creativity and penchant for making high-risk, high-reward throws.
Secondly, defenses have had success when they've kept Darnold in the pocket and taken his legs out of the game. Darnold isn't Louisville's Heisman-winning Lamar Jackson, but he's probably better than anyone in college at scrambling to extend passing plays. It's his best weapon as a quarterback, I think. When he's not moving, he's usually not playing as well.
To my memory, Washington State succeeded in pressuring Darnold quite a bit in USC's one loss. This past Friday night aside, the Cougars are a dynamic team. Was their success in that regard more a credit to them or a failing by the Trojans offensive line? Notre Dame's defensive line has been an unexpected strength this year, thus making this question suddenly pertinent.
A little bit of both. Washington State's pass rush is really good (I love Hercules Mata'afa.) and Cougars defensive coordinator Alex Grinch brought some very creative, very effective blitz packages. USC also lost three starting linemen that game and had to play two true freshman. That never helps.
Flipping sides of the ball, the Irish need to run the ball to succeed. That may be a foundational tenant to any football team, but it has taken on quite the emphasis with Notre Dame this year. USC's defensive front seven might not be on par with Georgia's, but it is nothing to scoff at. Will it be up to the task of limiting Josh Adams and Co.?
With respect to Josh Adams, USC has seen better a rusher this season, Stanford's Bryce Love, and done fairly well (17 rushes, 160 yards — but 75 of them came on one early run, which counts as a win against Love this year). The difference with Notre Dame is the offensive line. It's probably the best line USC will see this year. Defensive coordinator Clancy Pendergast's typical m.o. is to neutralize a team's strength and worry about the other stuff later, so I expect USC to sell out to stop the run and see if Irish junior quarterback Brandon Wimbush can win with his arm.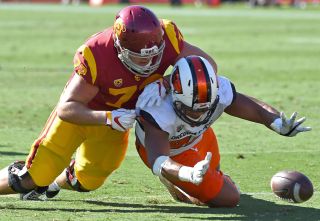 As always, turnovers can make or break a game and a season. That seems to be even more the case with the Trojans this year. Do I have this right – In only seven games, USC has both forced and given up 16 turnovers?
Yup. Top 10 and bottom 10. And, weirdly, USC's defense has given up only 10 points off turnovers (there were also an interception and a fumble returned for touchdowns). Notre Dame, meanwhile, has scored on 11 of 14 turnovers. So something's gotta give.
(Note from Douglas: One of those three occasions came when Irish senior linebacker Drue Tranquill intercepted Georgia quarterback Jake Fromm with only 26 seconds left before halftime. Another came when Notre Dame recovered a North Carolina fumble and drained all of the game's final 7:10 in 11 plays.)
On one hand, the follow-up question should be, what is going so wrong with the offense to give the ball away more than twice a game? The obvious flipside to that is, how is the defense able to take the ball away so often? Notre Dame is plenty proud of its 14 forced turnovers through six games, but some of that feels as much opportunistic as anything, not that opportunism is a fault by any means.
Offensively, it's mostly been Darnold. He has nine interceptions and fumbled three times last week. He's cut down on the interceptions recently, though, and the fumbles were somewhat flukish, so it'll be interesting to see if he's solved the giveaway problem or not.
Some of the defensive success on turnovers has definitely been luck. USC is significantly ahead of last season's clip, but it's also a byproduct of Pendergast's defense. It's very aggressive and attacking. It gives up a lot of big plays but also produces big plays. And senior linebacker Uchenna Nwosu has forced the issue a lot by making disruptive plays near the ball.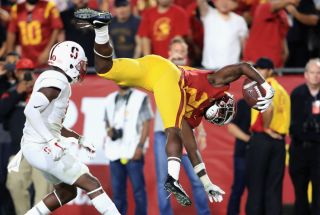 I've been pretty quick here. What key names (read: Ronald Jones) have I not mentioned that Irish fans should be ready to hear frequently Saturday night? Are there any other wrinkles I am missing?
Definitely Ronald Jones II. When he's healthy, and he more or less is right now, he's one of the best backs in the country. Also Daniel Imatorbhebhe at tight end. He hasn't been healthy all season, but could play his first significant time of the season Saturday. He's dangerous.
On defense, a very important player will be Iman Marshall. He was supposed to be an excellent cornerback. He has been underwhelming but is still talented. If USC stacks the box, he'll be under a lot of pressure to perform.
While I have you, Vegas predicts a final of Notre Dame 31, USC 28. Not just the score, though include that prediction if you have it, how do you see this weekend going? 
I think Notre Dame's going to win, let's say 34-28. My confidence in this is, like, 60 percent. I would not be shocked if USC pulls the road upset. I think it's going to be close the whole way, but Notre Dame grinds down USC with the run game, and USC's ball security issues will be too costly.
[protected-iframe id="4322d87b3e2eb4d11caa19723fa3b36c-15933026-22035394" info="//platform.twitter.com/widgets.js" class="twitter-follow-button"]