Notre Dame's season will not be deemed a success or a failure pending Saturday's result against No. 11 USC, but the victory or defeat will determine the outlook moving forward. A win and suddenly the Irish are in the conversation for a spot in a playoff-eligible bowl. A loss and that goal needs a 5-0 finish to be even considered.
To be clear, a playoff-eligible bowl is not the same thing as the College Football Playoff. There are 12 spots in six games of the former, including the four playoff entrants into the CFP itself. Notre Dame can justifiably enter that more narrow discussion by winning its next two games, the latter coming against No. 16 North Carolina State just three days before the first CFP committee poll is released.
The CFP poll is the only one that matters in the long-run. But that's getting ahead. This is about this weekend.
For now, a general consensus has the Trojans in the country's top 12 and the Irish outside of it. Factoring in the required Group of Five entrant, the pertinent metric becomes top 11. A win over USC would establish Notre Dame as deserving of that possibility. It would also set a new ceiling for the season, pending that Oct. 28 encounter with the Wolfpack.
A loss, though, would limit the most-optimistic Irish outlook to a season with a worthwhile win or two (namely, at No. 22 Stanford to close the season) while still falling short of returning anywhere genuinely near the country's elite.
That is the big-picture lesson to be gleaned from this weekend. This is Notre Dame's second chance to notch a top-tier victory in 2017. Losing a one-point contest to a veritable national title contender is one thing. Losing both that and a rivalry game to the great but not-yet-refined Trojans would mark the continuation of a trend of not prevailing when it matters most. Dominating Michigan State, Boston College and North Carolina — all on the road — is a good step, but it loses much of its significance if not followed up with a more impressive victory.
To get that victory, the Irish secondary needs to hold its own against a genuine passing attack. USC throws for nearly 300 yards per game (296.43, to be exact). Believe it or not, the most-dangerous attack Notre Dame has faced this season was Temple's, currently averaging 251.1 yards per game, followed by Miami (OH)'s 241.6. If insisting this comparison be to a Power-Five opponent, North Carolina throws for 212.7 yards per game.
Let's defer to an even more worthwhile measure. The Trojans average 7.89 yards per pass attempt. Of those already mentioned, only the RedHawks are within shouting distance at 7.48 yards per attempt. (Temple: 6.68; North Carolina: 6.42.)
USC junior quarterback Sam Darnold has all the tools to pick apart any secondary, and his receiving corps is deep enough to stretch any secondary thin — junior receiver Deontay Burnett leads the way with 49 catches for 626 yards and six touchdowns, followed by fifth-year receiver Steven Mitchell and his 23 catches for 333 yards and two scores.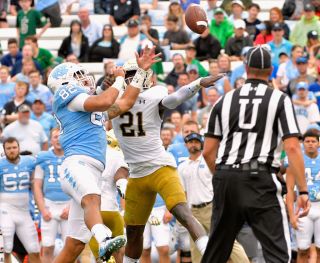 The Irish cornerbacks are a talented group and the safeties have outperformed the summer's low expectations, but the Trojans passing attack should win that matchup outright. The determining factors will come down to two things: Can Notre Dame limit or completely deny big plays and can the Irish manage an interception or two?
If those answers are yes, then Darnold's yards and Burnett's touchdowns take on a mitigated effect. If not, then such would be the sign of a USC rout.
If entirely dependent on the secondary, preventing those big plays seems unlikely. The Irish pass rush could tilt those odds back toward the home team, though.
Speaking of Notre Dame's front seven, how will junior linebacker Te'von Coney hold up in the second half when playing every or nearly every snap?
To date, Coney and senior linebacker Greer Martini have split duties. At points, Coney has slipped in for senior Nyles Morgan, as well, to line up alongside Martini. But Martini suffered a knee injury in practice during the bye week.
The emphasis will now be on Coney. In order for the Irish to put pressure on Darnold, defensive coordinator Mike Elko has to trust Coney will stick to his assignments, even as fatigue sets in. When it comes to the running game, Coney cannot miss any fits if Notre Dame wants to contain Trojans running back Ronald Jones.
Remember that 52-yard scamper off a quarterback sneak by Michigan State's Brian Lewerke? That came from Coney standing by rather than filling a gap. Such a lapse may be unaffordable in a contest as close as Saturday's is expected to be.
If Coney doesn't get every snap, who steps in for him? With the arguable exception of junior Asmar Bilal, no other linebacker has seen genuine playing time this season. Bilal has filled in at only rover, spelling senior Drue Tranquill.
With that in mind, and looking at how aggressively the Irish coaches have pursued linebackers in the recruiting class of 2018, the current freshmen and sophomores may not have earned much faith. It would be a surprise to see any of them thrown into the fire against USC.
That could leave the intriguing possibility of junior cornerback Shaun Crawford. Earlier this week, this space posited moving sophomore cornerback Julian Love to safety could get Crawford onto the field more often, and Crawford should get onto the field more often. Another option would be to deploy nickel defenses in more situations.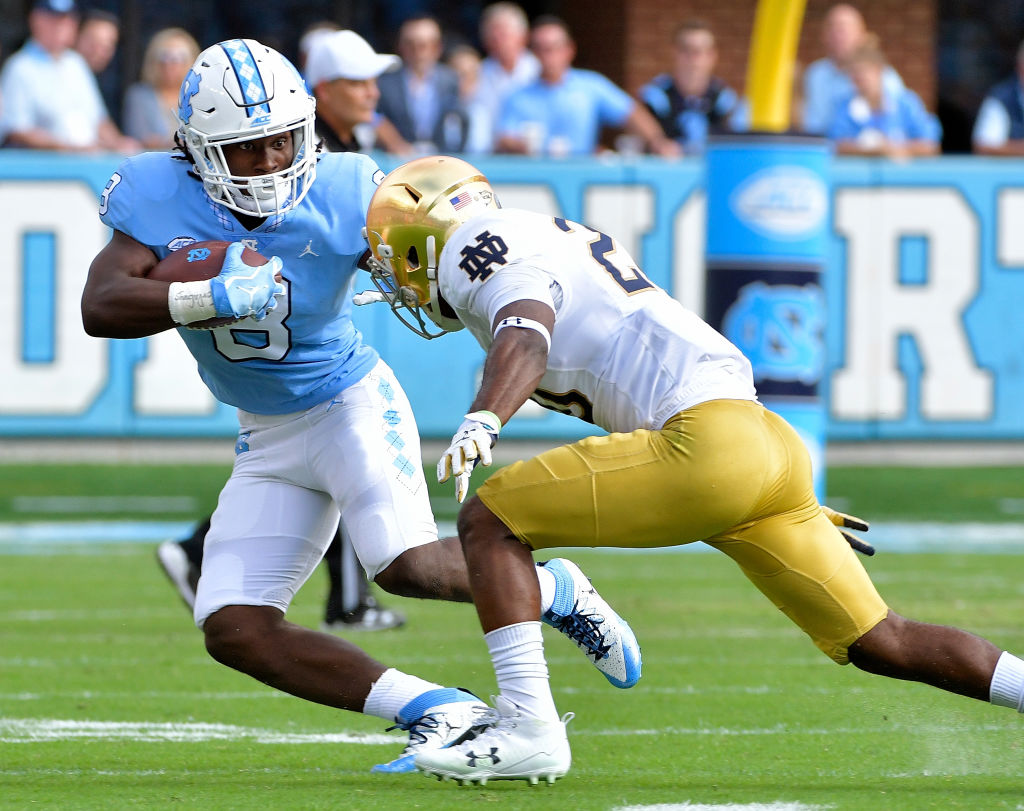 At 5-foot-9 and a listed 176 pounds, Crawford would seem to be undersized filling in for the 6-foot-1, 240-pound Coney. (Ronald Jones, by the way, is 6-foot, 200 pounds.) However, if Crawford can provide fresh legs and even just lay shoulder pads on Jones in the hole, that could certainly qualify as serviceable. Add in Crawford's penchant for making plays and suddenly that outside-the-box possibility may hold merit. For that matter, those nickel packages could help against the aforementioned passing attack.
If Notre Dame can slow USC's offense, can the Irish offense score enough against a decent defense?
While Notre Dame scored 38 points against Michigan State, one touchdown came from an interception return and another score was set up by a turnover deep in Spartans territory. If excluding those, suddenly a 24-point output against a strong defense would be concerning. Similarly, the Irish managed only 19 points against Georgia.
USC's defense is not on the same level as either of those units, but it is better than the four teams Notre Dame has averaged 46.5 points against.
Specifically, the Trojans rush defense is about average by yards per carry, allowing 4.12, good for No. 65 in the country. (Georgia: 2.82 yards, No. 7; Michigan State: 2.93, No. 10; Temple: 4.48 yards, No. 78.) If Irish junior running back Josh Adams can find chunks of yardage against USC, it will bode well both for Saturday night and the longer run, pun somewhat intended.
Will any other wrinkles emerge from the bye week? (Read: Kevin Stepherson.)
The above Crawford proposal is the kind of development that can stem from a well-spent bye week: Identify someone having success in the first half of the season and find ways to get him more opportunities in the second half.
Another version identifies a player struggling in the first half and finds better situations for him in the second half. Sophomore receiver Kevin Stepherson does not exactly meet that criteria since he spent the first four games of the year serving some version of a suspension, but he has not shown anything of note in the two games since his return. He has actually lost yardage with one catch for negative three yards.
Notre Dame coach Brian Kelly acknowledged Stepherson was not quite up to game shape, but the two games of dabbling plus a bye week of re-acclimating may have gotten him there.
"What we saw was somebody that needed to get reintroduced into the game and get back up to game speed, game conditioning," Kelly said Tuesday. "In a sense, [the bye week] was preseason for him in a lot of ways.
"He's had a really good off-week and this week, you'll see more of him. As we progress over the next half of the season, our expectations are to see his role increase."
Stepherson has the speed to take the top off any secondary. Junior quarterback Brandon Wimbush has arm strength that can hardly be outrun. The math should be pretty simple, if Stepherson is indeed back up to game speed.
[protected-iframe id="4322d87b3e2eb4d11caa19723fa3b36c-15933026-22035394" info="//platform.twitter.com/widgets.js" class="twitter-follow-button"]