The bye week mailbag went pretty well. In fact, there were many more questions than any reasonable word count could have allotted for. Then again, the internet is limitless, so clearly the constraint was not word count but rather time in this schedule.
Fortunately, another week provides another late Friday afternoon opportunity to put off work, ponder pointless items and do the mental math of just how much longer until 7:42 p.m. ET on Saturday. (As of this posting, exactly 27 hours, 42 minutes.)
Another question came in completely unsolicited late this Tuesday, but it seems the right one to start with considering, again, it's a late Friday afternoon and the next item on your to-do list might be influenced by this discussion.
Keith never offered Dan an answer, but he did ask a very necessary question.
Since the NBC primetime slot will give Dan plenty of time to recover Saturday, he did not seem to think a headache tomorrow should be a mitigating concern tonight.
Now, let's presume Dan has already done the campus tour, has plans of seeing the Grotto after dusk and is not willing to wait two hours for good, but not so great it is worth waiting two hours for, pizza. Instead, it is rather clear Dan has beverages on his mind.
There are the obvious nominations. The 'Backer is a Notre Dame staple and the location most-often referenced in national lists or features. Corby's claims a cameo in "Rudy," even if that was at a different location. Younger alums swear by Blarney Stone, colloquially known as Finny's, which has led to some confusion with the newer option in town named Finnie's.
All of these, though, present a steep hurdle to Dan's seeming intent. The bartender-to-patron ratio is far too low. Even if not looking for a distinct number of drinks, the aggravation of waiting and waiting for a drink defeats much of the intended purpose of the drink in the first place.
Closer-to-campus options may not present the tradition, specials or grime of some of the longer-held staples, but they do adequately staff up for game weekends, and that is all-too-often an overlooked aspect of finding a good evening.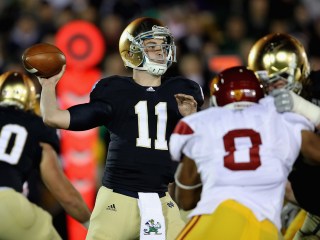 When Notre Dame first rekindled these night games for USC's 2011 visit, it was not yet clear playing under the lights would become an annual or even biannual occurrence. That alone spiked both the demand for the tickets and the number of Friday night arrivals.
When visiting a town, people tend to head to the intended establishments earlier. Why spend that time in the hotel room, after all? Thus, when the then-seniors finished their weekly preparations and set out for their usual locations, those spots were already filled by alums, subway alums and a third of Chicago.
The scramble to find somewhere more than four people could get into would have been comical if it did not seem so dire at the time. The found answer was a basement bar usually popular only once a week. This solution worked great … for only one drink.
There was but one bartender. She never stood a chance serving 200 college seniors. Not a single one of them got a second drink there.
That may be more in the category of vague advice than an outright answer to Dan's question, but it should at least be a step in the direction.
Hey Doug, do you know ND's record after a bye week under Brian Kelly? Would be interesting to see if there's a history of coming out flat.
— captaincalzone
In Kelly's seven seasons at Notre Dame, the Irish are 8-1 coming off bye weeks, the only loss coming in the aforementioned crowded night game, often referred to as "The Crazy Train Game."
2010: W 28-3 v. No. 15 Utah
2011: L 17-31 v. USC
2012: W 41-3 v. Miami
2013: W 14-10 v. USC; W 23-13 v. BYU
2014: W 31-15 at Syracuse; W 49-39 at Navy
2015: W 24-20 at No. 21 Temple
2016: W 30-27 v. Miami
Another commenter responded to this inquiry with doubts about any validity to presumptions drawn from the 8-1 record.  Yes, a new coaching staff may have different rhythms than Kelly's previous assistants, but the overall tendencies of the week likely remain intact.
Does this mean the Irish will win tomorrow? No, but it is another advantage in their favor, especially since USC will not have a bye week this season until the regular season is complete. Notre Dame should be fresh tomorrow. The Trojans are coming off a tough one-point victory over Utah, their sixth Power Five opponent in six weeks. On that note, let's complement USC's schedule. The only non-Power Five foe is Western Michigan. The Broncos may not be the same test as they were last year, but that is still a stiff slate for the Trojans.
Bookmakers offering odds of 50-1 for Irish national championship. Odds will be different after our next game.
— Hui73
I suppose that isn't technically a question. Whatever. It included a four-letter word that will always draw attention around here. It may be surprising to see Notre Dame's odds that high. Auburn, LSU and South Florida all have the same odds. The first two of those have two losses already and each still await a date with Alabama. South Florida should reach its season finale 11-0. If the Bulls can then get past Central Florida (also undefeated to date) and either Memphis or Navy in the American Athletic Conference title game, it is still hard to envision them being given a spot in the College Football Playoff.
The Irish being on the same level with those teams is a reflection of their schedule more than anything else. The bookmakers are essentially saying a six-game parlay of Notre Dame beating USC, North Carolina State, Miami (FL), Stanford, a semifinal opponent and Alabama would pay at 50-to-1. Looking at it from that perspective, those 50-to-1 odds are remarkably low. Even conservative estimates of future lines would peg that six-game parlay at something more akin to 87-to-1.
If the Irish beat USC tomorrow, those odds may drop, but they won't drop all that much. The subsequent proposed five-game parlay following such a victory would be valued at 53-to-1 or so. The 50-to-1 status is a suitable placeholder until fewer teams are in national title contention.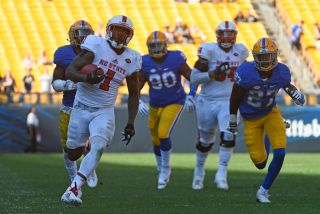 It should be mentioned North Carolina State also comes in with 50-to-1 odds. Again, that is a nod to the Wolfpack schedule. In addition to visiting Notre Dame next weekend, North Carolina State still has to host Clemson and, theoretically, face an ACC title game foe, quite possibly Miami. For that matter, the Wolfpack will likely be an underdog in all three of those games, not to mention the following two Playoff games in this scenario.
Look, People: Syracuse put up 25 points on NC St. 25!!!! NC St. won that game 33-25. (Marshall put up 20.) I'll stop now.
— 25kgold
Underestimate North Carolina State at your own peril. This space has been predicting the Irish would lose to the Wolfpack since before the season and it would take quite a performance against USC tomorrow to change that stance.
The Orange just beat Clemson 27-24 and average 31.3 points per game. The Thundering Herd average 26.5 points per game, and that is boosted by jumping out to that 20-10 lead over North Carolina State back on Sept. 9. Of course, the Wolfpack then scored 27 unanswered points.
What is the status of freshman kickoff specialist Jonathan Doerer? No complaints about how Yoon was kicking touchbacks last game, but I know Doerer was given a scholarship in order to keep Yoon's leg fresh for field goals.
— Nd1975fla
Doerer was indeed recruited for that purpose, but two aspects seem to have junior kicker Justin Yoon continuing to handle kickoffs as he will again tomorrow. Doerer struggled to keep the ball inbounds, a costly penalty. Perhaps that got to his head, or perhaps the Notre Dame coaching staff simply doesn't trust him. Either way, it was an issue. On top of that, some of Yoon's fatigue last season has been attributed to an injury of some variety. If healthy throughout this year, he should be able to handle the entire workload.
I think we could classify the first part of the season as a success, taking everything one step at a time. We now come to the second part — this looks like a different schedule than in the beginning of the year with No. 11, No. 16, a 4-2 Wake Forest, No. 8, Navy and the triple-option, and No. 22.
Best-case scenario, win them all. Are the Irish in the playoffs?
— Dmacirish
Yes. For this exercise, let's presume the not-yet-existing College Football Playoff poll would be similar to the AP top 25. At No. 13 right now, Notre Dame would need to move up nine spots in the polls. Two of those come courtesy of knocking off USC and Miami, both ahead of the Irish. Seven to go.
Only one of the Big 12's Oklahoma, Oklahoma State and TCU will remain ahead. Five to go.
At most, two of the three Big Ten possibilities will end the season as Playoff considerations. Either Ohio State runs the table and is Penn State's only loss, or Wisconsin beats Penn State and both stay in the conversation. Either scenario removes a concern from Notre Dame's checklist.
Mere attrition does not guarantee anything further than that. Schedule strength, however, does. If the Irish finish the season with that streak of wins, their résumé would dwarf anything from the Big 12 or the Big 10.
Worst-case scenario, lose them all. Does this board and the rest change their tune on Brian Kelly? Does Irish football even exist after Nov. 25?
— Still Dmacirish
A 5-7 finish would likely be a death knell for Kelly's tenure, but Notre Dame football will continue. Be assured of that.
Middle road, win some and lose some. What is the number needed to maintain this feeling of "success?"
— Dmacirish's conclusion
That is a question better answered in-person with qualifiers and conditional statements, a bevy of if, might, maybe and but, and a drink.
Just make sure you don't spend so long waiting for the drink the question is forgotten before even answered.
[protected-iframe id="4322d87b3e2eb4d11caa19723fa3b36c-15933026-22035394" info="//platform.twitter.com/widgets.js" class="twitter-follow-button"]