NOTRE DAME, Ind. — Notre Dame's embracing of what this season could become is candid, unusual and nearly taboo. Discussing anyone beyond next weekend's opponent — now No. 16 North Carolina State coming off a bye — is typically verboten in every regard.
Yet there was Irish coach Brian Kelly following No. 13 Notre Dame's 49-14 victory over No. 11 USC on Saturday, not offering a rote non-answer answer when asked about the national big picture.
"We just want to be aware so we can enhance where we are, just be aware of our situation, and that means you've gotten here because you have really stuck to what we've asked you to do," Kelly said.
That much is somewhat par-for-the-course. Focus on the mental preparation that got you here and maybe you'll get further. Not exactly earth shattering.
"My point being, the big-picture stuff, they're aware of it," Kelly continued. "But they know how they got here and they like where they're at."
The Irish being aware of national stakes means the Irish are starting to believe maybe, just maybe, those stakes could pan out.
Maybe, just maybe, Playoff talk in 2017 is not entirely and completely outlandish.
Let's acknowledge all those disclaimers. "Maybe." "Just maybe." "Not entirely." "Not completely." "Outlandish."
This is where a "Dumb and Dumber" quote might often be cited: There's a chance.
Entering the weekend, Notre Dame had six remaining games, none of them cakewalks. Four of those, in particular, stood out as coin tosses, at best.
The Irish just turned one flipping half dollar into a 49-14 drubbing that was, for all intents and purposes, over by halftime. They are a quarter of the way to the Playoff — if being sticklers, a sixth — and another quarter of that dollar looks far more likely thanks to the ol' transitive property. Notre Dame beat USC by 35. USC beat Stanford by 18. The Cardinal's home-field advantage should not trump that math. (35 plus 18 equals, uhhh, 53. Right? Right.)
Maybe, just maybe.
Senior center Sam Mustipher found the right word to describe the balance needed between one week at a time and something bigger could be happening.
"You have to realize it's a privilege to be where we're at, and to not take for granted the opportunity we have moving forward," Mustipher said. "Understand each snap, every play, as long as we go back to basics like we're supposed to, we're going to be in a pretty good position."
Being in the conversation for a College Football Playoff bid is a privilege, not a right. Stick to the fundamentals against the Wolfpack, and that privilege can be extended another week like a Wisconsin driver's license being good for eight years at a time. Lose focus, stray from the necessities, and suddenly that license is suspended. Feel too good about making it 22 months without a speeding ticket, and that streak can quickly become an 83-in-a-70.
"If we let this [win] get too big, we're probably not going to do too hot against North Carolina State," fifth-year left tackle and captain Mike McGlinchey said. "We just have to keep the message and the eyes forward, and as best as we can do that, good things will happen."
Maybe, just maybe.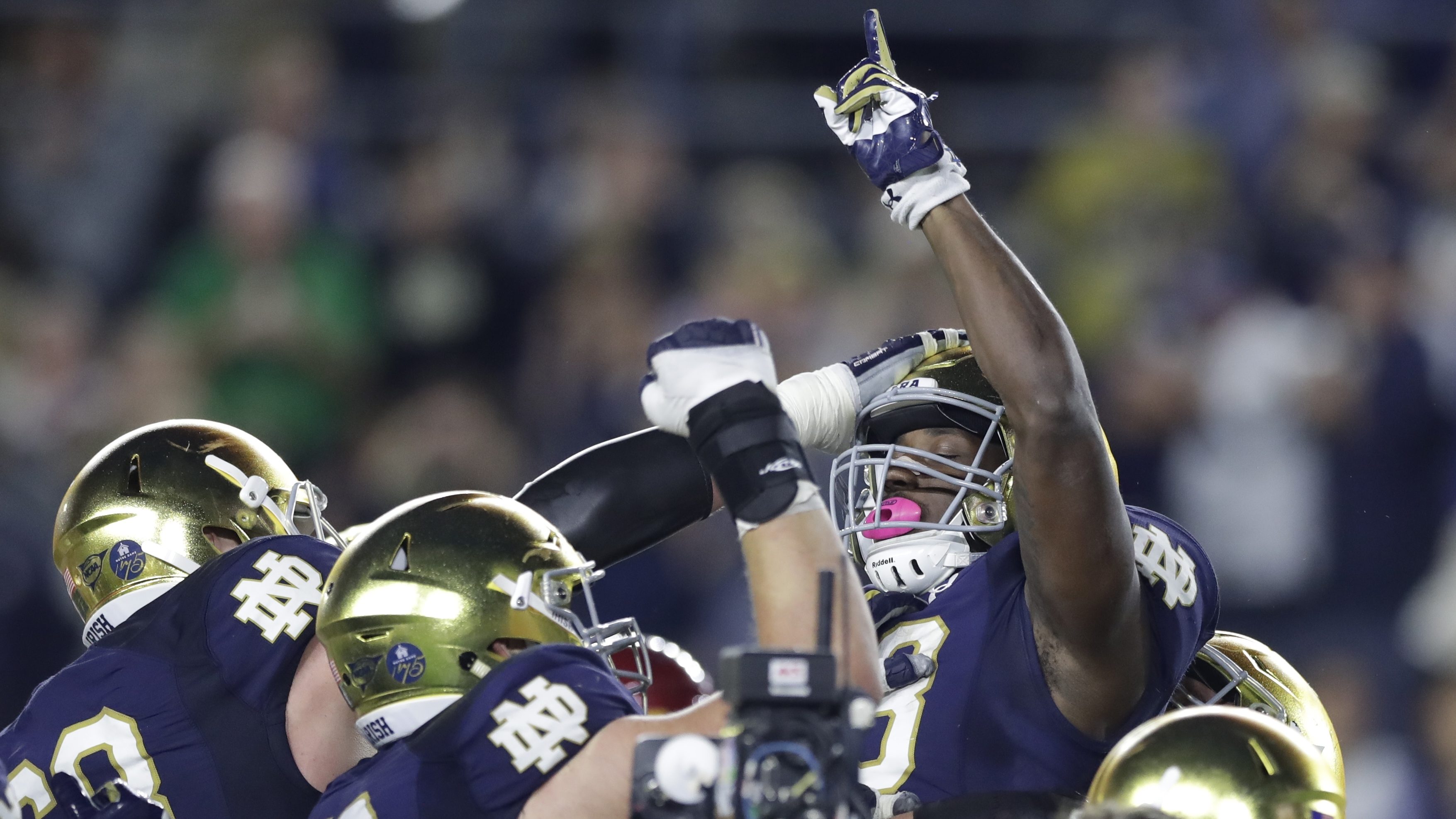 Notre Dame knows there is a long ways to go, but if the physical, emotional, psychological and stylistic outdoing of one of the country's most-talented teams does not instill belief in those ambitious possibilities, what is the point of playing a team like USC every year?
None of this is to say the Irish are playoff-bound. This is to say Notre Dame showed that concept is no longer the ramblings of some blinded by wool. The Irish belong in the Playoff conversation. It is now up to them, and them alone, to stay in it.
While we're here, let's offer the reminder: The first College Football Playoff selection committee poll will be released Oct. 31 at 7 p.m. ET, otherwise known as the Tuesday after Notre Dame hosts North Carolina State. One of those two teams will be in the top-12 of that poll.
Mr. Stepherson, fashionably late is better than never in every regard.
When Kelly said sophomore receiver Kevin Stepherson would have an increased role in the season's second half, it may have come off as nothing but lip service. In his two games since returning from suspension, Stepherson recorded one catch for a loss of three yards. Even those wearing that aforementioned wool could not have genuinely anticipated a late-October resurgence.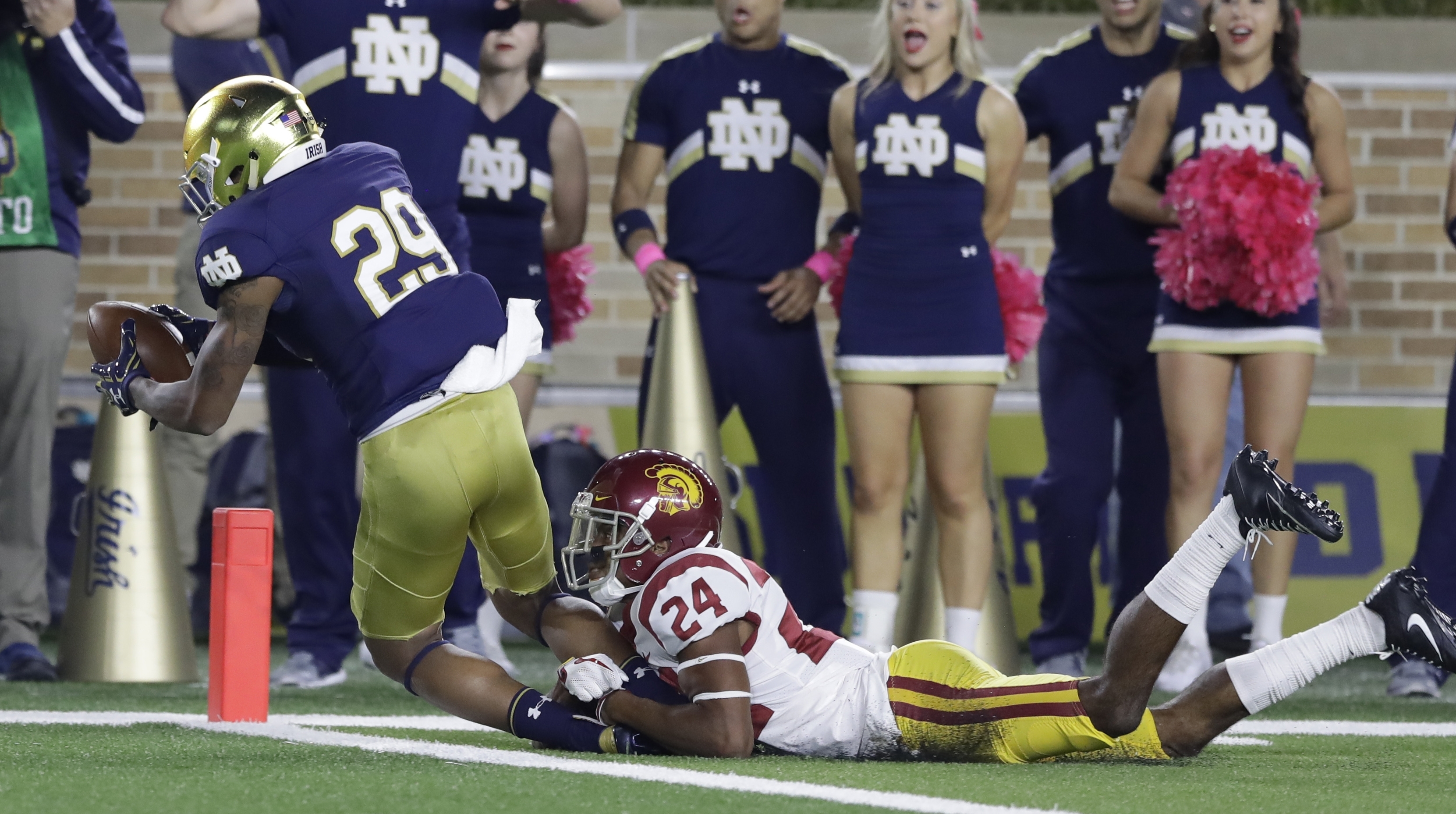 When Irish offensive coordinator Chip Long called a first-quarter end-around for Stepherson, it could have been seen as a gimmick. For all that anyone outside Long's mind knows, perhaps it was intended as a one-off. Except it succeeded. Stepherson picked up 13 yards and a first down.
The end-around was called again on the next drive. Stepherson gained 11 yards and a first down.
This was a dynamic presented by Stepherson heretofore unseen, including his still-often-praised freshman season. Fifth-year senior Cam Smith has run a few such end-arounds already this year, so clearly this concept of utilizing receiver speed around the corner is a piece of Long's playbook. Expect to see it again. Expect to see it with Stepherson.
Then Stepherson caught a 23-yard touchdown pass from Wimbush. The pass was thrown where it should have been, but it still necessitated an impressive snag from Stepherson.
"I knew that he was going to have an effective day," Wimbush said. "I told him before the game, I'm coming to you a couple times here today. He did his thing and went up and got the ball for me."
Stepherson finished with three catches for 58 yards along with the 24 rushing yards on two carries. That would be an admirable afternoon for any Irish receiver, especially in this passing-anemic season. Stepherson also returned a third-quarter kickoff for 11 yards, joining junior C.J. Sanders in the end zone as return options.
Smith did not play Saturday due to a hamstring injury. Look for an updated status on him either Sunday afternoon or Tuesday midday. Whether he is cleared to return soon or not, Stepherson may have staked his claim to Smith's spot.
That does not mean Stepherson has supplanted sophomore receiver Chase Claypool. The latter had his chances against the Trojans — finishing with one catch for 13 yards — most notably a deep ball on the sideline on Notre Dame's second snap from scrimmage. Wimbush just overthrew Claypool by a yard. (That one was on Wimbush. A later overthrow, intended for junior tight end Alizé Mack, probably should have been caught.)
The Irish will continue running, including against decent defenses.
Notre Dame ran 46 times against the Trojans, throwing 22 passes and taking one sack. Even if removing the fourth quarter (at the end of the third, the score was an easygoing 42-14), the Irish ran 37 times and threw on only 17 snaps.
Notre Dame will go as far as Long's offense can run it. Finding success in the running game against USC deserves notice. The Irish had yet to find that option against a defense this good. That is partly due to not rising to the occasion against Georgia and Michigan State and partly due to not facing other strong defenses. Entering this weekend, the Trojans rush defense rated No. 65 in the country in yards per carry at 4.12 yards. The best defense Notre Dame consistently gained rushing yards against was No. 78 Temple's.
USC does not boast a top-tier defense, but gashing it still counts as a step in the right direction. In this instance, "gashing" means running for 8.41 yards per carry.
Again, usurping any version of a "24-hour rule" and looking toward next week, the Wolfpack allow 3.04 yards per carry, good for No. 14 in the country entering the weekend. The Irish beat USC on the legs of junior running back Josh Adams and Wimbush (and Stepherson). Moving a step closer to that Maybe, just maybe will come down to that running game again next weekend.
Brandon Wimbush calls Chip Long, "Chip."
This is completely inconsequential, but it led to a good laugh during Wimbush's post-game media availability. Asked a question about him and Long getting to know each other's strengths and tendencies, Wimbush started out referring to his coordinator as "Chip," before catching himself in a public setting. The ensuing chuckles made it clear, some personal familiarity has already been established.
[protected-iframe id="4322d87b3e2eb4d11caa19723fa3b36c-15933026-22035394" info="//platform.twitter.com/widgets.js" class="twitter-follow-button"]