For a two-letter word, if could not have much more in the way of implications than it does. If Notre Dame wins the rest of its games, it will have one of the country's best résumés and be well-situated for a bid to the College Football Playoff. If the Irish finish 11-1, that will not only include wins over a momentum-gaining Michigan State and a still-in-control-of-the-Pac-12 USC, but also victories over two of the ACC's top contenders. If Notre Dame runs the table, even its win over Boston College may hold value by season's end.
If.
Including the Eagles' upset at Virginia this weekend, Irish foes went a combined 4-4, not including the Trojans' loss in South Bend. That .500 mark should be surpassed this weekend, with oddsmakers expecting a 5-3 result.
Temple (3-5): Apparently, junior quarterback Logan Marchi injured his lower right leg two weeks ago at Connecticut, leading to senior Frank Nutile getting the start in the Owls' 31-28 overtime loss at Army. Nutile finished 20-of-29 for 290 yards and a touchdown. In his seven games, Marchi had completed 55.5 percent of his passes for 1,658 yards and nine touchdowns along with eight interceptions.
A quarterback controversy could be brewing for first-year head coach Geoff Collins. He will get a week off to consider the possibilities at hand.
Georgia (7-0): The Bulldogs enjoyed a bye week, preparing for as crucial a two-week stretch as they will face in the regular season. With Florida this week and South Carolina next, Georgia has a chance to dispatch the last two remote SEC East threats. Both the Gators and the Gamecocks already have two conference losses, so as long as the Bulldogs beat one of them, they should be fine from an SEC viewpoint.
That can begin in Jacksonville against Florida (3:30 p.m. ET, CBS). As two-touchdown favorites with a combined point total over/under of 44, Georgia will be looking to prevail 29-15. Only two teams have scored that many points against the Bulldogs — Missouri in a blowout and Notre Dame with its 19 — so expect the Gators to struggle to reach even that mark.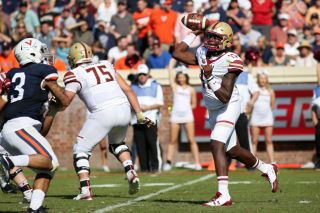 Boston College (4-4): Much like the Irish rout of USC, the Eagles 41-10 demolishing of Virginia was entirely unexpected. A close game was certainly foreseeable, even predicted in this space a week ago, and a win was within fathoming, but handing the Cavaliers their first conference loss in such decisive fashion came out of nowhere. Suddenly Boston College head coach Steve Addazio should be feeling much better about his job prospects.
Freshman quarterback Anthony Brown led the way with a dazzling performance. Brown finished 19-of-24 passing for 275 yards and three touchdowns.
The question now is simple: Can the Eagles keep this roll going? They have played superior opponents closely all season, building to this win. Meanwhile, Florida State has universally struggled. Thus, Boston College is only a 2.5-point underdog with the Seminoles visiting Friday night (9 p.m. ET; ESPN). An over/under of 45 suggests a 24-21 contest to watch on mute at your local destination of choice this Halloween weekend.
Michigan State (6-1): The Spartans were tested by Indiana, but they kept their composure and discipline to hold on for a 17-9 win which was closer than the score sounds. The Hoosiers quite literally conceded an 18-yard touchdown run from Michigan State running back LJ Scott with fewer than two minutes remaining in an attempt to get back the ball and stage a dramatic comeback. In certain corners, that score mattered a great deal. To the Spartans, it was simply the second fourth-quarter trip to the end zone in their come-from-behind victory.
Another even matchup is expected for Michigan State, a one-point favorite in a trip to Northwestern (3:30 p.m. ET; ESPN). A 21-20 final sounds a bit high-scoring for a typical Big Ten affair.
Miami (OH) (3-5): Thanks to an unlikely source, the RedHawks halted their slide with a 24-14 win against Buffalo. Senior quarterback Gus Ragland remains sidelined, leading to junior Billy Bahl getting the start. Bahl managed only 177 yards on 13-of-20 passing. Senior running back Kenny Young picked up the slack, delivering career highs with 125 rushing yards and two touchdowns on a career-high-tying 19 carries.
Ragland has some time to get healthy with Miami enjoying a shortened bye this week. It will take the field next Tuesday on the road against Ohio.
North Carolina (1-7): Injuries are one thing, but the Tar Heels staircase is spiraling downward much further than that. Virginia Tech led 52-0 entering the fourth quarter against North Carolina, cruising to a 59-7 victory.
Miami (FL) will look to add on to that misery. The Tar Heels host the Hurricanes, yet are nearly three-touchdown underdogs (20.5 points) with an over/under of only 50 points. The only issue with a 35-14 conclusion is it is hard to imagine North Carolina reaching the end zone twice.
USC (6-2): The Trojans fell to Notre Dame 49-14 this weekend. If reading this far into this piece in this space, you probably already knew that.
USC still holds the cards in the Pac 12, though. Beginning this week, those cards will be at risk. The Trojans head to Arizona State for #Pac12AfterDark (10:45 p.m. ET, ESPN) favored by only three points with an over/under of 57. The winner of this tilt will have control of the Pac 12 South Division. It is not hard to envision USC junior quarterback Sam Darnold lucking into a dramatic 30-27 victory.
North Carolina State (6-1): Following a bye, the Wolfpack face Notre Dame as a 7.5-point underdog (3:30 p.m. ET; NBC). A 59.5 over/under creates a theoretical 34-26 final. In that scenario, North Carolina State would be the first team to break 20 points against the Irish this season. Of course, some of that scoring could come from the Wolfpack's excellent defense, led by senior defensive end Bradley Chubb and his 6.5 sacks.
Wake Forest (4-3): It's the triple-option. What are you going to do?
Georgia Tech ran for 427 yards on 66 carries against the Demon Deacons, controlling the ball for two seconds shy of 36 minutes and winning 38-24.
Louisville junior quarterback Lamar Jackson plays anything but a traditional football style, but Wake Forest's defense is certainly more accustomed to that type of assignment than it is the triple-option. Jackson and Louisville take to the road as three-point favorites, looking at a 33-30 final. (12:20 p.m. ET, ACC Digital Network.) Considering the staunchness of the Demon Deacon defense — Georgia Tech was the first team to break 28 points against it; Florida State managed only 26 and Clemson that 28 — do not expect the scoreboard to work quite that hard.
Miami (FL) (6-0): The good news: For the third week in a row, a score in the final minutes proved crucial for the Hurricanes, using a touchdown with fewer than three minutes remaining to bump a one-point cushion up to eight in a 27-19 win over Syracuse.
The obvious news: A win is a win is a [insert four-beat pause] win.
The forward-looking news: Before Miami welcomes Notre Dame, it hosts Virginia Tech next weekend. That increasingly looks like it could, perhaps should, be the Hurricanes' first loss of the season.
Between now and then, Miami hosts North Carolina. That aforementioned 35-14 theoretical margin will boost the Hurricanes' public appearance after this string of close calls, but that will be a façade more than anything else. A prediction of a prediction: This space will advise Hokie consideration in a week.
Navy (5-2): The Midshipmen never led in a 31-21 loss to Central Florida. Three turnovers crippled Navy's chances at an upset. For that matter, the Midshipmen rushed for only 248 yards on 59 attempts, the lowest ground output for Navy since week two when it managed a 23-21 win vs. Tulane.
This week, a bye.
Stanford (5-2): The Cardinal follow a bye week with the next-best thing, a trip to Oregon State on Thursday night, creating another pseudo-bye the following week. Favored by 23 against the Beavers (9 p.m. ET, ESPN) with a 59.5-point over/under, a 41-18 result feels appropriate only because Stanford will have little reason to do more damage. Let's place Cardinal junior running back Bryce Love on 300-yard watch this week. That might make the game interesting into the second half. He has reached that mark once this season, 301 against Arizona State on Sept. 30 in a 34-24 win.
[protected-iframe id="4322d87b3e2eb4d11caa19723fa3b36c-15933026-22035394" info="//platform.twitter.com/widgets.js" class="twitter-follow-button"]