NOTRE DAME, Ind. — Let's get this out of the way now: I was wrong.
The Notre Dame team that dominated No. 14 North Carolina State on Saturday was not the same version of the Irish that lost to Georgia in the season's second week.
"We've gotten better each and every week," Notre Dame coach Brian Kelly said after the 35-14 victory. "We're physically stronger, so mentally we've established a mindset as to how we play. Our kids are trusting the teaching.
"If you take the physical, the mental and the teaching, it's a team that is getting better."
The physical and the mental are most-intertwined in the Irish rushing game. Notre Dame briefly dabbled in a sideline-to-sideline ground game this weekend, attempting to get to the corner before turning upfield. The Wolfpack defense, led by senior defensive end Bradley Chubb, quickly relegated that strategy to fruitless at best and loss-inducing at worst, just as the Bulldogs did. In response, the Irish returned to what they do best, running up the middle through holes the size of a Volkswagen Beetle.
That philosophical shift makes the ground attack led by junior running back Josh Adams a force no one outside of Alabama wants to reckon with. Gashing North Carolina State for a total of 325 yards on 52 carries, an average of 6.25 yards per rush, will drop the Wolfpack down any defensive rankings. The sample size of a 12-game scheduled season will have that effect, but it does not reduce the actual abilities of that veteran-laden defensive front seven. It is one of the best in the country, and Adams, his offensive line and offensive coordinator Chip Long's game plan ran through that front as well as any of them could have possibly hoped.
Long's dedication to the rushing game underscored a broader and more-tantalizing development to Notre Dame's makeup as a team. The Irish are not fazed by a deficit or even a figurative punch in the mouth.
The last time Notre Dame faced any genuine adversity came in that 20-19 loss to Georgia. Beating the Wolfpack so handily will prevent anyone, including this space, from touting a newfound Irish ability to prevail in close games, but that — excuse this word choice — trait seems more possible than at any point in the last two calendar years. Responding to a challenge creates that kind of thinking, and North Carolina State offered Notre Dame a challenge early.
The first two Irish possessions gained a total of 10 yards. Chubb sacked junior quarterback Brandon Wimbush to stymie the first drive and altered each play of the next with penetration into the backfield, a tackle and then a quarterback pressure. To top it off, Chubb drew double the blocking on the subsequent punt. Notre Dame sophomore Daelin Hayes turned to help block Chubb, allowing North Carolina State defensive end James Smith-Williams to break through the line largely unchecked, smothering Tyler Newsome's boot.
"One of the best defensive ends I've played in my five years here," Irish fifth-year tight end Durham Smythe said. "We knew that coming in. He definitely showed that tonight."
Notre Dame had failed on two possessions, found no holes in the Wolfpack defense and been manhandled by that unit's best player, all leading to a 7-0 deficit.
The Irish didn't much care.
"What was most impressive for me, coaching for as long as I have, when you get a punt block, it has a tendency to really affect your football team," Kelly said. "Our guys never flinched. It was as if nothing ever occurred other than let's get back out on the field and get back to work."
After Notre Dame scored quickly in response, partly thanks to a 35-yard vertical run from Adams immediately followed by a 25-yard touchdown on a middle slant of sorts to Smythe, North Carolina State again seized control, authoring a seven-play, 71-yard touchdown drive of its own.
Again, the Irish didn't much care.
"In past years, I think we've had to group up as an offense and talk about, guys, we need this one," Smythe said. "… This team hasn't flinched in scenarios like that. We didn't have to talk about it at all, really.
"It almost is business as usual regardless of the situation, whether they just scored touchdown or we just scored three straight. We'll take care of our business."
It may yet be awhile before Notre Dame needs to respond to such adversity again, but it showed it has both the mental capacity and the physical talent to do so.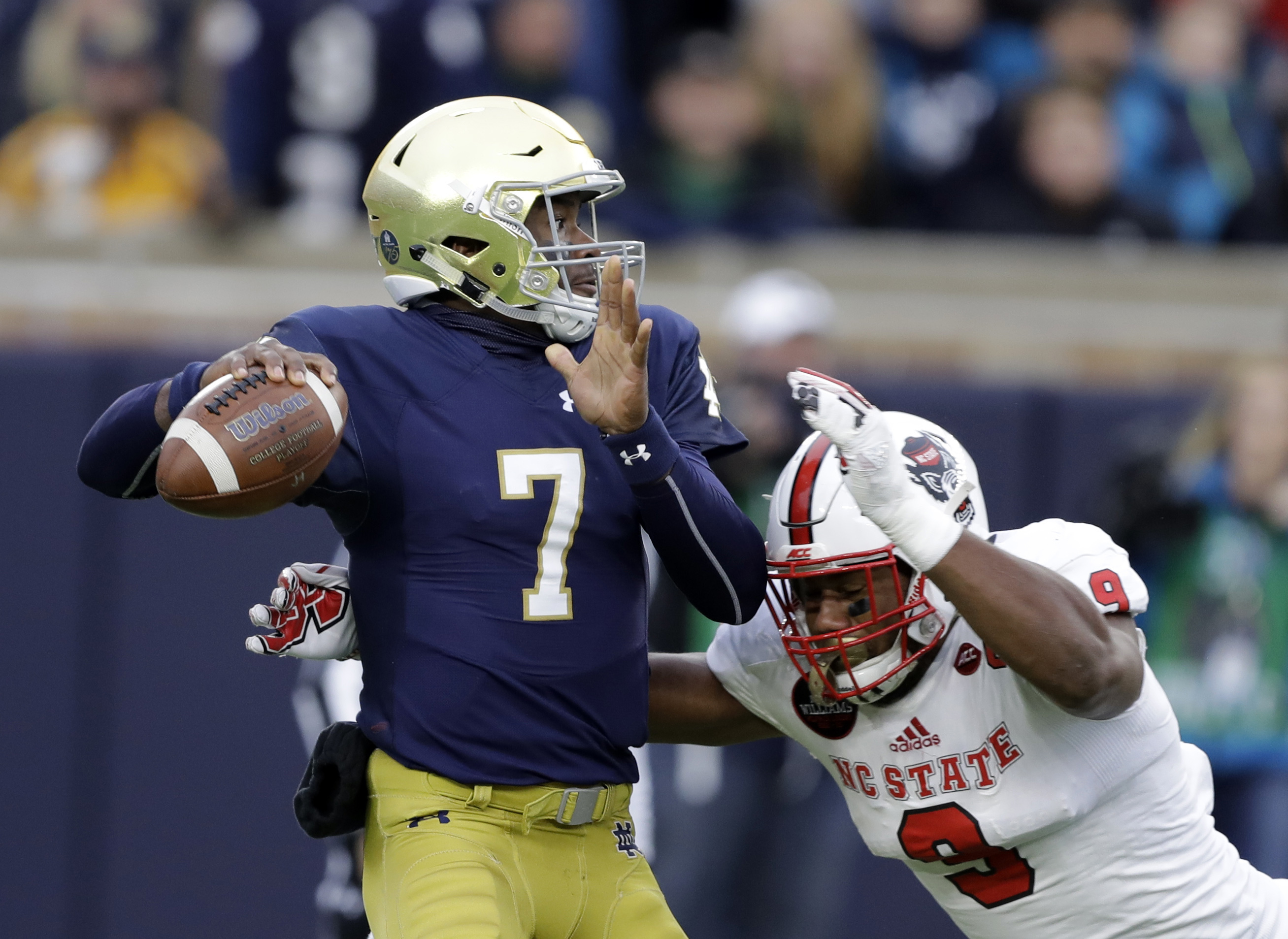 Part of that mental capacity showed itself in the physical realization of Wimbush's passing progressions, literally and figuratively.
Wimbush still completed only 10 of 19 attempts for a total of 104 passing yards and two touchdowns. Even adding in two drawn pass interference penalties, his stat line of 12-for-21 for 134 yards would remain lacking. Yet, his viability as a dangerous passer took another step forward Saturday.
Wimbush rushed for only 28 yards on five carries, the fewest attempts of the season for the first-year starter, and the fewest yards aside from that loss to Georgia. This was a good sign for Notre Dame moving forward.
Wimbush did not abandon passing plays to pick up yardage in what we'll call coverage runs. (When a defensive secondary prevents any receiver from breaking open long enough that a defensive lineman can notch a sack, it is known as a coverage sack. This is the flipside of such a scenario, when Wimbush breaks from the pocket entirely because of the secondary's solid play.) Rather than slip upfield, he showed the needed patience to outwait the defensive backs. When he completed a 13-yard pass to sophomore receiver Kevin Stepherson, the play delighted Kelly beyond the first down and furthered drive.
Stepherson was Wimbush's fourth read on the play. He progressed past Smythe, past a go route, finally getting to Stepherson's curl.
"First time he's done it this year," Kelly said. "I was pretty excited on the sideline. … He's confident and wants to throw the football and can throw the football."
That is not to say the scrambles will go the way of non-existent. They remain an inherent piece of Wimbush's overall game.
"Brandon's a different cat," Smythe said. "If he doesn't keep his eyes down the field, there's a chance he'll have a 50-yard touchdown run. There's a delicate balance of telling him let's keep our eyes downfield, let's make sure there's no one running wide open and telling him to follow his instincts and go score 50-yard touchdowns. He's that kind of athlete.
"When he puts those two together, and he's starting to do that now, he's a true dual-threat, and that's kind of scary."
The more Wimbush becomes a feared passer, the more Notre Dame can open up defenses to be pillaged by Adams.
As for the purely physical, Te'von Coney's impact continues.
The junior linebacker led the Irish in tackles for the second consecutive week, making nine tackles, including a two-yard loss on a crucial fourth down in the red zone. His efforts landed him the game ball.
"He's just ascending, playing really, really good football," Kelly said simply enough.
Senior linebacker and captain Greer Martini appeared healthy and productive, but Coney will demand only more playing time as long as he finds the ballcarrier with such frequency.
While Notre Dame is a team getting better, its future opponents do not appear to be.
Namely, No. 20 Stanford and No. 8 Miami (FL) both struggled immensely with vastly-inferior opponents this weekend, beating Oregon State 15-14 and North Carolina 24-19, respectively. Both the Cardinal and the Hurricanes won — and as is said, a win is a win is a [insert four-beat pause] win — and style points are largely overrated, but the difficulties pointed to deeper concerns.
The Irish proved wrong any remaining doubters, yours truly included, with the 35-14 toppling of the Wolfpack. Their schedule suddenly looks much more reasonable. They remain absurdly healthy.
Perhaps it is time to revise last week's "Maybe, just maybe …" to Maybe, even probably …
[protected-iframe id="4322d87b3e2eb4d11caa19723fa3b36c-15933026-22035394" info="//platform.twitter.com/widgets.js" class="twitter-follow-button"]