In the offseason, Wake Forest visiting Notre Dame seemed nothing but a ho-hum November afternoon. Now the game has taken on unexpected importance, with the Irish risking Playoff-contention each and every week. Yet, the Demon Deacons remain largely an unknown in these parts.
To help educate, "Inside the Irish" turned to Conor O'Neill of the Winston-Salem Journal.
DF: Conor, I appreciate you taking the time to educate some Notre Dame fans. Wake Forest's season somewhat reminds me of Boston College's, even though the Deacons cruised past the Eagles 34-10 in week two. Wake Frest notched some wins against a few non-descript opponents before enduring close losses both against Florida State (26-19) and at Clemson (28-14). Then the Deacons finally broke through last week, notching a 42-32 win over Louisville. Was there some version of frustration building around the program before topping the Cardinals?
CO: There was some frustration for Wake Forest in the aftermath of the Florida State and Georgia Tech losses because the Deacons felt like they were positioned to win those games, only to have brief lapses cost them marquee wins. Playing from ahead for the entirety of the Louisville game was a huge step in the right direction and a confidence-booster for them.
How much momentum does that win give Wake Forest? I could envision it being a lot, but I could also understand if it was hardly any, just because Notre Dame awaits so quickly to possibly stem any growing confidence.
Along the same lines, getting a win against Louisville lifts Wake Forest's confidence level. They are still one of the three teams that has been atop the Atlantic Division in the past three seasons, along with Clemson and Florida State, and the Deacons, along with N.C. State, Syracuse and BC, have to beat those teams to overthrow the established hierarchy of the division. Taking a 5-3 record to South Bend is a much better position than 4-4, and even a possible loss means taking a 5-4 record to Syracuse next weekend, as opposed to a possible 4-5 record after a 4-0 start.
If you'll allow a quick tangent to chime in on an ongoing debate … You have taken better looks at Florida State and Louisville then anyone around here has. Are their struggles this season more a sign of the ACC's top-to-bottom strength or are they simply bad teams?
I'll say this: If you put Florida State's defense, or maybe even just safety Derwin James, cornerback Tarvarus McFadden and tackle Derrick Nnadi, on Louisville, they might have one loss. FSU's defense is the most talented unit I've seen outside of Clemson's defense this season. They're just missing their quarterback and most of their offensive line. Louisville's defense is terrible and Lamar Jackson's surrounding cast is OK, but Jackson is good enough to beat teams by himself. I think the ACC really is a deep league — not as strong at the top as the past couple of years, but just as deep, if not deeper.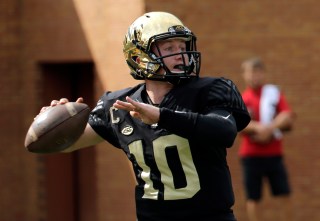 Thanks for that. Back to the matter at hand. Senior quarterback John Wolford leads Wake Forest and he does so quite efficiently, completing 65.7 percent of his passes and throwing 15 touchdowns compared to only two interceptions. What makes him so, well, so effective?
Wolford really hasn't improved much from year-to-year, it's just that for the first time in his career he has protection and receivers who can get open. He was sacked 103 times in his first three seasons — he's been sacked 13 times this year, and that number might get dropped to 12 because of a technical issue from last week's game. Wolford has always had a strong arm, he's tough as nails and is fiercely competitive. Now he's reaping the rewards of a developing program.
If discussing the Deacons passing game, here is where we probably pour some out for sophomore receiver Greg Dortch. For those who don't know, Dortch led Wake Forest with 53 catches for 722 yards and nine touchdowns before suffering a season-ending injury this week. Before we get to the ramifications of that, do you care to describe his Saturday against Louisville? Most around here undoubtedly missed it, but I get the sense it still deserves some appreciation and recognition.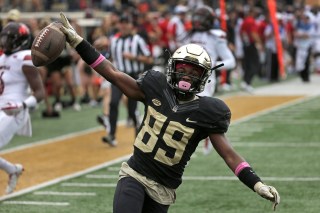 Greg Dortch was a huge part of Wolford's success and Saturday was obviously his best game of a stellar season. They got him the ball in space on screens and he's got the shiftiness to make moves in small windows. He did that and also burned a safety in one-on-one coverage for his third touchdown. He had a fifth touchdown, a 30-yarder on a screen in which he bounced off two Louisville tacklers without hitting the ground, negated because he fumbled through the end zone reaching for the pylon.
Now without Dortch, what viable options can Wolford turn to? How much will losing the 5-foot-9 speedster diminish the Deacons' passing attack?
Wake Forest turns to Tabari Hines, who has started in the slot for the past two seasons and was the starter for the first two games this year. He had a minor shoulder injury which allowed Dortch more plays in the second and third games of the season, and Dortch capitalized. Now it's a matter of whether Hines can step back into that role. It'll also be a measure of senior tight end Cam Serigne entering the passing attack more often. He was able to be used as a blocker more often because of Dortch's emergence, so he'll likely be used more as a receiver — as was the case in his freshman and sophomore seasons.
Let's turn to the defense. Obviously, Notre Dame hired away defensive coordinator Mike Elko. He has been a fundamental and foundational part of the Irish turnaround this season. Is there any feeling at Wake Forest of playing to beat him this weekend? Perhaps it isn't revenge or even payback, but some less drastic version of those sentiments?
There are not hard feelings for Mike Elko here, at least none that I can tell. He was given a great opportunity and has seemingly seized it from the start. Clawson said he and Elko have texted good luck, good game-type sentiments pretty much every week this season (but that that would stop this week).
How much of Elko's defensive designs remain there? Did Jay Sawvel, formerly of Minnesota, change most of the concepts?
Sawvel hasn't changed much, it's still a 4-2-5 with a "rover" position that's a hybrid safety-linebacker. The difference is that Elko is more of a tactician, in kind of the same light we see offensive coordinators, whereas Sawvel is more of a hands-on coach. Sawvel works directly with the cornerbacks, and sophomore corners Amari Henderson and Essang Bassey have both taken large strides after coming into the season as really the only question marks of the defense.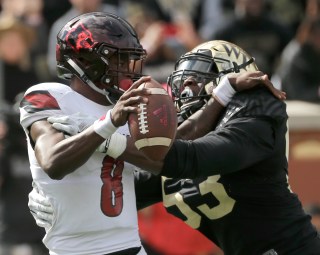 Sawvel's defense has given up 183.8 rushing yards per game. Are there legitimate hopes of shutting down Notre Dame's rather impressive running game?
I wouldn't use the term "shut down" for what Wake Forest hopes to do against Notre Dame's rushing attack, but at least slow down. That average is a bit misleading, as the Deacons' run defense has largely been feast-or-famine. They lead the country with 9.3 tackles for loss per game, but have also been susceptible to giving up big runs. Oftentimes, that happens when their linebackers and safeties fail to fill holes.
Sticking with the coaches, this is head coach Dave Clawson's fourth season at Wake Forest. He followed two 3-9 campaigns with a 7-6 finish last year. At 5-3 now, the Deacons have at least two more eminently-winnable games remaining to get bowl eligible. What is Clawson's long-term view? He should still be at Wake Forest in 2018, right?
Barring something crazy like five straight wins to end the season, Clawson certainly should be at Wake Forest next year. He's maintained he's building a program and he enjoys coaching and being around the type of players Wake Forest recruits, and he repeatedly praises his working relationship with athletics director Ron Wellman. Wake Forest only starts seven seniors this season, so while some of those are key players (Wolford, Ejiofor, Serigne, both linebackers), next season lines up as one that could see the Deacons make a jump into the eight- or nine-win category.
Personally, I expected the Irish to be favored by much more than two touchdowns, but the spread opened at only 13, and I have seen it thus far rise to 13.5. Perhaps I am putting too much value on beating two top-15 opponents by a combined 56 points in two weeks. Including a possible score prediction, what do you expect to unfold come Saturday?
I think Wake Forest stood a much better chance in this game until the 36 hours after the Louisville win, in which we learned Dortch would be out for the season and safety Jessie Bates III (team-best 64 tackles) and starting running back Cade Carney wouldn't play this weekend. Those are three players tough to replace. I think Notre Dame wins 30-10.
[protected-iframe id="4322d87b3e2eb4d11caa19723fa3b36c-15933026-22035394" info="//platform.twitter.com/widgets.js" class="twitter-follow-button"]