Two-thirds of the way through an undeniably successful season, not much is left to be learned from a home game against a middling — on the rise, but still middling — ACC opponent. Notre Dame relies on a run-oriented offense to provide points while its defense causes enough mayhem to prevent them. The day an opponent scores more than 20 points against the Irish will be a day to note, a first for the season. If a team holds junior running back Josh Adams and the rest of Notre Dame's rushing attack in check, it will be the first time in nearly two months.
There is little reason to expect Wake Forest to pull off either of those feats Saturday (3:30 p.m. ET, NBC).
If there is any reason to foresee that, it stems from a sense of familiarity. The Demon Deacons know the principles of the Irish defense thoroughly. They are familiar with Notre Dame's scheme, its intent and the intricacies to its defensive approach. Wake Forest runs the same attacking design.
Irish defensive coordinator Mike Elko held the same position with the Deacons from 2014 to 2016 before answering Brian Kelly's call this past offseason. Amid staff turnover at Minnesota, Jay Sawvel left the Gophers to take Elko's role in Winston-Salem, keeping much of Elko's successful operation in place since the personnel was already both used to and ready for it.
"There's a lot of similarity to the defense that we've seen in the past," Kelly said Tuesday. "It's still about personnel, and their personnel, in terms of the safeties and corners, is emerging."
Wake Forest head coach Dave Clawson knows where the holes are in Elko's scheme. That is, if there are any holes. He knows Elko's tendencies. Likewise, Elko used to coach a defense against Deacons senior quarterback John Wolford in nearly every practice.
"It's similar to two teams that play each other, know each other that well," Kelly said. "It is a very similar kind of scenario."
What could an Elko defense look like with years of learning his system and with players recruited specifically for it?
The answer to this pondering hinges on too many variables and involves too wide a scope to genuinely be answered in one Saturday afternoon, especially considering Wake Forest cannot claim the defensive dominance it did the last few seasons. However, a few nuggets may be gleaned.
The Deacons still focus on the same things Elko has Notre Dame keyed into. More specifically, Wake Forest controls the line of scrimmage by getting behind it as often as possible. The Irish boast one of the best offensive lines in the country, but the Deacons have 22 sacks this season as part of a nation-leading 74 tackles for loss (9.25 per game). If Wake Forest brings down Adams in the backfield, it will be a surprise because that has happened to the Heisman candidate so rarely this season. It could also be considered a positive sign for Notre Dame's future under Elko.
That penetrating attack is led by senior defensive end Duke Ejiofor. Including 6.5 sacks, he has 14 tackles for loss this year, along with five more quarterback hurries. Ejiofor's first season of action corresponded with Elko's first season with the Deacons. The young pass-rusher notched two sacks and 12 tackles in 10 games. In Elko's final season with Wake Forest, Ejiofor brought down the opposing quarterback 10.5 times and made 50 tackles in 13 games. Some of that progression was assuredly natural growth. Some of it likely tied to Elko, as well.
Perhaps this is reaching for a comparison, but Ejiofor arrived in college holding 216 pounds on his 6-foot-3 frame. As a fifth-year senior, he is now listed at 275 pounds and 6-foot-4.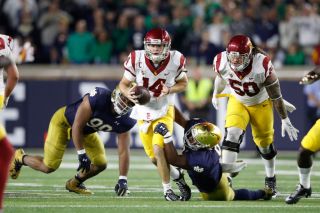 Elko's first season at Notre Dame corresponds with the first season of notable action for Irish sophomore defensive ends Daelin Hayes, Khalid Kareem and Julian Okwara. None of them were as slight as Ejiofor coming out of high, but all could, even should, benefit from Elko's coaching as Ejiofor did. (At 220 pounds, Okwara was most similar to Ejiofor, though boasting more length.)
If Ejiofor finds his way to sacking Notre Dame junior quarterback Brandon Wimbush, do not bemoan the moment too much. It may be a precursor of good things to come for the Irish.
Speaking of Wimbush, can he complete a true deep ball?
Perhaps can is not the proper verb choice. Wimbush certainly has the arm strength for it; he has yet to find the touch for the task. Presuming this weekend is the blowout many expect, Kelly and offensive coordinator Chip Long have thus far this season chosen to use such a situation for a drive or two of passing reps for the first-year starter. Taking a shot downfield when up 14 or even 21 would not be considered poor taste.
Wimbush did throw a 54-yard touchdown to junior receiver Miles Boykin against Miami (OH), but even that pass was half a stride behind Boykin, allowing the defender to catch up to him. If the line of scrimmage had been three yards further back, Boykin would have been down a yard short of the end zone even though he had more than a stride's advantage on his defender.
At some point, Wimbush hitting sophomore receiver Kevin Stepherson streaking down the field would serve to aid the quarterback's confidence — it is a very difficult throw, seeing it succeed once may help the mental cause in the future — and it would put the threat on the radar of future opponents. Forcing Miami (FL) or Stanford to prepare for that vertical concern would further open up the field for Notre Dame's offense.
These are the advantages afforded by 14-point first-half leads or 21-point advantages midway through the third quarter. Admittedly, if Wimbush and Stepherson were to connect on the route with a large lead in the fourth quarter, it could be considered poor sport, style points being overrated these days. (That is not a tongue-in-cheek comment. There is no tangible difference between five degrees below zero and 25 degrees below zero. There is no bettering of a win by running up the margin from 28 to 42 points.)
While discussing speed threats, how is Dexter Williams' ankle?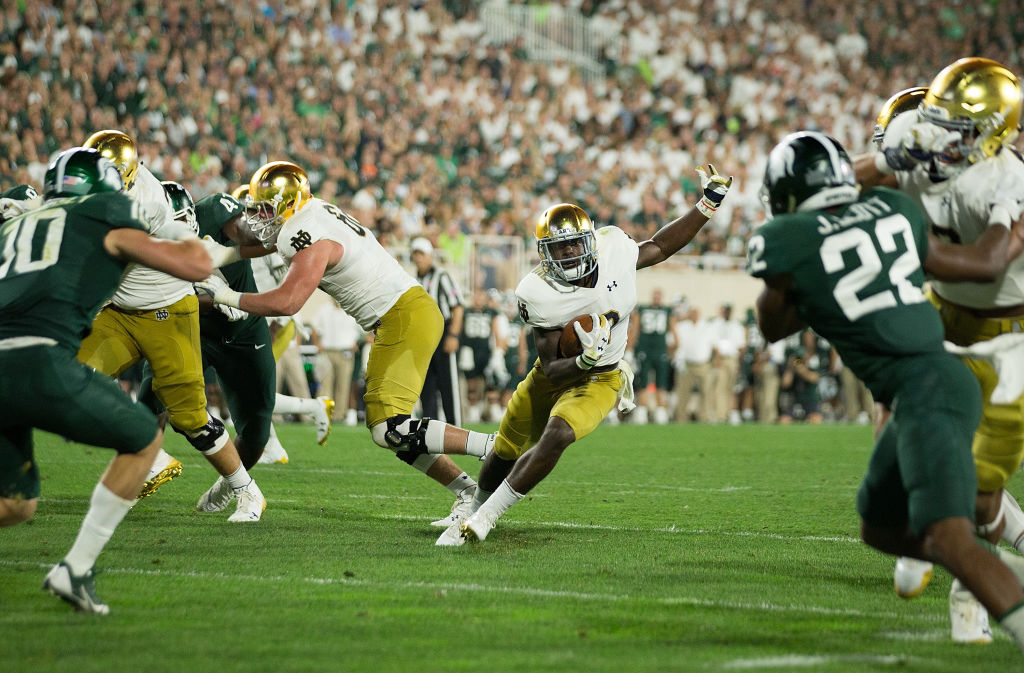 Junior running back Dexter Williams brings raw speed to the Irish running game, pure and simple. When removing his big-play capability, the viability of playing Williams decreases greatly. As long as he cannot trust his right ankle to provide that pop, Williams serves little purpose in the Irish running back rotation.
If Williams gets another eight carries this week, as he did in the 35-14 rout of North Carolina State, then that may be the necessary proof his ankle is ready for the season's final quarter. He will be needed more against the Hurricanes' defensive front than this weekend, so if he sees limited action, presume it is an attempt to gain further health before the test in Miami.
Lastly, when and where will chaos strike?
Some things are inevitable, Mr. Anderson. Anarchy will strike college football in November. It could happen in South Bend. It could be in Iowa City. Maybe it will wait a week to reappear in Jordan-Hare.
As a rule of thumb, if wanting Notre Dame to make the College Football Playoff, cheer for all Irish opponents and cheer against every higher-ranked Big 12 team. With that in mind, upsets in the following five games may not necessarily count as anarchy, but they would serve to help Notre Dame's cause, nonetheless.
RELATED READING: Notre Dame's best-case and worst-case CFP scenarios
— No. 7 Penn State at No. 24 Michigan State, 12 p.m. ET, FOX.
— No. 4 Clemson at No. 20 North Carolina State, 3:30 p.m. ET, ABC.
— No. 5 Oklahoma at No. 11 Oklahoma State, 4 p.m. ET, FS1. (Cheering for the higher-ranked Big 12 team, Oklahoma, would not be an upset by the book, only by the ranking. Oklahoma State is favored by a field goal.)
— No. 13 Virginia Tech at No. 10 Miami, 8 p.m. ET, ABC. (Unlike the game above, cheering for the Irish foe, Miami, would be cheering for an upset by the book, not by the ranking. Despite taking a lower rating on the road, Virginia Tech is a 2.5-point favorite.)
— No. 19 LSU at No. 2 Alabama, 8 p.m. ET, CBS.
[protected-iframe id="4322d87b3e2eb4d11caa19723fa3b36c-15933026-22035394" info="//platform.twitter.com/widgets.js" class="twitter-follow-button"]