For all the talk about 13 data points this time of year, only a few games on each schedule matter. The College Football Playoff selection committee focuses on those when putting together each week's poll, the most-recent having been released Tuesday night with Notre Dame still at No. 3.
The Irish opened their season by beating Temple; No. 5 Oklahoma began with a 56-7 victory over UTEP. Neither much matters anymore. Notre Dame beat Miami (Ohio) 52-17; No. 4 Clemson hosts the Citadel in two weeks. The eyes naturally move past both games when looking at the schedules. The Irish outran Boston College 49-20; No. 6 TCU rolled past Kansas 43-0. Frankly, the Horned Frogs' conference opponent remains one of the country's weakest teams no matter affiliation.
Rather than dissect the various birds' weekends, a look at the Sooners, the Tigers and TCU makes more sense. Thus, in order of pertinence, import and meaning, the weekly look at opponents pivots from the teams scheduled to the teams who may yet be scheduled for January. In November, that context becomes the more important determining factor, rather than the all-inclusive content of September and October.
Clemson (8-1): In not moving the Tigers past the Irish this week, the committee may have made it impossible to do so moving forward. Clemson's résumé received a greater boost this weekend, beating now-No. 23 North Carolina State 38-31, despite not leading until the second half and needing a last-minute interception to seal the road victory. Close as it was, the win means more than Notre Dame's 48-37 topping of Wake Forest.
Yet, the Tigers remain a step back. Even if the best Irish opponents fall apart, diminishing the value of those wins, they may already be worth enough to keep Notre Dame staked ahead of Clemson. The biggest boost the Tigers can get from their past would be No. 10 Auburn beating the top-two teams a total of three times. The Irish would welcome that unlikely scenario, as it would greatly diminish two claims to top spots, even if that meant Clemson jumped to No. 1.
The Tigers still host Florida State (3:30 p.m. ET, ESPN) and the Citadel, have a trip to face South Carolina and meet a yet-to-be-determined foe in the ACC title game. That schedule will not elevate Clemson more than will Notre Dame's remaining games, including a trip to that likely ACC title game challenger, No. 7 Miami.
Oklahoma (8-1): The Sooners, however, could still jump both the Irish and the Tigers. A 62-52 win over now-No. 15 Oklahoma State was not enough to push Oklahoma into the top-four, but three more games against top-25 opponents, including two against No. 8 TCU, could do it. Neither Notre Dame nor Clemson face as many remaining challenges.
This is not saying the Sooners' overall résumé is better than either of the two ahead of it. This is saying if the committee already sees it as close, there is enough yet to come to move it ahead in those eyes. Those opinions are, after all, the only ones that matter.
That slate begins this weekend vs. TCU (8 p.m. ET, FOX) with Oklahoma favored by a touchdown. A combined point total over/under of 62.5 posits the Sooners as 34-28 victors and more pressure on the committee to consider moving Oklahoma and Heisman-frontrunner quarterback Baker Mayfield into the Playoff field.
TCU (8-1): Frankly, the next entry on this list is more pertinent, but having the Horned Frogs follow their upcoming opponent makes organizational sense.
TCU has little-to-no chance of jumping Notre Dame. This past weekend's 24-7 victory against Texas didn't much help the cause. Sure, the Horned Frogs still have up-to-two top-10 games remaining, but the Irish have one themselves. If TCU wins both this weekend and in the Big 12 title game down the line, that will not likely be enough to make up for a lackluster schedule thus far.
Oklahoma differentiated itself from the rest of the Big 12 with its win at Ohio State in September.
But what about undefeated Wisconsin at No. 8? The 9-0 Badgers could finish 13-0 with only one win of value. Even with Iowa vaulting itself into the top-25 this week thanks to a blowout of the Buckeyes, Wisconsin beating the No. 20 Hawkeyes on Saturday (3:30 p.m. ET, ABC) will not impress much. And yes, presume that will happen. The Badgers are favored by 12 with an over/under of 46, a theoretical 29-17 final.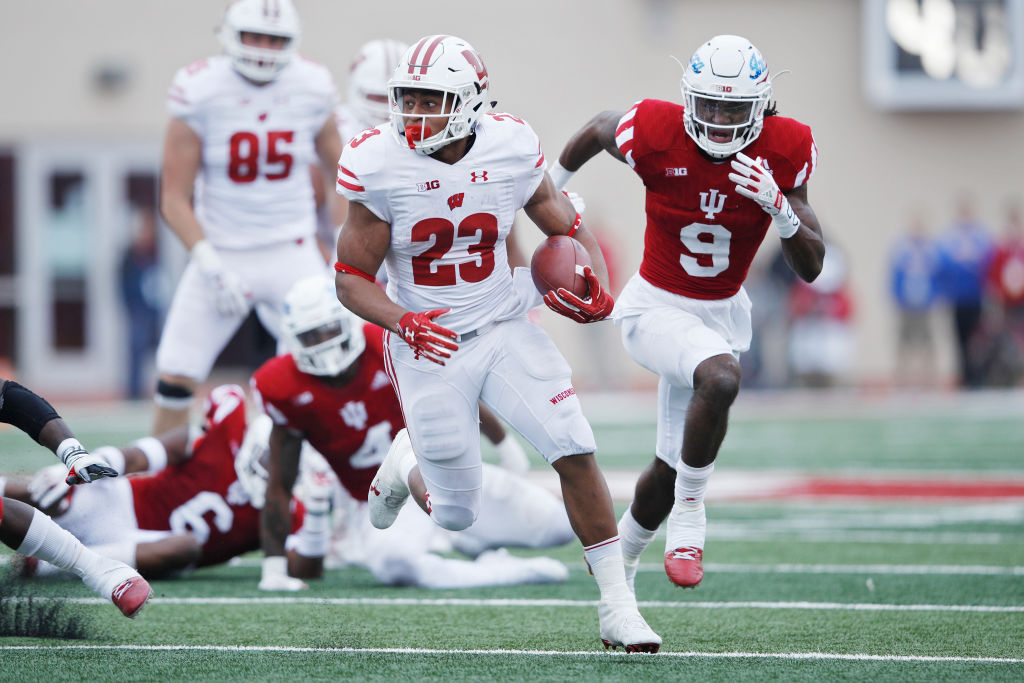 The question Notre Dame must wonder: Will an undefeated Power Five conference champion really not make the Playoff? If both Oklahoma and Wisconsin win out, this answer will matter a great deal.
This space does not know this answer, but it will also not fault a team for winning every game on its schedule.
The question may not matter, but it is the question at hand.
Because no one else in the Big Ten can make a claim. Ohio State fell to No. 13 after the Hawkeyes raced to a 55-24 victory. Quarterback J.T. Barrett dashed his Heisman hopes with four interceptions. Meanwhile, Penn State dropped to No. 14 thanks to a 27-24 loss at Michigan State, boosting the Spartans to No. 12. This did the Irish two favors: It removed a CFP contender from the conversation and it made September's win at Michigan State that much more impressive.
Then comes the SEC: No. 1 Georgia, No. 2 Alabama and the aforementioned No. 10 Auburn: If Georgia (9-0) and Alabama (9-0) keep winning until they meet in the SEC title game, presume both are in, no matter what Wisconsin worries may exist for others. Both face tests this weekend, though.
The Bulldogs are favored by 2.5 at Auburn, a 25-22 possibility on the horizon (3:30 p.m. ET, CBS). The Tide, meanwhile, heads to No. 16 Mississippi State expecting to cruise to a two-touchdown triumph (7 p.m. ET, ESPN).
If either is upset, that alone will not end Playoff plans, but it would create for a lot more hypotheticals to be bantered about. Let's cross that bridge if/when we get to it.
For thoroughness' sake, No. 9 Washington (8-1): The Huskies need some sort of chaos ahead of them to expect a bid. For now, a 38-3 win vs. Oregon didn't hurt, and neither would a 28-22 notch Friday night at Stanford (10:30 p.m. ET, FS1). Then again, Pac-12 road teams have fared terribly on Friday nights this season.
---
That covers Georgia, Michigan State and Miami — oh, right, Miami came in at No. 7 in the new poll thanks to its 28-10 victory over now-No. 17 Virginia Tech — and there was a mention of North Carolina State (now heading to Boston College for a 12 p.m. ET kickoff on either ESPN2 or ABC depending on your region) and Stanford (fell out of the poll thanks to a 24-21 defeat to now-No. 19 Washington State). That leaves one more of Notre Dame's impactful opponents to be mentioned.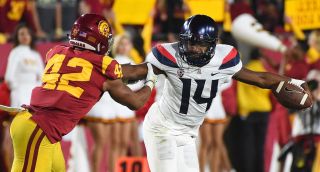 USC (8-2) rose to No. 11 in the poll, making the Trojans the second-ranked two-loss team, behind Auburn. A 49-35 win vs. Arizona might not have been expected to provide such a jump in the standings, but the committee clearly respects what the Wildcats have done since inserting sensation Khalil Tate at quarterback. USC, just like Georgia, Michigan State and Miami, still controls its own path to its conference title game. That path should not struggle with this weekend's obstacle, a trip to Colorado (4 p.m. ET, FOX). Favored by nearly two touchdowns with an over/under of 63.5 would make for a 38-25 Trojan victory.
As for the rest of the Irish schedule:
Temple (4-5): The Owls won 34-26 against Navy on Thursday, and now head to Cincinnati for a Friday-night matchup (7 p.m. ET, ESPN2). Favored by 2.5 with an over/under of 47.5 creates a 25-22 distraction while you ready for a night on the town.
Boston College (5-4): The Eagles come off a bye with the aforementioned date with the Wolfpack as only three-point underdogs. There could be value there, now that North Carolina State's ACC hopes were dashed by Clemson. Perhaps the Wolfpack will struggle and fall on the wrong side of a 28-25 result.
Miami (OH) (4-6): The RedHawks beat Akron 24-14 on Tuesday night, now readying for a meeting with Eastern Michigan next Wednesday. MACtion, it is the opiate of the midweek miserable.
North Carolina (1-8): The Tar Heels head to Pittsburgh on Thursday (7:30 p.m. ET, ESPN) having had nearly two weeks to prepare in hopes of overcoming a 9.5-point spread in the Panthers favor. A 29-22 score is not a normal football score, and expecting North Carolina to keep it that close might be unreasonable.
Wake Forest (5-4): Can the Deacons secure bowl eligibility at Syracuse? The 3 p.m. ET kickoff, not nationally-televised, has no favorite, only an over/under of 63. A 32-31 nail-biter never hurt anyone.
Navy (5-3): After that loss to Temple, Navy seeks bowl eligibility vs. SMU (3:30 p.m. ET, CBS Sports Network), despite being 4.5-point underdogs. SMU has snuck up on the general public this year, and just may do that to the Midshipmen, as well.
[protected-iframe id="4322d87b3e2eb4d11caa19723fa3b36c-15933026-22035394" info="//platform.twitter.com/widgets.js" class="twitter-follow-button"]