No. 3 Notre Dame will have its star pair of juniors in the backfield Saturday night at No. 7 Miami, and both are apparently healthy. Irish coach Brian Kelly expressed little concern for quarterback Brandon Wimbush or running back Josh Adams on Thursday.
Wimbush showed "no ill effects" from the massive hit his left hand took just before halftime in last week's 48-37 victory over Wake Forest. Kelly said the swelling is down and Wimbush may wear a padded glove on his non-throwing hand to protect it.
That is all well and good, but if Wimbush's hand is at all a hindrance, ball security could become an issue, especially going against a Hurricanes defense that has forced 12 fumbles in eight games, recovering seven of them. Obviously, limiting Wimbush to the pocket to avoid such concerns would neuter the Notre Dame rushing attack of its most problem-causing threat.
Wimbush's option to run at any point forces the greatest defensive adjustments and plays a key role in Adams' success. The latter being healthy and well-rested plays a key role, as well. After last weekend, that is now something to keep an eye on.
"I definitely learned from last week, which is a great thing about football," the Heisman-hopeful said Wednesday. "You're constantly learning and have to do better, so taking care of my body a little bit more and feeling good."
Kelly said junior running back Dexter Williams is not 100 percent recovered from the quad contusion which hampered him last week on what would usually have been a breakaway touchdown, adding, "He can still definitely help us."
Junior tight end Alizé Mack has been cleared from a concussion. Fifth-year receiver Cam Smith, however, will be out as he continues to work through a hamstring strain that necessitated a platelet-replacement procedure Wednesday.
Lastly, senior cornerback Nick Watkins will be "managing" knee tendonitis. If sophomore Troy Pride sees an abundance of playing time, presume that to be the reason.
Miami is flying high, as are its fans. Will Notre Dame struggle in a genuine road atmosphere?
Some may scoff at this as a possible factor Saturday night (8 p.m. ET, ABC), but with a first-year starter and a few other young starters in the mix, particularly both options at right tackle, the Hurricanes fans will have their opportunity to make an impact.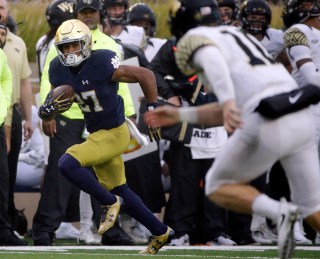 "There will be some nerves and they'll have to settle into the game," Kelly said. "They've been really good at, once they get into the game, they've settled in nicely.
"But there will be moments early on that they have to settle into it."
The Irish avoided this particular challenge at Michigan State by getting out to a two-possession lead — partly thanks to the momentum-sealing interception returned for a touchdown by sophomore cornerback Julian Love — within the first five minutes of the game. Otherwise, that could have established a data point for this particular query. It also helped that the Spartans were not yet respected as a 2017 contender as they are now, having risen to No. 12 in the College Football Playoff selection committee rankings. That crowd had not yet bought in on its season.
Miami's has, deservedly so.
On the flipside of the ball, was last week's defensive performance really just due to distractions and malaise? Or did Notre Dame have something more concerning afoot?
The Hurricanes average 31.5 points and 461 yards per game. It is safe to expect them to find offensive success at some point Saturday night. Two recent Irish foes present similar profiles.
USC averages 35.2 points and 492.4 yards per game.
Wake Forest averages 31.9 points and 445 yards per game.
The former fell short of those averages at Notre Dame, scoring only 14 points and gaining 336 yards. The latter exceeded those averages at Notre Dame to the tune of 38 points and 587 yards. It is hard to believe only two weeks separated those performances.
Kelly continues to point to something of a defensive indifference allowing for the Demon Deacons to run wild in the game's final third, and he continues to insist it is no longer an issue.
"They practiced the way that they had practiced leading up to last week," he said. "Every week they had created a new line of scrimmage. Last week they did not create a new line of scrimmage in practice."
Apparently defensive coordinator Mike Elko made it very clear what led to Saturday's issues. Kelly said Elko found six plays from practice Wake Forest ran successfully in the game. In each of them, the lack of execution was foreseen in a lack of execution at practice.
"It was easy to go back to how we prepared," Kelly said. "He was great at showing our players that it's in their preparation and they've prepared very well defensively this week."
Perhaps, the lackluster performance a week ago will actually serve to aid the Irish this weekend.
"Whenever you have a bad performance, you always come back with a chip on your shoulder," senior linebacker and captain Drue Tranquill said. "A lot of the guys after the game were ready to put the patch back on and go right back out there because we felt we let one go."
To feel like you let one get away and still get a win is quite the treat on its own. To take that feeling and then channel it into a better showing a week later on the road against a top-10 opponent would make every point Wake Forest scored a worthwhile allowance to Notre Dame.
Can the Irish win a close game?
Let's just present a series of facts.
— Notre Dame has not had to turn to Wimbush to lead a game-winning, last-minute drive in two months. That is not a bad thing. No coach in the world will begrudge blowing out each and every opponent.
— When Wimbush did get his chance against Georgia in the season's second week, his first attempt sputtered and his second was cut short by an unblocked defensive end. He has never had a genuine chance to show the poise, command of the playbook and quick-thinking needed to win a collegiate game in its last minute.
— The last time the Irish prevailed in a one-possession game was also Miami's last defeat, Oct. 29, 2016. Notre Dame won 30-27.
— Since then, the Irish have gone 0-3 in one-possession games.
— Before that victory, one has to trace back to Nov. 21, 2015, for such a win, 19-16 vs. Boston College at Fenway Park. Since then, Notre Dame has gone 1-7 in one-possession games.
— The last time the Irish beat a ranked foe in a tight game was Oct. 31, 2015, a 24-20 victory at No. 21 Temple, undefeated at 7-0 heading into that game including a win over Penn State.
— Miami has won four games by one-possession this season. Considering the Hurricanes remain undefeated, they have indeed not lost such a contest.
Miami and senior quarterback Malik Rosier have shown the ability to win tight football games. Notre Dame and Wimbush have not, though in no small part because they have simply not needed to.
[protected-iframe id="4322d87b3e2eb4d11caa19723fa3b36c-15933026-22035394" info="//platform.twitter.com/widgets.js" class="twitter-follow-button"]