Thanks to its win Saturday over Navy, Notre Dame will have two chances to reach double digit victories this season. As Irish coach Brian Kelly pointed out after the 24-17 victory, reaching that mark for the second time in three years is not a common occurrence at Notre Dame. The last time the Irish achieved such success was at the peak of Lou Holtz's career, never falling below 10 wins from 1988 to 1993.
"There's a lot to play for, for these guys," Kelly said. "[The seniors] have done an incredible job of leading us back to where we should be."
If — and that two-letter word still looms large over this possibility — Notre Dame reaches 10 wins this season, it will actually be only the third time in program history to meet that mark twice in three seasons. Even though the Irish have played at least 11 games every season since 1969, only Holtz's stretch and the 1973-74 seasons under Ara Parseghian qualify. (One exception: Notre Dame declined a bowl game in 1971 after finishing 8-2.)
While the 4-8 debacle in 2016 mitigates some of the luster of this distinction, realizing how infrequent such consistency is also underscores some of the outlier nature of last season.
Other coaches make inexplicable mistakes, too.
When the Midshipmen needed to gain five yards on their final drive, Navy head coach Ken Niumatalolo resorted to a halfback pass. To that point, his offense had converted four of five fourth-down attempts, falling barely a yard short on a fourth-and-five try on its first drive, stopped by Irish senior linebacker Greer Martini, naturally.
Since then, three consecutive conversions, including a 21-yard pass from quarterback Zach Abey. Yet, Niumatalolo opted for the trick play. It would have worked, too if Notre Dame senior defensive end Andrew Trumbetti had not set the edge, recognized the play and quickly closed on running back Darryl Bonner, forcing the flutter of a pass attempt.
"If we would have gotten the ball off, he was open," Niumatalolo said. "We didn't block. We missed the block on the edge. If we get the block on the edge, we had a shot."
Missed block or not, a triple-option team should not revert to a halfback pass when in a do-or-die situation. Ride with the horse that brought you. Win or lose with your fastball. Insert a third cliché here.
They are clichés for a reason.
Keven Stepherson points to the name on the back of the jersey.
Watching a replay of sophomore receiver Kevin Stepherson's first touchdown Saturday, a 30-yarder to tie the game at 17, one cannot help but notice he exuberantly points to the nameplate above his number.
In this instance, that was not a selfish or self-promotional gesture. The "Rockne Heritage" uniforms all had ROCKNE across the back.
"He's had many chances to fold under the scrutiny that he's been under," Kelly said of Stepherson. "But he's persevered and Notre Dame's been great for him."
Now, about traveling to Stanford …
The last time Notre Dame won at Palo Alto was a full decade ago, prevailing 21-14 in 2007.
With a loss to the Irish but perhaps a bowl win, the Cardinal should finish the season in the top 25. The last time Notre Dame went on the road and beat such a team was five full years ago, topping Oklahoma.
That can be a somewhat misleading fact, though. Those opportunities are not very common, partly because the Irish play only five true road games a season and partly because the opponent needs to be good enough to stay in the rankings despite a loss, an inherently detrimental result when it comes to rankings. Since Norman, Notre Dame has played only seven such games, including this year's loss at Miami. (That does not include winning at Michigan State this year, as it is no sure thing the Spartans will finish the season ranked, whereas such can be readily presumed with the Hurricanes.)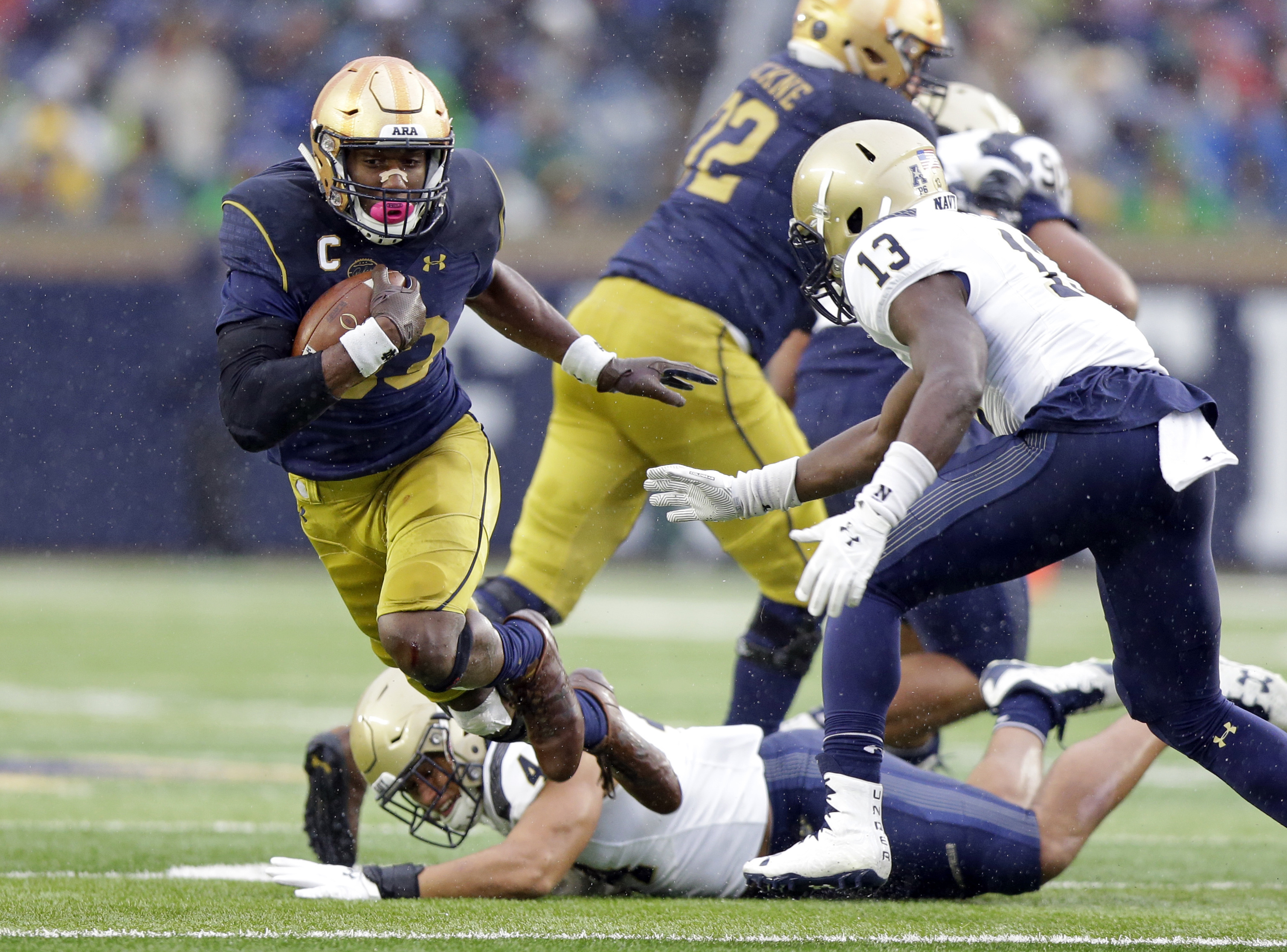 Josh Adams now has more than 3,000 career rushing yards.
The numbers can speak for themselves. With 106 yards on 18 carries this weekend, the junior running back now has 3,105 career yards, good for No. 5 all-time at Notre Dame. Darius Walker (2004-06) sits 144 yards ahead of him.
Adams has 1,337 yards this season, exactly 100 fewer than the all-time Irish mark set by Vagas Ferguson in 1979.
[protected-iframe id="4322d87b3e2eb4d11caa19723fa3b36c-15933026-22035394" info="//platform.twitter.com/widgets.js" class="twitter-follow-button"]