Both Notre Dame and Stanford can still get to 10 wins before a bowl game, though the path for the Cardinal is a bit tougher. The Irish need to win one game, though it is at a place where they haven't found a victory in a decade. Stanford needs to beat Notre Dame, have Washington top Washington State, and then the Cardinal could proceed to the Pac 12 title game for a rematch with USC.
The focus today is on this weekend, naturally. For some insight, let's turn to Jacob Rayburn of the Cardinal Sports Report.
DF: Obviously the story this year has been Bryce Love. When he's healthy, I'd argue he is the most explosive running back in college football. But, much like the Irish backfield, ankle issues have nagged at Love for most of the season. How is he this week?
JR: Bryce Love's ankle and whether he will play is the mystery of the week. Love wasn't able to finish the Big Game win over Cal and missed most of the fourth quarter of a three-point game. Love has a very high pain tolerance but it was too much Saturday after he was once again rolled on by a defender. He has done a fantastic job of playing the past couple weeks despite the fact that he has only one healthy ankle.
There are a number of Stanford fans on the forum arguing it's not worth him playing this week. There is a chance the Cardinal will play USC in the conference championship game the following Friday, so a short week after a physical game would be troublesome.
Love's scouting report is speed, speed, speed. He is more than that, though. What about his game sets him apart? Not that this is applicable this week, but curiosity forces me to ask, what kind of NFL future do you see for him?
His vision is excellent and he is much tougher to bring down than people think. The vision he has to spot not even a running lane but just a tiny gap between bodies is incredible. Love regularly slides through the smallest opening to break off a run that few other running backs would even try, let alone be able to do.
He's had some bad luck with injuries the past two seasons that may raise questions about his durability. But when a 300-pound human falls on your ankle it doesn't matter it if you're a 220-pound running back or a 190-pound running back. It hurts.
Love's speed alone makes him valuable for an NFL team, but his draft stock will also be determined by his ability to catch the ball — which he hasn't been asked to do much this season, but he can — and if he can stop a blitzing defender. But even as a situational back and returner he would add great value to a team. He's too talented a runner for a skilled offensive play caller not to find successful ways to use him.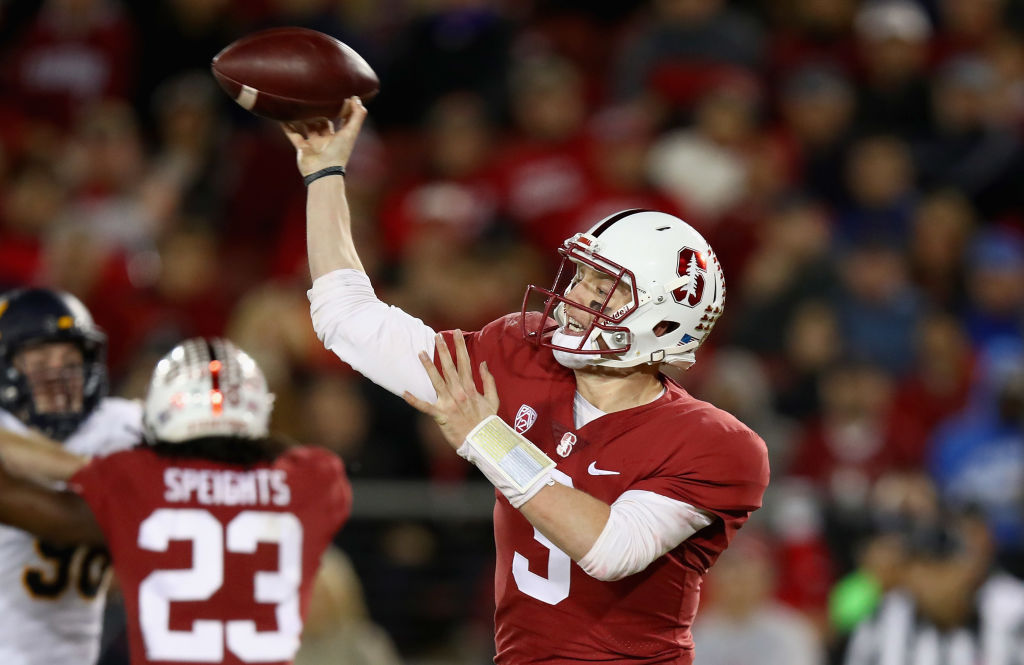 Love has been the engine to the Cardinal offense this year partly because of some uncertainty at quarterback. Head coach David Shaw has now settled on sophomore K.J. Costello, but only a month ago he was hardly playing. Senior Keller Chryst had the honors then. We should expect Costello this weekend, right? What does he bring to the table that Chryst lacks?
There really isn't a major difference in the skillset of the two quarterbacks, although when healthy Chryst is the better runner. But Chryst's inconsistency was his undoing. He was capable of delivering NFL caliber throws one week against Oregon and then in the next game against Oregon State nearly throw multiple interceptions.
It would be simplistic to describe Costello as a gunslinger, but there is some merit to describing him such. He can make more happen with his arm than Chryst and his personality seems to bring out more energy from the team. Chryst is a tough kid who worked very hard to return to the team from a knee injury in the Sun Bowl, but Costello better balances the offense.
Costello didn't see the field when Stanford slipped past Oregon State on Oct. 26. Neither did Love. Yet, that was the one game most people actually might have seen, played on a Friday night with little competition for eyeballs. What in the world happened that night? The Cardinal had been rolling along, winning four straight with three of them by at least 10 points. Was the offensive ineptitude entirely because of those two absences?
Not having Love really hurt but generally there were some major steps backward that Friday. As you pointed out there were positive signs in the previous four games that the offense's worst days were behind it. That clearly wasn't the case and fits into the narrative of this season that this Stanford team has been very difficult to figure out.
The Oregon State defense played inspired and there is something about playing up in Corvallis that does funky things to visitors. It has been a major trip for Pac-12 teams. Stanford's offensive line wasn't able to dominate the line of scrimmage like people expected in that game. And without Love, none of the running backs had the ability to turn a small opening into a big run.
Stanford's rush defense is decidedly average, allowing 171.7 yards per game, good for No. 70 in the country heading into this weekend. Notre Dame's rush offense is much better than average. What chance does the Cardinal have of slowing down that ground attack? Will Shaw sell out on that effort, daring Irish junior quarterback Brandon Wimbush to produce through the air?
Every week has been a challenging experience for Stanford defensive coordinator Lance Anderson to figure out a new way to keep opponents out of the end zone. Really there aren't any statistics that show Stanford is a great defense and in some categories they aren't even good. But the Cardinal are allowing only 21 points per game.
I expect Stanford to go all in to stop Notre Dame's run game. This Cardinal defensive front is not a dominant group, even though they have one of the best interior players in the conference and even the country with senior defensive tackle Harrison Phillips. But the front seven has been inconsistent and was hurt significantly when inside linebacker Sean Barton suffered a season-ending injury at San Diego State in week three. Bobby Okereke is playing very well in the middle of the field and they would have been a formidable duo at this point in the season.
Entering the season, expectations were not as high for Stanford as they may have been in the recent past. That's what happens when you lose two top-10 NFL Draft picks, one on each side of the ball. Yet, here the Cardinal are, with a chance to win the conference and head to a playoff-eligible bowl at 10-3. How much has this been seen as a "down" year in those parts? Has David Shaw's performance this season earned the praise it likely deserves?
It has been a down year in the sense that Stanford's inconsistency has left wins on the field. The loss to USC was completely understandable because the Trojans played like a playoff-caliber team that night. Sam Darnold and that offense looked better in that game than most of the rest of the regular season.
But losing to San Diego State and Washington State, and nearly suffering a stunning upset at Oregon State, were disconcerting for a variety of reasons. The loss to Washington State really hit the team hard because it was a painful missed opportunity to take control of the North Division. After that game Shaw went further to publicly criticize his own performance as a playcaller than he ever has before. There was a feeling that Stanford was at a tipping point where things could really go bad.
But the team has rallied since and they have a chance for another 10-win season. If Stanford can maintain that as the "down season" standard then that's something fans can live with.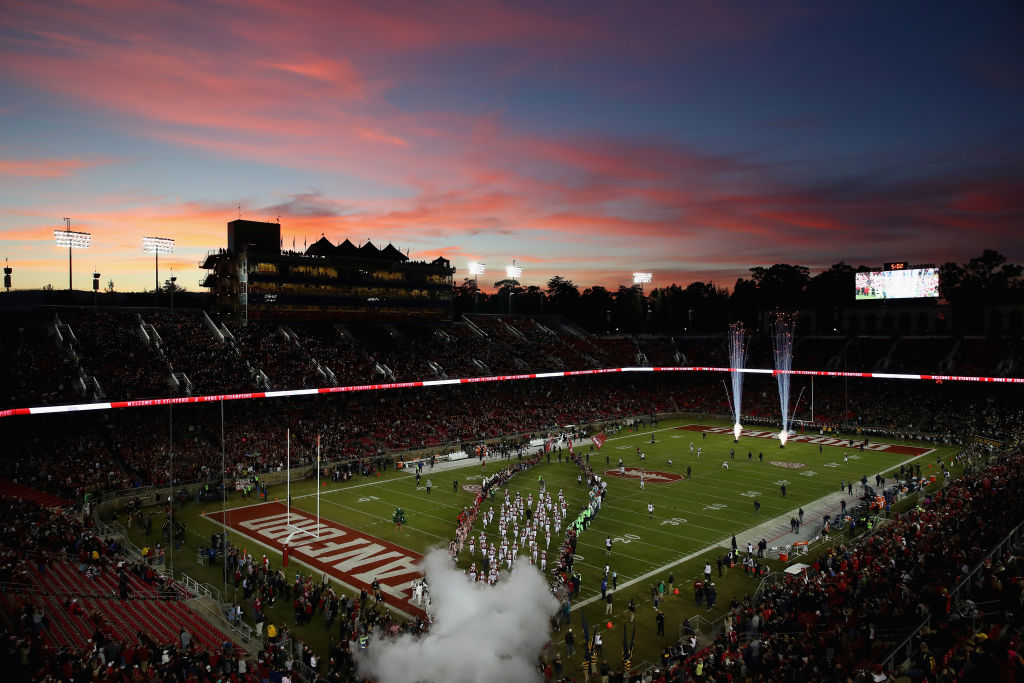 With a 2.5-point spread in Notre Dame's favor, bookmakers have this one pegged as closer than I expected. Perhaps that has to do with a decade's worth of Irish struggles at The Farm. What do you expect to see unfold this weekend?
I think a lot has to go right for Stanford, especially on defense, to keep Notre Dame close. If Josh Adams and the Irish offensive line have their way it would be a very tough night for the Cardinal defense. I don't expect Bryce Love to play in the game but anything could happen with someone as determined as him. Welcoming back tight end Dalton Schultz and wide receiver Connor Wedington — who missed the Cal game due to injuries — will help Costello keep the game close with the passing game.
I have Notre Dame by 10 points.
[protected-iframe id="4322d87b3e2eb4d11caa19723fa3b36c-15933026-22035394" info="//platform.twitter.com/widgets.js" class="twitter-follow-button"]