Winning at Stanford would give Notre Dame its third win over a team in this week's College Football Playoff selection committee top 25, with the Cardinal moving up one spot to No. 21 on Tuesday.
In Irish coach Brian Kelly's mind, that résumé might yet warrant Playoff consideration.
"Our mission is still to hold out hope for one of the Playoff spots," Kelly said Tuesday. "… It's trying to prepare [his team] for one more game and finishing off the season on a high note."
Kelly's mission may be far-fetched, though he is certainly aware of as much. However, it is not yet beyond fathoming.
"If you're in the top eight, you're strongly considered," Kelly said. "… The teams that are up there have all had one bad day, and we had one bad day, too."
Remaining at No. 8, Notre Dame will need a few teams to have another bad day in the next two weekends. This past bland weekend left the top 12 largely unchanged, only Miami moving up to No. 2, knocking Clemson down to No. 3. A conspiracy theorist might think that set the groundwork for a tight Clemson victory in the ACC title game next weekend leading to both ACC finalists making the Playoff. With that in mind, make the first Irish-preferred domino a Miami victory in that game.
Kelly should also hope No. 6 Auburn beats No. 1 Alabama this weekend before losing to No. 7 Georgia next weekend. No. 5 Wisconsin topping No. 9 Ohio State next weekend in the Big Ten championship would likely aid Notre Dame's cause, as would No. 12 TCU upsetting No. 4 Oklahoma in the Big 12 final.
That scenario would leave Georgia, Miami and Wisconsin as likely locks for the Playoff. The conversation around the fourth Playoff spot would revolve around a one-loss Alabama, a two-loss Clemson, a two-loss Oklahoma, a two-loss TCU and a two-loss Notre Dame.
Of course, that all only comes into consideration if the Irish beat Stanford this weekend.
Arguments could be made for each of those five possibilities. Spending time on those could quickly be time spent on fantasy if all five of those dominos do not fall perfectly.
In that case, it remains simple for Notre Dame. Beat the Cardinal and make a Playoff-eligible bowl, which one likely depending on if Miami makes the Playoff or not. If the Hurricanes are in the Playoff, then the Irish may be heading back to Miami Gardens and the Orange Bowl. If Miami lands at its home venue, than a Notre Dame victory this weekend should send Kelly to the Cotton Bowl.
An Irish loss in Palo Alto still sends them to Orlando in one form or another, be it the Citrus Bowl (Jan. 1, 1 p.m. ET) or the Camping World Bowl (Dec. 28, 5:15 p.m.).
As a refresher of the Playoff contenders and their remaining slates:
1) Alabama: at No. 6 Auburn; with a victory in the Iron Bowl, then head to face No. 7 Georgia in the SEC championship.
2) Miami: at Pittsburgh, vs. No. 3 Clemson.
3) Clemson: at No. 24 South Carolina, vs. No. 2 Miami.
4) Oklahoma: vs. West Virginia; most likely vs. No. 12 TCU in the Big 12 title game, though the Horned Frogs have not secured that finish just yet.
5) Wisconsin: at Minnesota; vs. No. 9 Ohio State.
6) Auburn: vs. No. 1 Alabama; with a victory in the Iron Bowl, then head to face No. 7 Georgia in the SEC championship.
7) Georgia: at Georgia Tech; vs. the Iron Bowl victor.
8) Notre Dame: at No. 21 Stanford.
9) Ohio State: at Michigan; vs. No. 5 Wisconsin.
Notre Dame's Opponents
Temple (5-6): The Owls lost 45-19 to undefeated Central Florida. Temple now needs to beat Tulsa (4 p.m. ET; ESPN News) to secure bowl eligibility. The Owls are favored by three with a combined point total over/under of 59, indicating a 31-28 conclusion.
Georgia (10-1): The Bulldogs trounced Kentucky 42-13, cashing in on another efficient performance from freshman quarterback Jake Fromm, who finished 9-of-14 passing for 123 yards, one touchdown and one interception. Georgia is favored by 11 against Georgia Tech (12 p.m. ET; ABC), an over/under of 51.5 pointing to a 31-20 result.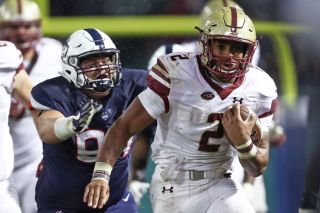 Boston College (6-5): The Eagles secured a 13th game to the season by beating Connecticut 39-16 in Fenway Park, even though they were without starting quarterback junior Anthony Brown. Freshman running back A.J. Dillon picked up the slack, taking 24 carries for 200 yards and two touchdowns. Boston College now travels to Syracuse (12:20 p.m. ET; ACC Network) as 3.5-point favorites with an over/under of 56.5, roughly equaling a 30-27 score.
Michigan State (8-3): The Spartans moved up one spot to No. 16 in the CFP poll after beating Maryland 17-7. They can't win the Big Ten, but they can win at Rutgers (4 p.m. ET; FOX), favored by nearly two touchdowns with a 26-13 decision sounding reasonable only if Michigan State comes out flat.
Miami (OH) (5-7): The RedHawks season ended Tuesday night with a 28-7 win at Ball State. Entering the year with seemingly-realistic aspirations of winning the MAC, missing out on a bowl game entirely makes for quite the disappointing season for former Irish assistant Chuck Martin.
North Carolina (3-8): The Tar Heels won their second straight, beating FCS-level Western Carolina 65-10. That win streak is likely to come to an end at North Carolina State (3:30 p.m. ET; ESPNU) this weekend. The Wolfpack is a 16-point favorite with an over/under of 56. Quick math makes for a 36-20 Tar Heels loss.
USC (10-2): After a 28-23 victory over UCLA, the No. 11 Trojans can finally enjoy a week off, their first of the season, before the Pac 12 title game next Friday. They will face either Washington State or Stanford then, depending if the Cougars beat Washington this weekend.
North Carolina State (7-4): A 30-24 loss to Wake Forest is the first real letdown of a loss for the Wolfpack since the season opener, only otherwise dropping games to Notre Dame and Clemson.
Wake Forest (7-4): Head coach Dave Clawson can put the final cherry on top of a resoundingly-successful 2017 with a victory against Duke (12:30 p.m. ET; ACC Network). Bookmakers certainly expect as much from the Deacons, making them 12-point favorites with an over/under of 58, leading to a 35-23 projected score.
Miami (11-0): The Hurricanes overcame a slow start to top Virginia 44-28. Just shy of two-touchdown favorites for its trip to Pittsburgh on Friday (12:00 p.m. ET; ABC), Miami will be fine with a 33-19 victory.
Navy (6-4): The Midshipmen will look to rebound from their 24-17 defeat at Notre Dame by traveling to Houston on Friday (12 p.m. ET; ESPN). While it would be an upset, Navy just might win, only a 4.5-point underdog with an over/under of 55. That's a theoretical 30-25 nod toward the Cougars.
Stanford (8-3): The Cardinal put the pressure on Washington State to keep it out of the Pac 12 title game by beating Cal 17-14. After starting 1-2, this has been a strong turnaround for David Shaw's charges. As of this early Wednesday a.m. typing, Stanford welcomes Notre Dame as 2.5-point underdogs with an over/under of 57. Hypothetically, that points to the Irish prevailing 30-27.
It should be noted, that over/under ticked upward by two points after Shaw said star junior running back Bryce Love is "day-to-day" Tuesday.
[protected-iframe id="4322d87b3e2eb4d11caa19723fa3b36c-15933026-22035394" info="//platform.twitter.com/widgets.js" class="twitter-follow-button"]