Brian Kelly is thankful for the opportunity to coach football at Notre Dame. Brandon Wimbush claims to be grateful for a room full of media. These typically-rote answers offered by the Irish coach and junior quarterback this week make surface-level sense, especially given the obligatory nature of dealing with that room full of cameras, reporters and recorders.
Senior linebacker and captain Drue Tranquill provided a more in-depth response Tuesday, thinking of his grandfather, or "Big Daddy."
"He moved in with us probably about 12 years ago to help my parents taking all the kids to all their sporting events and stuff, and he was always the one taking me to my baseball tournaments, staying in hotels with me and taking me around everywhere," Tranquill said. "So I'm really thankful for him and just the investment he gave to help me pursue my dream."
What might Notre Dame fans specifically be appreciative of this holiday? With a likely — somewhat inevitable — personal skewing, let's run through a few more than three dozen items worthy of giving thanks …
— Defensive coordinator Mike Elko. Last year the Irish defense created 14 turnovers and recorded 14 sacks. With a game to play before matching last season's 12 games, Notre Dame has forced 18 turnovers and brought down the opposing quarterback 20 times. There is a reason Elko is a Broyles Award finalist, given to the country's top assistant coach.
— Offensive coordinator Chip Long. His effect may not be as statistically-dramatic as Elko's, but Long's influence is rather noticeable, nonetheless. Long took over the play calling of an offense led by a first-year quarterback and — with two exceptions against two of the best defenses of 2017 — created a truly explosive attack.
— Strength and conditioning "coordinator" David Balis. Every indication, both on- and off-field, shows the Irish are in better shape this year, holding up better in fourth quarters and into the final month of the season.
"When you spend nearly 70 percent of your time with those [strength] coaches and with your physical and technical development, that's key to having a sustainable model in terms of culture of a winning football team," Tranquill said. "If you look at teams who have been successful, that's where they've started. …
"That's something we've been able to do here this year, and it's helped us to be successful. I think it'll continue to help us be successful."
— Special teams coordinator Brian Polian. Notre Dame's return units have not been explosive this year, but the coverage units have limited the opposition, something not inherently true the last few seasons. In many respects, with an offense producing as much as Long's has, those return possibilities are not as vital to the team's success as the coverage protections are, anyway. Breaking a return also relies on a singular talent more than team-wide coverages do.
"Sometimes to be great, you've got to have one great game-breaker," Kelly said Tuesday. "You've got to have somebody that changes the game, and I don't know that we have that guy right now."
— White bread, toasted, dry, with nothing on it. And four whole fried chickens and a Coke.
— The emergence of the defensive line. During some back-and-forth banter in fielding this preseason's ballots for the annual "Counting Down the Irish" series, jokes were cracked about how few defensive linemen warranted even consideration for the top-25 listing. In the end, three made the cut: sophomore end Daelin Hayes at No. 9, junior tackle Jerry Tillery at No. 11 and senior end Jay Hayes (no relation) at No. 20.
By this point, at least two more would land in the top 25, perhaps as many as four.
"Our defensive line has been a consistent group all year," Kelly said. "… They've fought. They've been very consistent."
— Specifically, sophomore defensive end Khalid Kareem has made himself a known commodity this season, making 5.5 tackles for loss including three sacks. His name will certainly land in next season's "Counting Down the Irish."
"This year has been a breakout year for him in [the weight room]," Kelly said. "He's gained a lot of confidence, and he's made so much progress in the weight room, so from a physical standpoint he can go in there and he can battle with anybody."
— Freshmen defensive tackles Myron Tagovailoa-Amosa and Kurt Hinish give even further reason for forward-looking optimism along the defensive front. Neither was expected to be a contributing presence this season. Both have been, and they thus ease concerns about the possible pending departures of both starting defensive tackles, Tillery and senior Jonathan Bonner.
— Senior defensive end Andrew Trumbetti may not be the highlight-providing force Kareem or some of the other defensive ends are, but he has provided steady play on both ends of the defensive line. One could even consider his steady play exceptional, if that were not such an oxymoron.
Trumbetti very well may have saved the victory over Navy, diagnosing and pressuring the halfback pass before the play could fully develop. The subsequent incompletion allowed Notre Dame to kneel out the clock.
10 — 5-Hour Energy Extra Strength bottles of delight. They are the fuel behind this space multiple times a week, including each and every third quarter. Without them, the frame following halftime would hardly register in memory. Fortunately, they are smaller than 3.4 fluid ounces, meaning they can slip in with one's toiletries when flying. Thanks, TSA.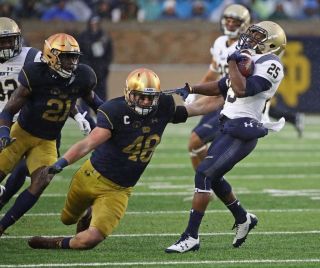 — The Irish have been remarkably healthy this season. Perhaps the closest thing to a severe injury timed itself for the bye week, so senior linebacker and captain Greer Martini (meniscus tear) missed only one game.
— In missing that one game, Martini created an opportunity for junior linebacker Te'von Coney to earn both more playing time and more notice. He now leads Notre Dame with 93 tackles through 11 games, even though he had all of 75 entering the season.
The Irish dominated USC without Martini, and he has looked little, if any, worse for wear since surgery to repair the torn meniscus. Thus, there was little-to-no short-term harm. Martini's missing that game may have served Notre Dame a greater good in the long-term. Look at it this way: In the season's first six games, Coney had a total of 42 tackles. In only five since, he has 51, including a team-high 11 against the Trojans.
— Bluetooth, one of the more-underrated technological advances that has become a commonplace luxury in the 21st century.
— USC's gift of a fumbled punt. In retrospect, the Irish outplayed the Trojans in every facet of the game, but they relished the chance to go up 21-0 in the first half after USC muffed a punt inside its own 10-yard line. That moment may have sealed the outcome and will be one of the overlooked but consequential moments of Notre Dame's 2017.
— Recovering that fumble may be the easiest turnover credit of Tranquill's career. The most unexpected recurring quote of his collegiate time came following the 20-19 loss to Georgia. On-field, in-house interviews are only a symptom of the video board installed this year. If only for garnering this tidbit, the video board should be appreciated.
After Notre Dame lost to Georgia, Drue Tranquill said this, vowing ND would punish teams.

ND has since outscored its opponents 200-65. pic.twitter.com/rI3qs2r1sG

— Mike Monaco (@MikeMonaco_) October 22, 2017
— Fettuccini alfredo. It is simple to cook, yet delectable either hot or cold. Even pizza cannot claim all those qualities.
— Shaun Crawford's forced fumble at Michigan State. The Spartans were literal inches from cutting the Irish lead to 21-7. The junior cornerback's heady play to not only force the fumble at the goal line but then to also recover it opened the door for a 28-0 halftime lead. Much like Tranquill's recovery against USC, this low-key highlight need not be forgotten as the season's end nears.
—
Brian Kelly: "This is a megaphone! *Dances*
Me: "This is a dab! *Dabs* #DabWillNeverDie pic.twitter.com/Cpaxe7SmWv

— Adam Derengowski (@AdamDerWSBT) September 25, 2017
— Pilot travel centers. Some things can be explained only after eight separate 1,000-mile roundtrip treks of I-94. The hot dogs are tolerable and cost-efficient, the bathrooms clean, the ease of access from the road quick. Not much else can be asked for in this life.
20 — Quenton Nelson, and not just for the above manhandling of Kelly after winning at Michigan State. The senior left guard and captain has been the best player for Notre Dame this season. It is unlikely he accepts Kelly's offer of the coach's parking spot to return next season, nor should Nelson do so.
— Mike McGlinchey. The fifth-year left tackle and captain's on-field performance has been outdone by only Nelson, and McGlinchey's off-field candor is unrivaled.
— The combination of Nelson and McGlinchey. The two have shifted the line of scrimmage all season. Their dominance allows the Irish to focus any blocking assistance on the right side entirely. It creates a litany of running design possibilities between combination blocks and/or pulling schemes. The two stand alone in many respects.
Such a hand-in-hand fit along an offensive line is rare in the NFL and nearly unheard of in college football. As great as the left guard/left tackle combination of Chris Watt and Zack Martin was just a few years ago — and it was superb — Nelson and McGlinchey have raised the bar even further, both in individual excellence and in the innate chemistry developed by starting alongside each other for multiple seasons.
— Asinine notes courtesy of a character named Edgar starting a thought process of actual, usable fixes.
— Robert Hainsey's emergence this year. The freshman right tackle has complemented sophomore Tommy Kraemer wonderfully, making for a complete offensive line rather than only 80 percent of one.
"There's been some learning curves," Kelly said. "But standing here right now going into the last game, if you ask me about playing two first-time starters, I'm pleased with their performance."
— The comfort that emergence provides when pondering the 2018 offensive line. Kelly and Irish offensive line coach Harry Hiestand could have reasonably hoped for one genuine starter to emerge at right tackle this season. To come up with two-fifths of next year's line is a luxury unexpected but happily welcomed.
— There is an establishment directly across Angela Boulevard from Notre Dame's campus. After every home game, "Things We Learned" relies on its wifi, its understanding and — especially after night games — its late hours. Even after day games, TWL needs midnight to fly by before conclusion, and that shelter provides a comfortable and nearby venue to function within.
— Offensive sets featuring two running backs, especially when both sophomore Tony Jones and junior Josh Adams are healthy. When afforded that availability, Long has made it a habit to put defenses in compromising positions by moving Jones out wide or using him as a lead blocker. Most every possible play design is feasible with both those ballcarriers in those alignments.
—
Josh Adams gets a GIF for this stiff arm that helped him score a touchdown. @SBTribune #NDInsider pic.twitter.com/5WgMEvPVRO

— Michael Caterina (@MLCaterina) October 1, 2017
— The "33 Trucking" campaign to get Adams into Heisman contention was short-lived, but it did provide one excellent video.
30 — 70 miles per hour speed limits. Even this memory's relatively short lifespan notices that uptick.
— Kevin Stepherson's perseverance to return. The sophomore receiver could have found many easier options than sitting out this year's first four games, staying engaged the entire time and working his way back into the offensive scheme.
— Caffeinated gum. Before turning to those aforementioned bottles of 5-Hour Energy in the second half, coffee's faster-acting cousin carries these fingers through the first quarter each week.
— The Irish do not have to return to Miami and Hard Rock Stadium until 2025, unless they end up in the Orange Bowl at some point, which would likely be considered a good problem to have, even if the last two trips to that venue have been complete and utter debacles. If anything, that description is being generous.
— ACC bowl tie-ins. A loss this weekend would send Notre Dame to Orlando for either the Citrus Bowl (Jan. 1) or the Camping World Bowl (Dec. 28). Before the deal with the ACC, it would be much more difficult to provide such a prognostication, and the options posited would be nowhere near as alluring, even after a 9-3 season.
— The College Football Playoff, a debate worth embracing. Arguing with computers in the days of the BCS never felt like the best use of time. At least now conversations can be based on logic, even if that logic is regarding whether a loss to Iowa State is a greater negative than a loss at Miami.
— Noon kickoffs. Oh, wait, well, never mind. 5 p.m. local time could be worse, though it may not be great for anyone hoping to view from London when that local time is on the Pacific coast.
— An unexpected Maui Invitational conversation at an airport bar. Take basketball chats wherever you can find them.
— Exit interviews. Kelly sat down with each and every player following last season to discuss what broader flaws led to the 4-8 disappointment. Suffice it to say, the resulting changes have been noticed. Kelly is yet undecided if he will hold the exit interviews again after this season.
"It was a valuable tool for me last year," he said Sunday. "I'll certainly give it some thought after we complete this game, but my focus really is on just trying to prepare our guys this week."
— Keith Arnold's poor judgement of capability, competence and character. Truly, thank you, Keith. I raise this glass of nine-year-old Foursquare Rum to you, good sir.
40 — Online commentators. Hopefully placing this acknowledgement here shows where it is amid priorities — last really is least — but still provides enough lip service to serve its purpose. If nothing else, some of those comments justify some other, shall we say, 40 thoughts.
[protected-iframe id="4322d87b3e2eb4d11caa19723fa3b36c-15933026-22035394" info="//platform.twitter.com/widgets.js" class="twitter-follow-button"]