Finding 40 things, concepts and people somewhat tied to Notre Dame and deserving of appreciation was an appropriate gimmick for yesterday, but it runs contrary to this scribe's reputation. In an attempt to protect that cynic's stance and counterbalance that 40, here are a baker's dozen items worthy of Irish fans' criticism, regret and/or disappointment:
— The lack of Notre Dame composure from the start at Miami two weeks ago.
— The lack of Irish execution at the end against Georgia in the season's second week.
— Twitter's 280 characters. As of now, excluding links and mentions, @D_Farmer has yet to release a tweet longer than 140 characters, and that will continue as long as is feasible due to some misguided and unfounded principle.
— The possibility of losing senior defensive tackle Jonathan Bonner after this season even though he will have another year of eligibility remaining. Bonner told Notre Dame's independent student newspaper, The Observer, he does not intend to pursue a fifth year with the team. If that proves true, it will cut into the both the depth and the rotation on the interior of next year's defensive line.
— Bonner's mother having cancer may be part of his motivation to move on to the next stage of his life, understandably so if so.
— Injuries throughout the NBA, including to Gordon Hayward, Paul Millsap and Patrick Beverley. Each one diminishes an outstanding product.
— Ankle injuries, as suffered this season by Josh Adams, Dexter Williams, Tony Jones and Bryce Love.
— Brandon Wimbush lucked out of a number of interceptions in September's first few weeks. Perhaps a humbling moment then may have forced the issue of earlier growth.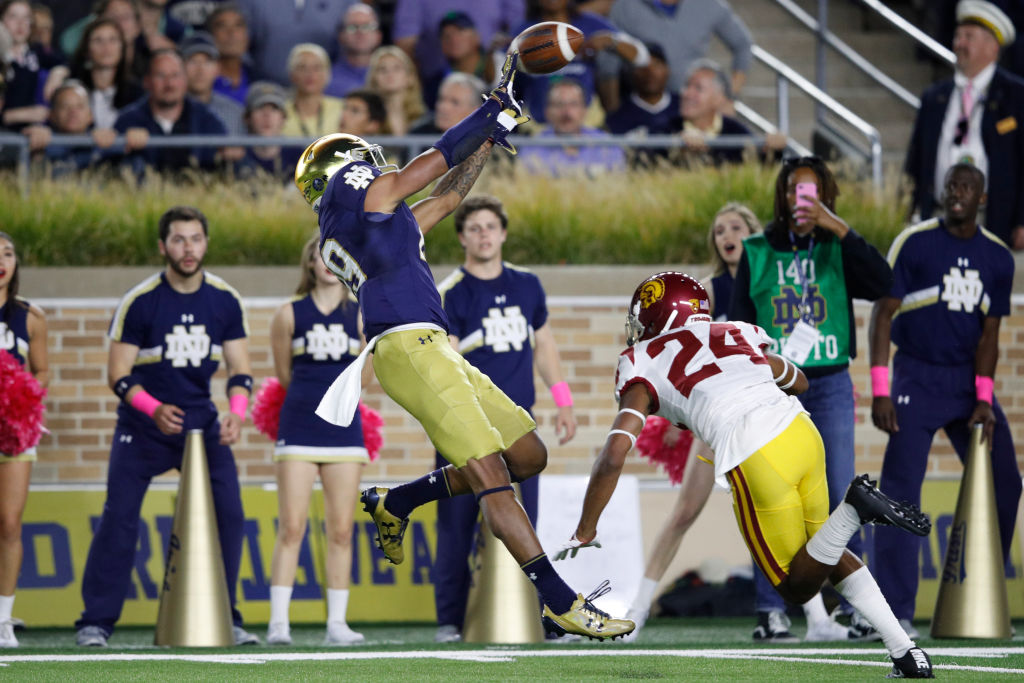 — Kevin Stepherson missing the first four games. The suspension was presumably warranted — there has been no reason to think otherwise — but given the sophomore receiver's progress the last few weeks, it is tantalizing to think what he could already be if he had played a full fall.
— Sometimes, the toughest of times, the bacon-wrapped shrimp dish has only three such delicacies. Has that ever been enough? No. It has never been a satisfactorily-filling serving.
— Football season is only three months long. File that under the disappointing category.
— Notre Dame's safety play remains undeniably underwhelming. Fortunately, there is an entire offseason to learn the grammatical nuances of Aloha and workshop the appropriate Aloha Alohi headlines.
— Online commentators. As advertised, this segment is intended to counterbalance yesterday's good will.
More than a quarter of the 40 preseason predictions will be determined tomorrow.
A total of 11 of those 40 stand very much in the balance, including three in direct conflict with two others.
19) If junior receiver Equanimeous St. Brown plays (concussion protocol), he will need two catches and 34 yards more than sophomore receiver Chase Claypool records to take the lead in those categories and a touchdown more than sophomore receiver Kevin Stepherson scores to lead the Irish in the third receiving category.
24) Notre Dame currently averages 36.7 points per game. To fall within the predicted range of 34.9 to 36.4 points per game, the Irish would need to score between 15 and 34 points at Stanford.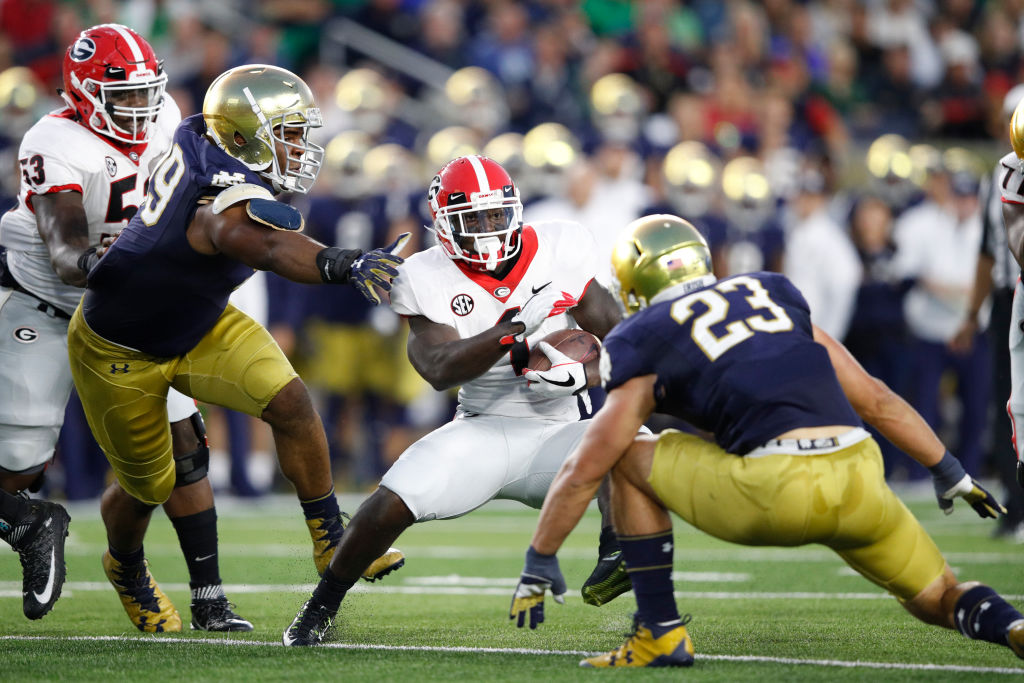 26) Statistically speaking, senior linebacker Drue Tranquill and junior linebacker Te'von Coney are tied for "big" plays this season. August's prediction No. 26 implied Tranquill would lead Notre Dame in the category.
27) With 20 sacks to date, the Irish defense would need to record five more to reach the projected range of 25 to 29.
28) The exact same numbers apply to turnovers forced.
31) This space predicted Notre Dame would beat Stanford. It also predicted the Cardinal would fail to reach nine wins (No. 32) in the regular season and only four Irish opponents would finish the season ranked (No. 35). If Stanford wins Saturday, all three of those predictions will be foiled with one fell swoop.
32-33) The other season win total over/unders hanging in the balance are North Carolina State exceeding 7.5 wins (currently at seven), Georgia Tech failing to reach six wins (currently with five) and LSU falling short of nine wins (currently at eight). If all three of these and the Cardinal prediction were to come true, the over/under predictions would finish at 5-5 overall, a losing record when factoring in the discrepancies inherent to such wagers.
38) August predicted Notre Dame would finish ranked between Nos. 13 and 18. It will undoubtedly finish higher than that with a win this weekend.
39) Likewise, a win this weekend will send the Irish to a playoff-eligible bowl, not one of the two options in Orlando as predicted.
Finally, a thought experiment prompted by …
In the last four decades, 21 teams have won national championships. That list, in full, in order of most recent title:
Clemson, Alabama, Ohio State, Florida State, Auburn, LSU, Florida, Texas, USC, Miami, Oklahoma, Tennessee, Nebraska, Michigan, Washington, Colorado, Georgia Tech, Notre Dame, Penn State, BYU, Georgia.
Russo's point is valid. That is a pretty thorough list. Add in the likes of UCLA and Oregon, perhaps Texas A&M due to its recruiting base, and it may be comprehensive.
One exception needs to be added, though. In basketball, it is referred to as the "Larry Bird factor." Bird led Indiana State through an undefeated season to the 1979 National Championship game, falling to Magic Johnson and Michigan State.
One player changing every dynamic of a game happens more frequently in basketball than it does in football. In the former, one player is 10 percent of the participants, not less than five percent as he is in football. But every so often, once every five or seven years, a quarterback comes along with that exact effect.
Vince Young at Texas in 2005. Cam Newton at Auburn in 2010. Deshaun Watson at Clemson in 2017. Admittedly, Clemson also won the national title in 1981, but otherwise, none of those three schools make this listing without those quarterbacks.
The four-team Playoff format makes it even more difficult for an upstart program to reach the promised land, but Larry Bird had to navigate four rounds before even facing Magic Johnson. It is rare one player has such an effect, but it is neither unheard of nor impossible to fathom again.
[protected-iframe id="4322d87b3e2eb4d11caa19723fa3b36c-15933026-22035394" info="//platform.twitter.com/widgets.js" class="twitter-follow-button"]