Little good can ever be drawn from a 41-8 embarrassment on national television. If Notre Dame wants to have any reason to look back on what happened at Miami two weeks ago and not lament every second of the disappointment, it will need to use that experience to its advantage this weekend at another top-25 opponent.
By no means will Stanford's "Farm" echo the Hurricanes' Hard Rock Stadium. That atmosphere truly defined raucous. An impartial observer had no choice but to deem it outright impressive. Nonetheless, Cardinal fans will feed off the slightest early Irish mistake, just as Miami's crowd did.
"It's exactly what we did at Miami that you can't do, turn the football over," Notre Dame coach Brian Kelly said Tuesday. "We fed that atmosphere at Miami. … You've got to take care of the football. You can't give anybody on the road that energy that gives them that extra momentum at home."
This may seem simple. In fact, it is simple. Yet, it remains critically important on the road. When dealing with 18- to 21-year-olds, momentum can shift to steamrolling shockingly quickly. (That is, in fact, part of the allure to college football.)
The issues in south Florida went beyond turnovers. More precisely, they went beyond south Florida. Afterward, Kelly looked back on the week's practices with some skepticism. The Irish have acknowledged their readiness was not up to the necessary standard.
"I didn't prepare to the best of my ability Miami week, and obviously it showed," junior quarterback Brandon Wimbush said Tuesday. "Being militant in the way we go about this week and everything that we do, so having intention to the way we practice, to the way we watch film, to the way I eat, things like that, it'll all go into the game."
If Notre Dame learned from the mistakes of the past, that loss can at least serve a purpose, a greater future good. If not, it was simply the moment a promising season was lost.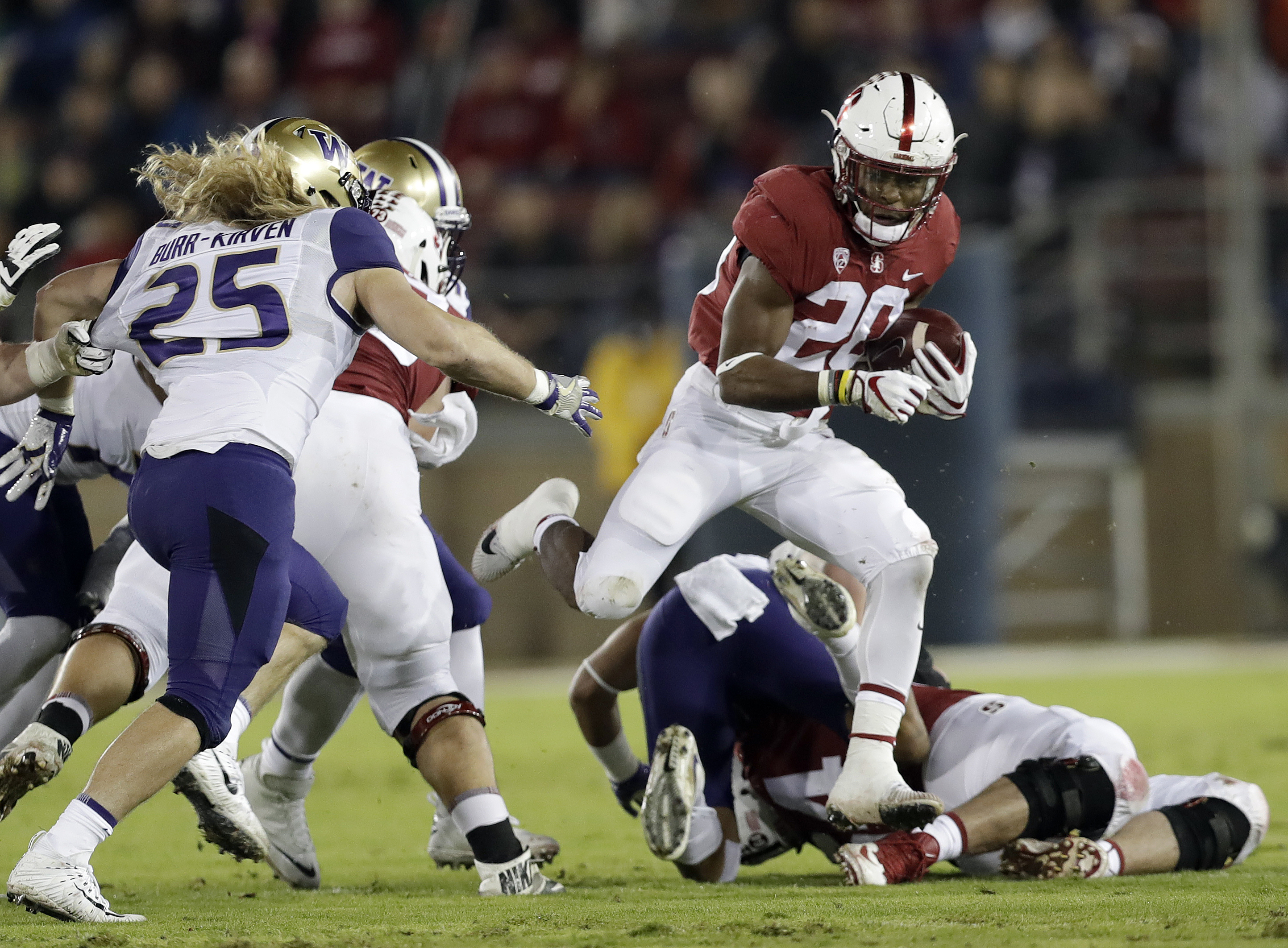 How will the Irish defensive line handle itself against the best offensive line it has faced this season?
By every possible metric, Notre Dame's defensive line has exceeded expectations this year. Admittedly, little was expected.
If it plays a part in limiting Stanford's exceptional rushing attack — averaging 215.7 yards per game and 6.41 per carry, good for No. 26 and No. 4 in the country, respectively — then it will have proven itself to be a strength heading into 2018.
Using rushing stats as the barometer with an exception for Navy's triple-option approach, the best offensive lines the Irish have faced this season were Georgia and Miami (FL).
The Bulldogs average 267.4 rushing yards per game (No. 10 in the country) and 5.80 yards per carry (No. 9). Against the Irish, they gained 185 yards on 43 carries, a 4.30 average.
The Hurricanes average 176.7 yards per game (No. 55) and 5.32 per rush (No. 19). Notre Dame gave up 237 rushing yards on 42 attempts, a 5.64 average. (As always when discussing national rankings, none of these rushing figures are sacks adjusted.)
The Irish defensive front does not need to stop the Cardinal backs outright, only slow them. Stanford's passing attack is decently efficient but far from genuinely dangerous. Since slipping past Oregon State in late October, a game without both Love and sophomore quarterback K.J. Costello, the Cardinal have averaged 167 yards through the air per game, completing 57.53 percent of attempts with 6.86 yards gained per attempt. That efficiency stems from defenses fearing the run, not from an overwhelmingly consistent or threatening passing attack. Thus, Notre Dame will focus on keeping the ground game in check.
Stanford junior Bryce Love will, at best, be hobbled with a bum ankle. At worst, he will not even take the field, leaving Cameron Scarlett to carry the load.
"[Scarlett] seems to be a physical back, downhill runner, a good one-cut guy," Irish senior linebacker and captain Drue Tranquill said Tuesday. "Can make you miss, and physical. I think he embodies what Stanford tries to be about, and that's tough, pro-style football, and that's being efficient, keeping the ball away from their opponent, and playing tough."
Scarlett has seen significant time this season with Love battling the ankle injury for much of the year. Scarlett has taken 73 carries for 362 yards and six touchdowns, averaging 4.96 yards per rush.
Nonetheless, Kelly will prepare anticipating Love's speed.
"To me, it's his ability to break that first tackle [that sets Love apart] and then ultimately he's got incredible speed," Kelly said. "… He's got elite speed and he breaks tackles, and that is a lethal mix."
In a perfect world, both Love and Notre Dame junior running back Josh Adams would be 100 percent, with fully-supportive ankles free from all swelling. The two could try to one-up each other possession after possession without ever taking the field at the same time.
Alas, this is far from a perfect world. Speaking of which …
Is Equanimeous St. Brown healthy?
If not for the national holiday of gluttony Thursday, this may already be known. Instead, the junior receiver's status in the concussion protocol may not be known until close to Saturday's kickoff (8:14 p.m. ET; ABC).
If St. Brown is cleared to go, then the norm continues with an increasing emphasis on sophomore receiver Kevin Stepherson. If St. Brown is not available, look for more of junior receiver Miles Boykin.
"Boykin will go in and do a great job," Kelly said. "We'll just plug-and-play him. What you'll see is his ability — in the game against Navy, he filled in very nicely, caught a couple passes, did a nice job blocking on the perimeter.
"You just take [St. Brown] out and you put Miles Boykin in there, and we keep rolling."
And what about Dexter Williams and Cam Smith?
Kelly described Williams (ankle; quad contusion) as "about as 100 percent as we've had him." If that is the case, the junior running back will have a featured role in offensive coordinator Chip Long's game plan.
Fifth-year receiver Cam Smith (hamstring) might be not much of a concern most weeks, but St. Brown's questionable status could create a chance for Smith to return to the offense as a contributing piece.
[protected-iframe id="4322d87b3e2eb4d11caa19723fa3b36c-15933026-22035394" info="//platform.twitter.com/widgets.js" class="twitter-follow-button"]