WHO? No. 8 Notre Dame (9-2) vs. No. 21 Stanford (8-3).
WHAT? Fifth-year left tackle and captain Mike McGlinchey refers to the Cardinal as his "favorite opponent to play." Some might call the clash for the Legends Trophy the most underappreciated rivalry in college football. That may be extreme, but the last five games in this series have been decided by one possession each and a total of 26 points, three in Stanford's favor and two toward the Irish.
WHEN? 8:14 p.m. ET. In other words, it will be barely dinner time at the local venue. California does some things right, folks.
WHERE? Stanford Stadium, otherwise known as "The Farm," Palo Alto, Calif.
ABC will have the broadcast. Presumably, anyone on the move should be able to find the game via the Watch ESPN app.
WHY? If Notre Dame gets the win, the Irish are headed to a Playoff-eligible bowl. Those possibilities hinge heavily on conference championship games in a week. If USC wins the Pac 12, for example, that essentially rules out an Irish trip to the Fiesta Bowl, as the goal is to avoid rematches in those bowl games. The same goes for if Clemson beats Miami in the ACC title game, thus sending the Hurricanes to a veritable home game in the Orange Bowl.
If Notre Dame loses, a trip to Orlando is on the horizon, either the Jan. 1 Citrus Bowl or the Dec. 28 Camping World Bowl. The determining factor is if an SEC or a Big 10 team heads to the Orange Bowl — the highest-ranked option not in the College Football Playoff gets that nod. If it is an SEC team, as may seem likely, the Irish can stock up on tents and sleeping bags. If a Big 10 team lands in the Orange Bowl, then Notre Dame will take the ACC's spot in the Citrus Bowl.
For Stanford, today's game has no long-term effects aside from possibly establishing some momentum for the Pac-12 championship game in a week, which the Cardinal will go to only if Washington beats Washington State tonight.
MEANINGLESS STAT: Two weeks ago, the Irish were averaging 41.33 points per game, well north of the program record of 37.6 points per game. Managing only eight points at Miami torpedoed that trend, and scoring 24 against Navy did not reset it. To return to that pace, Notre Dame would need to score a mere 48 points against Stanford. The most points scored against the Cardinal this year were the 42 tallied by USC in the season's second week. The last time someone scored that many points against a Stanford defense was Oct. 6, 2012, when the Cardinal slipped past Arizona in overtime, 54-48.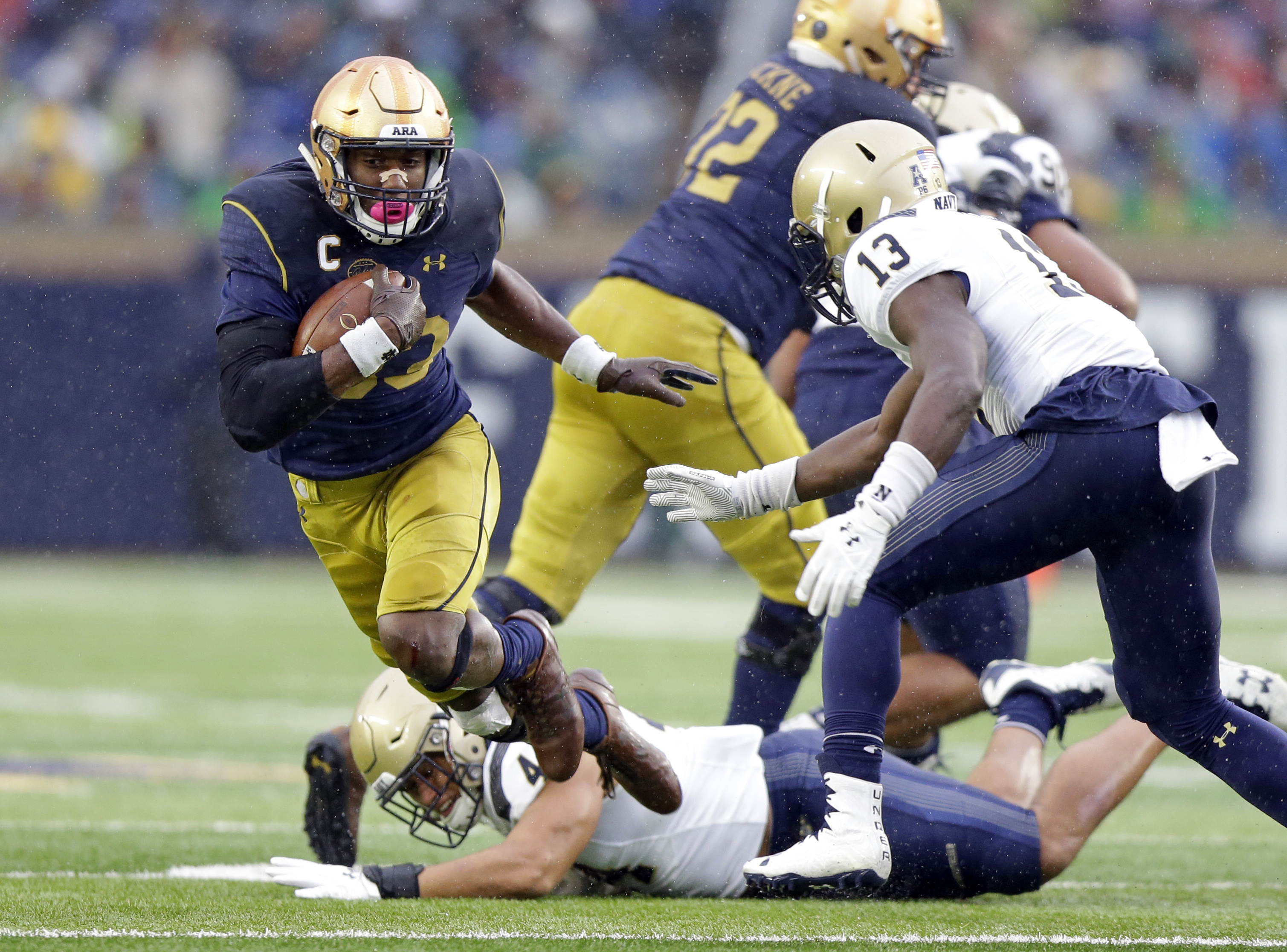 EQUALLY MEANINGLESS BUT MORE INTERESTING STAT: With 1,377 rushing yards this season, Irish junior running back Josh Adams is exactly 100 yards shy of Vagas Ferguson's single-season Notre Dame record. These days, any yards Adams gains in a bowl game would count toward the total, but if he slips past Ferguson's record in the 12 regular season games, it would reduce any need for an asterisk, even though the 1979 schedule provided Ferguson with only 11 games in the first place.
On that note, it should be noted Adams has needed 171 attempts thus far this year. Ferguson carried the ball 301 times that record-setting season.
BY HOW MUCH? Stanford star junior running back Bryce Love has played with an injured ankle most of the season. A reaggravation of the sprain shelved him for much of the fourth quarter of the Cardinal's 17-14 victory over Cal a week ago. Considering the potential impact of a win over Notre Dame compared to the effects of a Pac-12 championship, there is logic to wondering if Love will be completely available in head coach David Shaw's game plan.
The possibility of Love not playing was assuaged somewhat Tuesday when Shaw described his offense's driving force as "day to day." At that point, the spread for this contest did not change, but the combined point total over/under jumped two points to 57.
It has since settled at 56 with a 2.5-point edge toward the Irish. That roughly equals a 29-26 conclusion.
Perhaps logic rules too strongly in this space, but deferring to it implies Love will not play the whole game. Maybe he will be used sporadically, perhaps not at all. Either way, limiting him will limit Stanford's offense. With that in mind, let's knock a score off that projected tally.
Notre Dame 31, Stanford 21. (8-3 record on the season.)
THIS WEEK'S INSIDE THE IRSH READING:
— Monday's Leftovers: Notre Dame on the precipice of a rare three-year stretch
— Questions for the Week: If without St. Brown, who will Notre Dame turn to?
— Notre Dame's Opponents and Playoff Competition: Results and Upcoming
— And In That Corner … The No. 21 Stanford Cardinal and (maybe) Bryce Love
— A Notre Dame fan's 40 thanks to give
— Things to Learn: What did Miami teach Notre Dame?
— Friday at 4: Some complaints, some predictions in the balance & one thought experiment
INSIDE THE IRISH COVERAGE FROM THE NAVY GAME:
— Notre Dame turns to its strengths to slip past Navy, 24-17
— Things We Learned: Notre Dame will do what it takes to develop its passing game
— Sunday Notre Dame Notebook: Defensive counter to Navy's option helps Irish put Miami in past
THIS WEEK'S OUTSIDE READING:
This section is lighter than usual for two reasons. One, as a holiday week, fewer pieces were published internet-wide. Second, with travel this week, fewer pieces were read by yours truly, and no piece will ever be recommended blindly.
— College Film Room: How Stanford — led by a pair of No. 20s — pulled the upset over Washington ($)
— Is Notre Dame-Stanford college football's most underappreciated rivalry? ($)
[protected-iframe id="4322d87b3e2eb4d11caa19723fa3b36c-15933026-22035394" info="//platform.twitter.com/widgets.js" class="twitter-follow-button"]