STANFORD, Calif. — Notre Dame had a chance to seize every ounce of control at Stanford on Saturday, just like the Irish had an opportunity in November to force their way into the forefront of the national conversation. By failing to deliver a blow to the No. 21 Cardinal, No. 8 Notre Dame completed its fall to a disappointing 9-3 conclusion from a strong 8-1 beginning.
The final ledger will point toward three fourth-quarter Irish turnovers as the catalyst to the 38-20 loss. Head coach Brian Kelly cited them directly and frequently afterward.
"Each game that we've lost this year, we've turned the football over against quality opposition," Kelly said. "… We turned a good game into a not-so-good game by turning the football over late."
That is not an inaccurate telling of the game, but it is incomplete. Notre Dame outgained Stanford 415 yards to 328, but could never establish its running game, averaging only 4.58 yards on 38 rushes (sacks adjusted). The Cardinal sacked Irish junior quarterback Brandon Wimbush six times, keeping him hemmed in for 81 yards on 11 rushes otherwise. Specifically, that was a piece of Stanford coach David Shaw's game plan.
"I was not subtle this week about containing the quarterback," Shaw said. "We had to keep him inside. … Get [Wimbush] to a sideline, he's going to kill us either with his legs or his arm."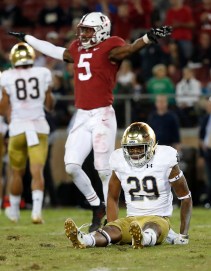 Wimbush added 249 yards and two touchdowns on 11-of-28 passing, though the scores and 158 of those yards came on two plays alone, an 83-yard touchdown to sophomore receiver Kevin Stepherson and a 75-yarder to junior receiver Equanimeous St. Brown.
Wimbush also threw two interceptions, two-thirds of the crippling dynamic Kelly focused on.
"I thought we were in a good rhythm," Wimbush said. "I thought we had control of what was going on. I felt good about what we were doing.
"Can't turn the ball over at that time."
TURNING POINT OF THE GAME
The turnovers did in Notre Dame. That can hardly be denied. Yet, the Irish were not exactly humming before Wimbush's first interception.
When junior Shaun Crawford downed a punt at Stanford's one-yard line, he set up the Notre Dame defense to force the Cardinal's hand. It quickly led to a three-and-out. Junior Chris Finke returned the ensuing punt all the way to the 19-yard line, breaking a tackle before finding a crease. Suddenly, the Irish were set to take a 24-17 lead late in the third quarter, having held Stanford largely in check all night.
"We've been really good all year about taking those possessions and turning them into touchdowns," Kelly said.
That is not what happened.
To be clear, the Cardinal did not stop Notre Dame; the Irish did themselves in. Two procedure penalties created a first-and-20 from the 29-yard line. Stepherson gained all 10 of those yards back on a jet sweep — one of the few designs offensive coordinator Chip Long could count on this last month — but the momentum was already gone. The following two plays lost another two yards and Notre Dame settled for a field goal and a 20-17 lead.
"I didn't feel like it was slipping away in that sense, but I felt like we left some points out there," Kelly said.
Per usual, fifth-year left tackle and captain Mike McGlinchey was even more blunt about the mishap.
"Just dumb penalties," he said, himself guilty of the second penalty with a false start. "It can't happen. That's the only thing you can say about that."
The Irish took an ideal situation, squandered it entirely on their own and by the time they had another chance to threaten, Stanford had scored three unanswered touchdowns to create the final 38-20 margin.
OVERLOOKED POINT OF THE GAME
The Cardinal took a 31-20 lead with most of the fourth quarter remaining. Notre Dame was very much still in the game, if not for possibly having already checked out mentally. Irish junior C.J. Sanders took the kickoff from the goal line and did not even get the ball to the 20-yard line. Instead, he deposited it on the grass to be recovered by Stanford.
The Cardinal did exactly what Notre Dame did not after Finke's punt return. It took great field position and turned it into seven points.
Wimbush will get the headlines and the brunt of the criticism for his two turnovers, but he was not alone. The mistakes came in a number of varieties.
"We played really good football teams and turned it over," Kelly said. "If you're going to do that, you're going to put yourself in a bad situation. There's not that guys were tired, not mentally sharp, [or] they didn't come ready to play. They came ready to play. They were ready to win today.
"Got to hold onto the football. Can't turn it over."
Stanford took two short fields and turned them into touchdowns. Notre Dame took a short field and turned it into a field goal. Remove the former scores and turn the latter into a touchdown, and this game would have been 24-24. Obviously, that isn't how football works.
"It's what we thought it would be," Kelly said. "We thought the game would get into the fourth quarter and we'd have a chance to win it. We didn't expect to turn the football over a couple of times."
PLAY OF THE GAME
Wimbush's first interception created one of those short fields for the Cardinal. After the debacle of a possession off the Finke punt return, Stanford scored a touchdown to take a 24-20 lead. On the very first snap afterward, Wimbush tried to force a pass to fifth-year tight end Durham Smythe for about a 10-yard gain.
He did not see Cardinal sophomore linebacker Curtis Robinson reading the passer's eyes and jumping the route.
"I just didn't see the Buck defender drop," Wimbush said. "Then he got into my window. I thought I could squeeze it in there. He made a great play."
Down only four points, the Irish were in good position to regain control. Three plays later, Stanford had all the control after sophomore quarterback K.J. Costello found senior tight end Dalton Schultz for a 12-yard touchdown pass.
"Brandon is a competitor," Kelly said. "He'll bounce back. He is who he is, he wants to win as bad as anybody.
"He'll go back to work and work on his craft. He's our starting quarterback. He'll be starting in the bowl game."
PLAYER OF THE GAME
On the Notre Dame-specific side of things, the focus would go to either junior defensive tackle Jerry Tillery (six tackles, three for loss including one sack) or St. Brown (five catches, 111 yards, one touchdown).
For the game, the honor goes to Cardinal junior running back Bryce Love. Playing with a sprained ankle, as he has much of the season, Love took 20 carries for 125 yards. He broke only one run for more than 30 yards (31, to be exact), but he did enough to mandate the Irish defense's attention all evening.
"It was tough," Love said. "It's just part of the Stanford brand of football, though. We enjoy those gritty games where you have to fight for yard after yard. That's kind of what it was the first two quarters."
STAT OF THE GAME
Things turned south for the Irish in a hurry, both in the game and in the season. Only 15 days ago, they were No. 3 in the College Football Playoff selection committee poll, 8-1 and looking to make a statement at Miami. Now, Notre Dame is 9-3 and likely headed to a bowl game in Orlando.
To start the fourth quarter Saturday, the Irish led 20-17 and looked to be in position to slug out a physical win at The Farm for the first time since 2007. In just three minutes and 36 seconds, the Cardinal turned that into a 38-20 margin.
QUOTE OF THE EVENING
The outsider's focus right now may be backward, a retrospective of the season. Inside the locker room, however, the bowl game looms.
"Like any other game, we got to learn from this one and move forward," junior running back Josh Adams said. "Got to really get back to that grind, finish this [season] out strong. We want to do it the right way, and that's what we're going to do."
SCORING SUMMARY
First Quarter
3:40 — Notre Dame touchdown. Kevin Stepherson 83-yard reception from Brandon Wimbush. Justin Yoon PAT good. Notre Dame 7, Stanford 0. (3 plays, 86 yards, 0:39)
0:43 — Stanford touchdown. Trent Irwin 29-yard reception from K.J. Costello. Jet Toner PAT good. Notre Dame 7, Stanford 7. (5 plays, 72 yards, 2:49)
Second Quarter
11:29 — Stanford touchdown. JJ Arcega-Whiteside four-yard reception from Costello. Toner PAT good. Stanford 14, Notre Dame 7. (6 plays, 55 yards, 2:40)
2:36 — Notre Dame field goal. Yoon 38 yards. Stanford 14, Notre Dame 10. (15 plays, 69 yards, 4:34)
Third Quarter
14:48 — Notre Dame touchdown. Equanimeous St. Brown 75-yard reception from Wimbush. Yoon PAT good. Notre Dame 17, Stanford 14. (1 play, 75 yards, 0:12)
10:23 — Stanford field goal. Toner 24 yards. Notre Dame 17, Stanford 17. (9 plays, 64 yards, 4:19)
1:23 — Notre Dame field goal. Yoon 38 yards. Notre Dame 20, Stanford 17. (4 plays, -2 yards, 2:43)
Fourth Quarter
13:46 — Stanford touchdown. Kaden Smith 19-yard reception from Costello. Toner PAT good. Stanford 24, Notre Dame 20. (7 plays, 70 yards, 2:31)
12:21 — Stanford touchdown. Dalton Schultz 12-yard reception from Costello. Toner PAT good. Stanford 31, Notre Dame 20. (3 plays, 29 yards, 1:22)
10:10 — Stanford touchdown. Cameron Scarlett three-yard rush. Toner PAT good. Stanford 38, Notre Dame 20. (4 plays, 18 yards, 2:06)
[protected-iframe id="4322d87b3e2eb4d11caa19723fa3b36c-15933026-22035394" info="//platform.twitter.com/widgets.js" class="twitter-follow-button"]