STANFORD, Calif. — Perhaps this should be renamed Things We Didn't Learn. For a team that blew the doors off its greatest rival little more than a month ago, Notre Dame has a lot of questions left unanswered at the conclusion of its regular season.
An 8-1 start becoming a 9-3 finish is one thing. It is another conversation altogether when that conclusion comes thanks to two eggs laid in the season's two best opportunities to forget demons of seasons past. The Irish did not simply lose to Stanford 38-20 on Saturday. They gifted the Cardinal a victory. That is not to take anything away from David Shaw's team. It had to take the chance offered, and it did. It was just surprising to see Notre Dame put up so little resistance in the fourth quarter, a 15-minute span which it had to know would define the 2017 season, fairly or not.
Such a reaction may be compromised by recency bias. It may be too focused on the micro. It almost certainly comes replete with more criticism than it perhaps should.
Then again, the Irish held a 20-17 lead on the road against a top-25 opponent and offered little-to-no objection to Stanford rattling off three unanswered touchdowns.
Turnovers made the season's start, and they marred its end.
Through the season's 8-1 start, Notre Dame was +12 in turnover margin, forcing 19 while giving away the ball only seven times. In its final three games, that shifted to -7, taking the ball away a total of once, an interception against Navy.
To some degree, this is a symptom of opponents' protecting the ball, noticing defensive coordinator Mike Elko's focus on aggressiveness and preaching caution throughout their own weeks of preparation. It is also a sign of a tougher schedule — traveling to both Miami and Stanford in a three-week span was always going to be a difficult task. On some level, a regression to a mean should have been expected, no matter who the opposition was.
Whatever the cause, failing to force turnovers slowed the Irish defense's momentum outright.
"I believe energy is contagious," senior linebacker and captain Drue Tranquill said. "Whenever you are causing turnovers, having success, every guy on the field is going to feel more confident. They're going to trust in their preparation more and they're going to remember their training more.
"When the energy is not there, sometimes it is hard for guys to focus on that more."
That loss of energy and focus coincided with the offense developing a bad habit of losing the ball. Eight turnovers in the last three games cost Notre Dame dearly. More specifically, the Irish coughed up the ball nine times in their three losses, losses against top-25 teams. (And, given this victory and the inevitable boost in the polls for the currently-No. 21 Cardinal, three likely top-20 teams, if not even top-15.)
"Each game that we've lost this year, we've turned the football over against quality opposition, against good football teams," Notre Dame head coach Brian Kelly said. "… You can't turn the ball over against really good football teams."
Well, you can, but only if you are efficient and dangerous in every other facet of the game.
The greatest cost to any given turnover is it eliminates an offense's chance to score. It is the equivalent to a strikeout in baseball, where the most-prized non-scoring commodity is a baserunner, because he creates the possibility of a run. Simply having possession of the football creates the possibility of a touchdown.
When losing those opportunities, nearly every remaining chance must be converted. For whatever reason, the Irish are not capable of that.
One primary reason seems to be the quarterback and, more broadly, the passing game.
Junior quarterback Brandon Wimbush showed moments of promise this season. All the way back in the fourth week, he made some genuinely nice passes at Michigan State. His composure was as noticeable as anyone else's when North Carolina State blocked a punt for a touchdown a month ago. Clearly, his legs are a threat for which every defense must adjust.
Wimbush also showed constant inconsistency. No amount of receivers' drops justifies a completion percentage of 49.8 percent (133-of-267), including a disappointing 11-of-28 performance at Stanford. The fact that he finishes the regular season with only six interceptions is amazing and a commentary on defenders' struggles to catch more than anything else.
Kelly was clear Saturday: Wimbush is Notre Dame's starting quarterback.
He should be. He has his skills, and they are more dynamic and present a higher ceiling than any other set do on the Irish roster, all respect offered to sophomore Ian Book. Nonetheless, a season's worth of concerted effort could not create a viable passing game, and the onus for that falls to Wimbush's struggles.
Those struggles were not helped by Notre Dame's overall tiring in the closing month.
Kelly insisted junior running back Josh Adams is healthy. That is hard to reconcile with his production in November, but he also took 20 carries Saturday. If the former Heisman candidate was more than nicked up, that workload would not have been the case.
At that point, the conclusion is, the Irish tired. The offensive line did not get the push against the Cardinal like it did in all of September and October, giving up season-highs of 6 sacks and 10 tackles for loss. Adams did not break tackles like he used to. For an offense that once made its living on long rushes right through the opposing defenses, the longest run at The Farm went for a lackluster 14 yards.
Strength and conditioning is too encompassing of a cause to be entirely rectified in just one offseason, especially considering the state of that part of the program as recently as December. First-year strength coordinator Matt Balis did yeoman's work, but that task is clearly not yet finished.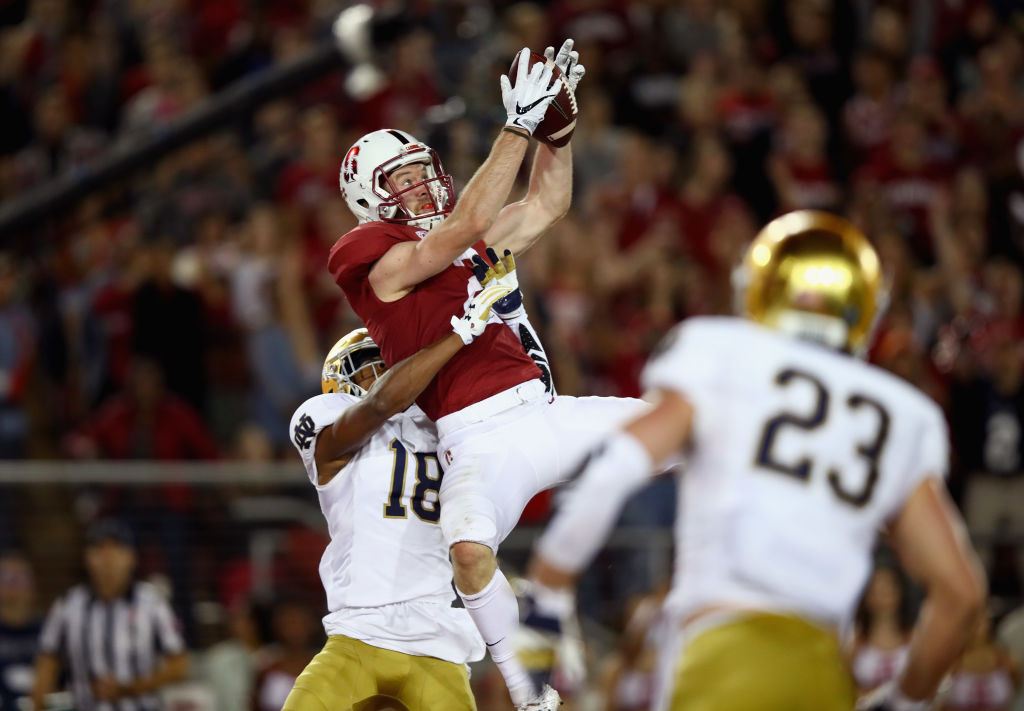 The one area remaining beyond excessive criticism is Notre Dame's defense.
Sure, Stanford scored 38 points Saturday, but 14 of those came on drives of 29 and 18 yards thanks to turnovers. The defense could have halted those, and attempted to.
"We have to get a stop," Tranquill said. "Our offense was struggling a little bit. Whenever that happens, the defense has to force a field goal or force a turnover themselves, and we didn't do that tonight. Ultimately, the results are what they are because of that."
None of Tranquill's sentiment is false, but it should also be viewed with a grain of salt. If the Irish had not been put in those situations and the Cardinal scores only 24 points, the expectation for one more score from Wimbush and the offense would be whole-heartedly reasonable. The offense would not have produced that touchdown, but such is no fault of Tranquill, Elko or anyone on the defensive side of the ball.
Notre Dame stepped forward in 2017, but not as far forward as it once seemed.
The Irish blew out USC, a team looking more and more like what was expected in the preseason. They won nine games, losing only to the best team on its schedule and twice on the road to worthwhile opponents. (Anyone insisting Stanford is not good can just see themselves out of this space. The Cardinal have coalesced very well as this season has progressed, yet remained under most radars.) Elko transformed a toothless defense into an attacking unit that largely held opponents in check, unless its corresponding offense put it in a bad position.
But Notre Dame is not yet able to overcome the mistakes inherent to any game. It is not yet a notch above, let alone in the top-whatever of the country.
Will that day come? Not this year.
"I would call it just the first coat of paint for where we are," Kelly said. "There's another level for us. We'll certainly look at this season and feel it was a good foundation for us to look to be one step higher next year, to reach higher, for more."
Then again, this may have been the best realistic case expected after the disaster that was 2016. The Irish beat the teams they were supposed to beat this year. That is step one.
If Rome wasn't built in a day, it certainly was not rebuilt in one, right?
[protected-iframe id="4322d87b3e2eb4d11caa19723fa3b36c-15933026-22035394" info="//platform.twitter.com/widgets.js" class="twitter-follow-button"]