Three out of the past four years, Notre Dame has reached November with genuine College Football Playoff aspirations.
In 2014, injuries removed any chances of finishing the season strongly.
In 2015, close losses belied the nature of college football.
Then defensive youth and overall indifference torpedoed the season in September a year ago.
None of those factors played a role in 2017, and that drives the doubt following the regular season's 9-3 conclusion. Irish coach Brian Kelly cannot cite his team's inexperience for falling 38-20 at Stanford on Saturday, and he cannot cite injury for the 41-8 debacle in Miami a few weeks ago.
Notre Dame simply was neither consistent nor ready when it most needed to be. It beat the teams it was supposed to beat, something it very much did not do in 2016. It lost to the teams it could have beaten, something true for a while now.
That former fact alone removes the biggest question from director of athletics Jack Swarbrick's pondering this month. A year after betting long on Kelly, Swarbrick's chips remain on the table.
Nothing happened in 2017 to alter Swarbrick's strategy. In the closing minutes Saturday night, Swarbrick stood along the sideline watching intently, his hand moving from his chin to his hips as the final Irish drive puttered out in somewhat appropriate fashion, close enough to consider the end zone but not so near to ever have had made the possibility a tantalizing what-if.
Swarbrick and Kelly walked up the tunnel in Stanford Stadium together. Kelly remains Swarbrick's long view, and there is no reason to expect that to change before Michigan arrives at Notre Dame Stadium in September.
That has been clear for the better part of a year. The results of two Saturday nights are not impetus to change that, even if they sandwiched a frustrating three-week stretch. Once Swarbrick committed to the slow play, it became foolish to ever think of going all-in on a mediocre hand, a questionable hire of, well, who knows who given this weekend's coaching carousel debacles.
Whether agreeing or disagreeing with Swarbrick's approach, hoping to change tacts only halfway through the vowed premise is akin to hoping the river card will complete a full house. It's possible, but it is not the smart play.
To both Kelly and Swarbrick, they aren't pondering a call. They're really thinking about 2018.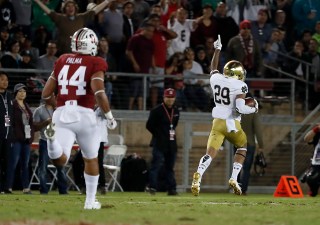 A couple statistical notes
Lost in Saturday's loss was an impressive surprise by the Irish offense. Never before had one game seen two touchdown passes of 75-yards or more. It's an oddity, but one worth acknowledging, nonetheless. The 83-yard touchdown to sophomore Kevin Stepherson was the longest Notre Dame touchdown pass since Kyle Rudolph went 95 yards in the final minutes to seemingly-beat Michigan in 2010.
Stepherson finishes the season leading the Irish with five touchdowns, while junior Equanimeous St. Brown's five catches for 111 yards and a 75-yard score boosted his totals to 31 catches for 468 yards and four touchdowns, the first two figures leading the team.
On the other side of the ball, Notre Dame's defense actually played well against the Cardinal, aside from being forced into short fields twice too many times. That effort was led, once again, by the linebackers, specifically senior Nyles Morgan and junior Te'von Coney.
"The plan going in was to attack the line of scrimmage," Kelly said. "Those 'backers were free to do it."
With six tackles Saturday, Coney finished the regular season with a team-high 99, followed by Morgan's 83, seven of which came this weekend.
Stanford and running backs
Cardinal junior Bryce Love will almost assuredly head to the NFL this offseason. His speed alone should warrant a relatively-high draft slot.
That will hardly be a matter for Stanford head coach David Shaw in 2018. With the exception of 2014, the Cardinal have continued to reload in the backfield with future NFL players. That trend extends from Toby Gerhart (2006 to 2009, shining in '08 and '09) to Stepfan Taylor ('09-'12, the focus in the latter three seasons) to Tyler Gaffney ('09-'13, led in '13) … and then from Christian McCaffrey to Love and next either current sophomore Trevor Speights or junior Cameron Scarlett.
Speights finished Saturday with five carries for 19 yards while Scarlett added six carries for 12 yards and a touchdown, both allowing Love enough rest to remain effective despite a bum ankle. One or both of Speights and Scarlett will cause headaches for opposing defenses next year.
Lastly, a basketball moment
Rarely does the pregame press box conversation turn to the hardwood. This isn't due to a football obsession. Rather, focus is on the game to come. That is even more true when in an open air press box and the field feels figuratively that much closer.
But when a basketball game goes from a 3-on-5 laugher to a "Wait, could Alabama win with only three players?" all attention shifts to one computer screen showcasing Minnesota's near-meltdown.
How did Alabama end up with only three players?
And, of course, a requisite "Hoosiers" reference:
Now that would have been one to remember.
[protected-iframe id="4322d87b3e2eb4d11caa19723fa3b36c-15933026-22035394" info="//platform.twitter.com/widgets.js" class="twitter-follow-button"]