Accountability is the backbone of credibility. With that in mind, let's laugh at how many of this space's 40 Notre Dame and Irish-adjacent preseason predictions were woefully misguided.
(Sure, the bowl game seems applicable to some of the season-long stat thoughts, but the vast majority of these watches are ended.)
1) The completed Campus Crossroads project will receive largely positive reviews.
RESULT: Let's call it a hit. (1-for-1)
2) The completed Campus Crossroads project will be largely an afterthought by season's end.
RESULT: Now this is certainly valid. (2-for-2)
3) The videos remembering the 1977 national championship team will be a worthwhile usage of the new video board above the south end zone, and a nice way to ease Irish fans into comfort with the board.
RESULT: It took until the USC game in mid-October, but this proved accurate. (3-for-3)
4) Fans will initially balk at pre- and post-game shows on the video board.
RESULT: No one ever seemed bothered by those, actually. (3-for-4)
5) Those shows will become background noise.
RESULT: Claiming this even if they essentially started as background noise. (4-5)
6) The Chicago Cubs will be on the road the night of the USC game, in game six of the National League Championship Series.
RESULT: Well, this would have been accurate if the Cubs had not lost in five games to the Los Angeles Dodgers. (4-6)
7) The Cubs will be knocked out of the playoffs by the time North Carolina State visits Notre Dame a week later.
RESULT: Nailed it. (5-7)
8) At least one junior will prematurely declare an intention to return for his senior year despite NFL Draft possibilities.
RESULT: Perhaps partly a result of receiver Equanimeous St. Brown and tight end Alizé Mack having underwhelming seasons, this never came close to happening. (5-8)
9) Senior left guard Quenton Nelson will not make that mistake.
RESULT: Not that it is in doubt — he'll head to the NFL — but Nelson never stuck his foot in his mouth during the season. (6-9)
10) Miami will be a warm and high-scoring affair.
RESULT: Warm? Yes. High-scoring? For only one side. (6-10)
11) DeShone Kizer will throw more touchdowns than Malik Zaire will.
RESULT: Kizer's five are a handful more than Zaire has managed. (7-11)
12) Kizer will lose more turnovers than Zaire will.
RESULT: Kizer has thrown 14 interceptions and lost seven fumbles. Zaire, largely due to hardly playing, threw only one interception and lost just one fumble this season. (8-12)
13) Sophomore Chase Claypool will lead the Irish in special teams tackles.
RESULT: Claypool finished the season with one tackle. Suffice it to say, this was inaccurate. Freshman Jordan Genmark-Heath made 11 tackles this year, all to memory on special teams. If he did not lead Notre Dame in that category, he was certainly among the top few. (8-13)
14) Claypool will have more receptions than tackles this year.
RESULT: He had 28 more, in fact. (9-14)
15) Junior kicker Justin Yoon will set the school record for field goal percentage.
RESULT: Entering the season, Yoon had to make 9-of-16 kicks to claim that mark, needing all 16 to reach the minimum requirement of 50.  Indeed, Yoon finished the season 12-of-16. (10-15)
16) Irish special teams will win at least one game.
RESULT: Nope. It could be argued they played a pretty pivotal role in the loss at Stanford, too. (10-16)
17) Fifth-year senior Cam Smith will have the second most catches for Notre Dame.
RESULT: Partly due to a hamstring injury, Smith made only eight catches in five games. Even if he had been healthy, though, it is unlikely he would have kept pace with Claypool's 29. (10-17)
18) Mack will have the second-most receiving yards.
RESULT: Marking Mack down as a disappointment may seem harsh, but he certainly fell short of nearly all expectations, including this one. Mack finished with 166 yards, finishing fifth for the Irish. Claypool lands at second in this category, as well, with 402 yards, holding off sophomore Kevin Stepherson and his 359 yards in only eight games. (10-18)
19) St. Brown will lead Notre Dame in all three receiving categories.
RESULT: 31 catches, yes. 468 yards, yes. Four touchdowns, trails Stepherson by one. (10.67-19)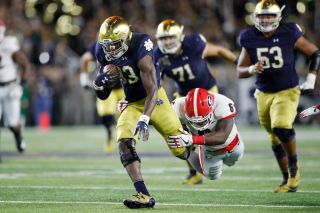 20) Sophomore running back Tony Jones will finish with the second-most rushing yards, behind only Adams.
RESULT: Jones finished fifth with 232 yards. Junior quarterback Brandon Wimbush finished second with 765. (10.67-20)
21) Adams will rush for between 1,174 and 1,274 yards.
RESULT: Sometimes, missing a prediction is not a bad thing, such as when Adams rushes for 1,386 yards. (10.67-21)
22) Junior running back Dexter Williams will finish with the fourth-most rushing yards.
RESULT: Nailed it, though sophomore Deon McIntosh finishing ahead of Williams was never a consideration. (11.67-22)
23) Wimbush will gain more yards on the ground than Williams.
RESULT: More than double, in fact, 765 to 324. (12.67-23)
24) The Irish will average between 34.9 and 36.4 points per game.
RESULT: With 424 points through 12 games, the current average is 35.33. Bullseye. (13.67-24)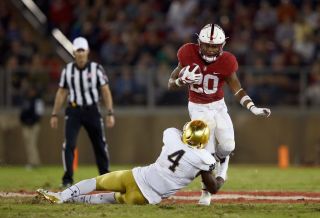 25) Senior linebacker Nyles Morgan will make the most tackles.
RESULT: Junior linebacker Te'von Coney's emergence rendered this inaccurate. Coney finished with 99 tackles, compared to Morgan's 83. (14.67-25)
26) Senior linebacker Drue Tranquill will make more big plays than Morgan while finishing second in tackles.
RESULT: Tranquill finished third in tackles with 74, but the spirit of this foresight was always about the big plays. Lazily leaning on statistics gives Tranquill the edge. (8.5 tackles for loss including 1.5 sacks, three pass breakups including one interception, three fumbles recovered, one fumble forced = 15.5 — Coney had 13 TFLs, one fumble recovered and one fumble forced = 15, but actually only 14 because those two fumble actions came on the same play.) (15.67-26)
27) The defense will total 25-29 sacks.
RESULT: A strong bowl game could tilt this, currently sitting at 22. Considering three would exceed the season average, however, let's be strict and mark this as a miss. (15.67-27)
28) The defense will force 25-29 turnovers.
RESULT: Twenty may have dwarfed last year's 14, but it still falls short of this projection. (15.67-28)
29) The defense will allow between 23.6 and 25.1 points per game.
RESULT: That preseason prediction also included the thought of, "The defense will not return to the 2013 level of allowing only 22.4 points per game …" Rather, it exceeded that level and allowed 21.83. (15.67-29)
30) Notre Dame will hit the over on a win total over/under mark of 8.5.
RESULT: Check. (16.67-30)
31) The Irish will finish the regular season with a win at Stanford.
RESULT: *crickets* (16.67-31)
32) Unders: South Carolina under 5 (finished with 8); Georgia Tech under 6 (finished with five); Wake Forest under 5.5 (7); Stanford under 9 (9), and LSU under 9 (9).
RESULT: One correct, two wrong, two pushes. That is a loss at any sportsbook. (16.67-32)
33) Overs: Ohio State over 10.5 (finished with 10); Rutgers over 3 (finished with 4); Arizona over 4.5 (finished with 7); Oregon over 7.5 (finished with 7), and North Carolina State over 7.5 (finished with 8).
RESULT: Going 3-2 would count as a win at any sportsbook. (17.67-33)
34) Notre Dame will beat Georgia to reach the top 25 for the first time.
RESULT: *The return of the crickets* (17.67-34)
35) Four Irish opponents will be ranked at the end of the year.
RESULT: Six currently are: Georgia, Miami, USC, Stanford, Michigan State and North Carolina State. One could argue the semantics of six being ranked means four are ranked. Let's go with that. (18.67-35)
36) They will not be the same four ranked teams as the beginning of the year's USC, Stanford Georgia and Miami.
RESULT: Such a line implies only four would be ranked. This is obviously not the case, and serves as grounds to remove the previously credited point in accuracy's favor. (17.67-36)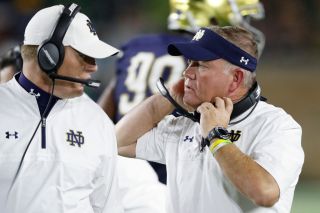 37) Notre Dame will remain in the top 25 for the rest of the season.
RESULT: Once the Irish reached the rankings, they stayed there. Valid enough. (18.67-37)
38) Notre Dame will finish the regular season ranked between No. 13 and No. 18 in the polls.
RESULT: Presuming Wisconsin does not beat Ohio State 140-0 this weekend, this should land in the black side of the ledger. (19.67-38)
39) The Irish will play a bowl game in Orlando.
RESULT: Again, barring a Bucky beat down of the Buckeyes, one could have booked flight plans in August. (20.67-39)
40) At least 15 of these will be wrong.
RESULT: Well, that was obvious.
Final score: 21.67 for 40, or 54.17 percent.
Such a positive percentage would pay for at least a few drinks if properly-deployed. There are worse track records to have in this gambit.
---
To add one more piece of prognosticator's applause, if anyone closely read each week's look at opponents' schedules, the reader may have noticed certain thoughts intermixed. Those thoughts finished the year 38-21. Now that would buy a few rounds.
[protected-iframe id="4322d87b3e2eb4d11caa19723fa3b36c-15933026-22035394" info="//platform.twitter.com/widgets.js" class="twitter-follow-button"]