The second half of Notre Dame's schedule finished the season with a 51-22 overall record and featured four ranked opponents, not to mention an under-the-radar Wake Forest team and Navy's triple-option attack. For six consecutive weeks, the Irish had another distinct challenge awaiting them every Saturday.
Thus, the month-plus off between last week's loss at Stanford and the Citrus Bowl on Jan. 1 against No. 17 LSU is a welcome reprieve for No. 14 Notre Dame.
"We probably got a little tired at the end with the six weeks in a row of really tough, quality competition," Irish coach Brian Kelly said Sunday. "It was a long year for our football team, starting back in January."
Kelly then clarified he was not referring to a physical exhaustion. The diminished November should not be tied to a new strength and conditioning regimen. Rather, Notre Dame tired in a less tangible manner.
"There were no questions about where we were physically as a football team," Kelly said. "Emotionally and mentally, we had a long year.
"I remember addressing the team the Monday of the Stanford week with so much on the line — a 10th win and a New Year's Six [bowl game] — and it looked like they were in biology class. They were staring at me like, really? There was no juice, there was no excitement. They were tired mentally."
As he has for much of the year, Kelly put the onus on himself. While recruiting over the last week, he said he spent much of the travel downtime pondering how to lighten that load and pace better in 2018.
Some of the weariness was indeed physical. Kelly acknowledged junior running back Josh Adams will "benefit greatly" from the layoff before facing an opposing defense again.
The Irish will fit in 15 practices preparing for the bowl game, beginning this weekend before sending the team home for three full days at Christmas. Notre Dame will then reconvene in Orlando, Fla, on Dec. 26. Allowing the team time at home for the holiday is arguably the greatest perk of landing in the New Year's Day game rather than the Camping World Bowl on Dec. 28.
"It's great that we can get some work in here, then get a break for our players during Christmas so they can spend Christmas home with the family and then meet back up at the bowl site," Kelly said. "Playing on New Year's Day is really good for our football team."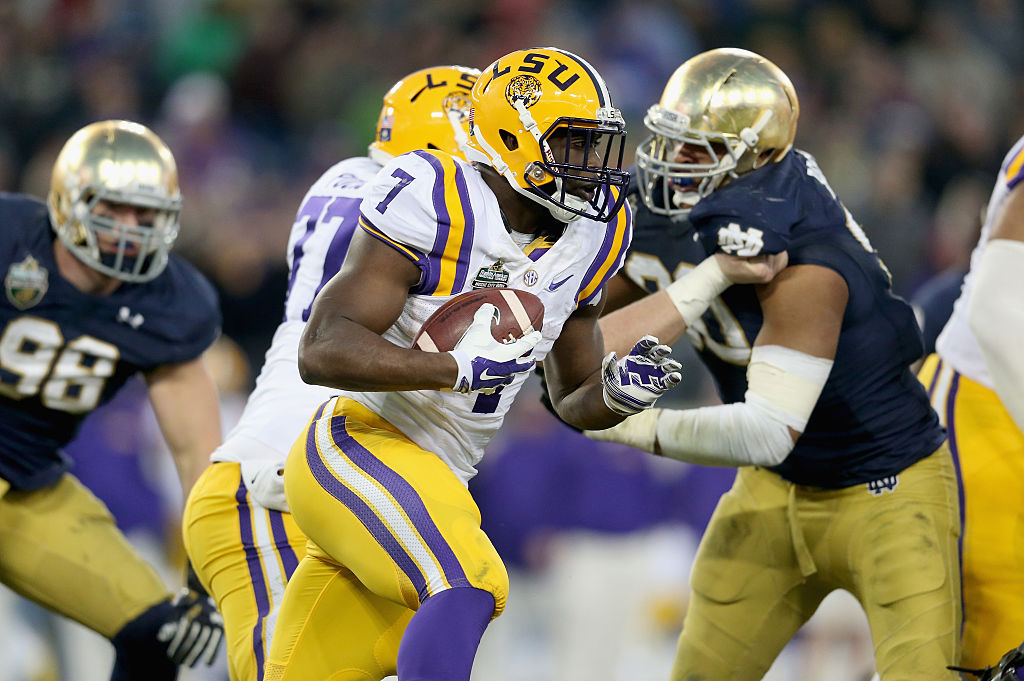 — Of course, facing the No. 17 team in the country is a stiff yet welcome challenge. While this is hardly the same version of LSU that the Irish faced in the 2014 Music City Bowl (a 31-28 Notre Dame victory), Kelly sees one key aspect of the Tigers program that has not changed.
"There's a lot of similarities in terms of the body types that they bring to the table, but the schemes are a little bit different," Kelly said, then noting offensive coordinator Matt Canada and defensive coordinator Dave Aranda, both widely-respected in the coaching ranks. "What Dave does on defense is different, and then certainly what Matt does, he has kind of opened up the offense a little bit.
"More schematically, they are a little bit different, but the kind of athlete LSU is attracting, still great players on both sides of the ball."
— Senior captain and linebacker Drue Tranquill echoed Kelly's comments regarding mental fatigue, citing last season's 4-8 debacle as having a tangible effect in its own way.
"Any way you dice it up, it was a long season," Tranquill said. "Having not gone to a bowl the season before, you start your preparation for the next season earlier, and we got after it in winter conditioning and spring ball and fall camp and into this season."
To hear Tranquill describe "knowing the stakes of each game" in the second half of the season, one might wonder if a loss in mid-October may have allowed Notre Dame to play looser in November. Obviously, that is nothing but ponderings unless there really are infinite universes with each and every possible permutation of existence occurring within one of them.
— Kelly declined to name which players requested feedback from the NFL regarding their draft status, but Tranquill said he was among the group. The feedback usually comes in shortly before the bowl game.
"What I can get better on, what they perceive as my strengths or weaknesses," Tranquill said he hopes to learn. "… I don't know that [it] necessarily will [affect his decision]. Obviously it's feedback and you'll take all the feedback you can get."
To anyone skeptical of Tranquill's chances in the Draft, there may be a point, but it should be remembered this is a player who has suffered two major knee injuries in his career. If he has a chance at an NFL career, he should not put it off for a year, especially not when he will already have an engineering degree in hand.
— A change to bowl preparations this year, the Irish coaching staff has to focus on recruiting even more in December than ever before thanks to the first early signing period, held Dec. 20-22. Notre Dame's coaches have always spent the week immediate after the season making in-home visits. That may be more of an emphasis over the next three weeks, as well. That should, theoretically, allow for a more proactive January.
"It's busier now," Kelly said. "What it will do is it will allow us to focus on [current high school juniors] a little bit more in January than we've had in the past.
"We expect, if our players are committed, they'll sign in December. If they're not committed, they won't … which frees up that time I'm normally on the road in January chasing these guys down for a February signing to really focus on [next year's class], then the remaining spots that we have left."
— Kelly indicated if one of the 18 current Irish commits were to not sign in December, he would see it as a sign the player needs more wooing.
Long-time commitment and consensus four-star running back Markese Stepp (Cathedral High School; Indianapolis) came to that decision even earlier, announcing he was reopening his recruitment over the weekend.
Notre Dame still has consensus three-star running back Jahmir Smith (Lee County H.S.; Sanford, N.C.) in the class, not to mention a well-stocked depth chart already on campus.
— This is perhaps a thought to be explored further following the season, taking into consideration where teams land in the final AP or Coaches' polls, but with LSU becoming the seventh currently-ranked opponent on Notre Dame's schedule, it seems safe to presume it has been some time since the slate featured so many, including three currently in the top 10.
[protected-iframe id="4322d87b3e2eb4d11caa19723fa3b36c-15933026-22035394" info="//platform.twitter.com/widgets.js" class="twitter-follow-button"]