The Notre Dame passing game became a bit of a chicken or the egg situation this fall. Was the quarterback inaccurate because the receivers could not get separation from the coverage or were the receivers not open because the quarterback missed his reads?
Unlike the chicken and the egg, the truth likely includes a bit of both.
WHERE NOTRE DAME WAS
Spring practice was filled with talk of a towering starting receiving trio consisting of juniors Equanimeous St. Brown (6-foot-5) and Miles Boykin (6-foot-4), and sophomore Chase Claypool (6-foot-4). In preseason practice, Arizona State graduate transfer Cam Smith rose to the top line of the depth chart due to his institutional knowledge from spending three seasons in the southwest with Irish offensive coordinator Chip Long.
All the meanwhile, sophomore Kevin Stepherson remained in the shadows, essentially absent, perhaps adrift. His was something of an unknown situation filled with speculation, hearsay and unconfirmed reports.
With or without Stepherson, St. Brown was the presumptive top threat. After that — especially without the sophomore speedster for at least the start of the season — was anybody's guess.
WHERE NOTRE DAME IS
The receivers were not the strength once expected to be. None of them can be described otherwise. As much as junior quarterback Brandon Wimbush's performance deserves criticism for his inaccuracy, the receivers still should have helped him out a good bit more. Dropped passes, lack of separation and all-too rare moments of laid-out effort plagued the passing game just as much as overthrows, underthrows and misreads did.
St. Brown put together an okay season, while also inconsistent. Boykin proved largely ineffective and was hardly seen, as a result. Claypool offered flashes of great possibility, most notably against Wake Forest.
Smith suffered a hamstring injury which — please, allow this, just this once — hamstrung his season. Likewise, Michigan graduate transfer Freddy Canteen needed shoulder surgery after only three games and one catch.
Stepherson may have been the lone bright spot at the position this season, even if he missed the season's first third and took a couple more games after that to find his way in Long's offense. Once he did, though, he progressed quickly and resoundingly.
Otherwise, only two other receivers even caught passes: Freshman Michael Young pulled in two for 10 yards and junior Chris Finke had a few moments of productivity, particularly during the not-enough comeback attempt against Georgia back on Sept. 9.
STATISTICALLY SPEAKING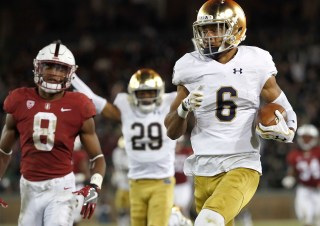 — Jr. Equanimeous St. Brown: 31 catches for 468 yards and four touchdowns, bookended by his four catches for 80 yards and a score in the season opener and his five catches for 111 yards and a 75-yard touchdown in the season finale.
— So. Chase Claypool: 20 catches for 402 yards and two touchdowns, highlighted by his nine catches for 180 yards and a score against North Carolina State. It should also be noted, Claypool's two catches for eight yards at Boston College both led the Irish receivers.
— So. Kevin Stepherson: 19 catches for 359 yards and five touchdowns in eight games. In the final two games, Stepherson took eight catches for 215 yards and three touchdowns.
— Jr. Miles Boykin: Nine catches for 151 yards and one touchdown, a 54-yarder in the blowout of Miami (OH).
— Fifth-year Cam Smith: Eight catches for 60 yards and one touchdown in five games. Smith was the first receiver to show the possibility of an end-around in Long's offense, something Stepherson took to a much higher level later on in the year. Otherwise, Smith's greatest impact was his four catches for 44 yards against Georgia.
— Jr. Chris Finke: Five catches for 84 yards, including three for 36 yards against the Bulldogs and a diving 48-yarder from sophomore quarterback Ian Book in the final frame against Miami (OH).
— Fr. Michael Young: Two catches for 10 yards.
— Sr. Freddy Canteen: One catch for seven yards.
COMING QUESTIONS
Proceeding from least consequential to most over-arching … Will Canteen return for a fifth year? That was certainly the expectation when he transferred from a state north, but it may now be mutually beneficial to pursue other endeavors at this point. Injuries have hampered Canteen's career at both stops, but, even if healthy, it is difficult to foresee him establishing himself in a producing position in this depth chart.
Will St. Brown return for his senior year? Coming off his breakout sophomore season, a repeat campaign would have seemingly guaranteed his departure to the NFL. Even after 2017's subpar performance, his physical traits will garner interest on their own from the next level. Rather, that will be the case especially at the next level, as pass-dependent as it is.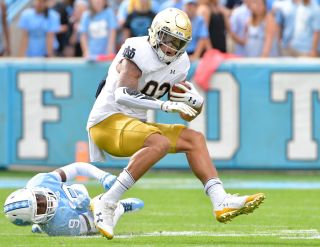 Will Stepherson's growth continue? He is, by far, the greatest big-play threat among this group, and he showcased his hands a few times in the season's second half, as well. If that progression continues, Stepherson could truly break out next season. If he stumbles upon anything resembling contentedness, however, he could quickly backtrack. For all Stepherson's physical gifts, the first two games upon his return to the field this year totaled exactly one catch for a loss of three yards.
Is there anyone else? If St. Brown heads to the NFL, a No. 2 option is needed, and then a third read, as well. If he stays, finding a consistent No. 3 will still be a priority.
Frankly, consistency anywhere is a priority. The names to list as options are numerous and growing with recruiting targets still on the board, not to mention sophomore Javon McKinley returning from a season recovering from injury and preserving a year of eligibility.
Yet, this season proved a bevy of possibilities does not guarantee a good result.
Where Notre Dame was & is: Defensive Line
Where Notre Dame was & is: Linebackers
Where Notre Dame was & is: Special Teams
[protected-iframe id="4322d87b3e2eb4d11caa19723fa3b36c-15933026-22035394" info="//platform.twitter.com/widgets.js" class="twitter-follow-button"]