If the Notre Dame class of 2018 tilts toward the defense to date, the eight offensive commitments should still not be given short shrift. Of the 20 prospects overall, it is an offensive playmaker who receives the most hype and is so-often pointed to as the coming redemption of Irish football.
That is internet-fueled hyperbole, but consensus four-star quarterback Phil Jurkovec (Pine-Richland High School; Gibsonia, Pa.) was one of the country's most sought-after passers before making his Notre Dame intentions quite clear. He likely will not see the field in 2018, and anything after that will need to be earned, but he certainly has the highest future ceiling of the current offensive commitments.
RECEIVERS
— Consensus four-star Kevin Austin (North Broward Prep; Pompano Beach, Fla.): Austin's speed could get him onto the field quickly. Even if that does not come to fruition, the possibilities he presents for future Irish offenses are enticing.
— Rivals.com four-star Micah Jones (Warren Township; Gurnee, Ill.): No collegiate offense can ever have enough receivers, so in that respect, Jones fills a positional need and likely won't see the field for at least a season. (Think of current freshman Jafar Armstrong.)
TIGHT ENDS
— Rivals.com four-star George Takacs (Gulf Coast H.S.; Naples, Fla.): Notre Dame offensive coordinator Chip Long prefers multiple tight end sets. In order to maintain that, simply enough, he needs a number of tight ends. With only four on the roster at the moment, Takacs would need to surpass a total of one in order to be in line for steady playing time.
— Consensus three-star Tommy Tremble (Wesleyan School; Norcross, Ga.): Tremble, meanwhile, will provide depth both in 2018 and in years to come at Long's favorite offensive position. Even if Tremble moves up the depth chart past some of the current players, that only means the position is well-stocked.
RUNNING BACK
Consensus three-star Jahmir Smith (Lee County; Sanford, N.C.): Running back is not often included in the conversation of "sign at least one per year" like quarterback is, but the thought holds just as much merit deeper in the backfield.
OFFENSIVE LINEMEN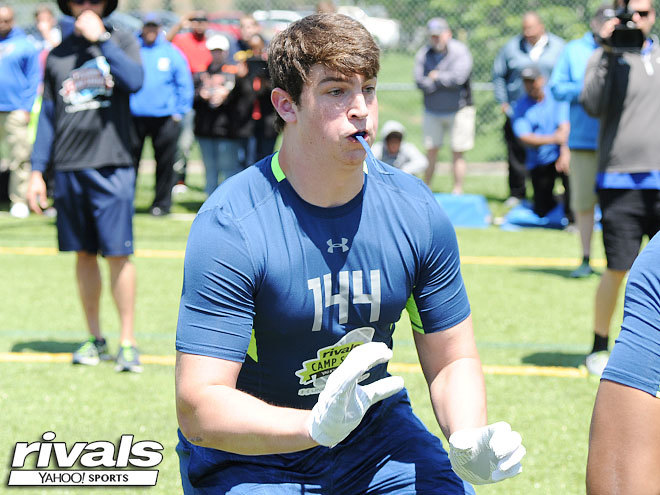 — Consensus three-star John Dirksen (Marion Local; Maria Stein, Ohio): Dirksen was a long-time target of offensive line coach Harry Hiestand, and Hiestand has great latitude when it comes to filling out his positional group.
— Consensus three-star Cole Mabry (Brentwood; Tenn.): No recruiting class should have fewer than two offensive linemen. A proper two-deep depth chart needs 10, after all.
STILL TO COME
— Playmakers are the greatest premium in the modern era of football. Another receiver or two could aid that cause.
— The departures of two sophomore offensive linemen in the summer of 2017 (guard Parker Boudreaux; center Tristen Hoge) created a gap in the offensive line progression that Hiestand prefers. Compensating for that could mean signing another couple offensive linemen in this class.
An Early Signing Day Preview: Notre Dame's 12 defensive expectations1
[protected-iframe id="4322d87b3e2eb4d11caa19723fa3b36c-15933026-22035394" info="//platform.twitter.com/widgets.js" class="twitter-follow-button"]