The early signing period may have snuck up on the casual Notre Dame fan. That is understandable, it is quite the deviation from the typical college football calendar. This week's Monday Leftovers declared the bar for relative success in the three-day stretch from Wednesday to Friday stands at 20 commitments, as in the number of recruits currently planning on signing with the Irish.
That would be a week of no surprises, for the better or the worse. Given the six weeks until the typical signing day, improving an already-strong class can be the focus then. Taking care of business seems to be the focus for now.
With that in mind — and not in an attempt to step on tomorrow's traditional "The letter is in" posts — a more precise description of that baseline is appropriate. With the caveat that these are 17- and 18-year-olds, so nothing is a sure thing, these recruits seem to be Notre Dame locks.
At this point, the Irish class of 2018 skews heavily toward the defensive side of the ball, both in number and theoretical quality. A brief overview of those 12 prospects …
DEFENSIVE BACKS
— Consensus four-star safety Derrik Allen (Lassiter High School; Marietta, Ga.): The Irish need for more-than-competent safety play could give Allen (pictured above) a chance to impact immediately. If that is the case, the early experience may boost an already high future ceiling.
— Consensus four-star defensive back Houston Griffith (IMG Academy; Bradenton, Fla.): Again, positional need will give Griffith a chance at 2018 playing time while his potential places his best coming a few years down the line.
— Rivals.com three-star cornerback Tariq Bracy (Milpitas H.S.; Milpitas, Calif.): Notre Dame's cornerback depth means Bracy likely won't see much playing time this fall, but failing to sign a single cornerback in the class of 2017 created a positional need, all the same.
— Consensus three-star defensive back Joe Wilkins, Jr. (North Fort Myers; Fla.): With the Irish essentially recruiting to fill two classes in the secondary, adding a few players like Wilkins is a necessity in this cycle.
— Local consensus three-star safety Paul Moala (Penn; Mishawaka, Ind.): Moala's speed drew the attention of the coaching staff just down the street.
LINEBACKERS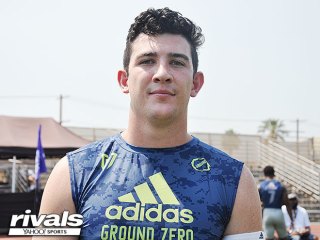 — Consensus four-star Jack Lamb (Great Oak; Temecula, Calif.): Aside from a name worthy fo a serialized spy novel's titular character, Lamb could bring immediate impact and a high future ceiling, but he also appears to fill a positional need. With his and the following three recruitments, it became increasingly-presumable Notre Dame defensive coordinator Mike Elko and his staff were not overly-enamored with the linebackers in the depth chart left by their predecessors.
— Consensus four-star Shayne Simon (St. Peter's Prep; Jersey City, N.J.): Whether Lamb and Simon join the roster with the intention of contributing from the outset or not, pulling in two linebackers of their caliber is a notable achievement.
— Rivals.com four-star Matthew Bauer (Cathedral Prep; Erie, Pa.): If Lamb and Simon are the preemptive front-runners for immediate contributions from this positional group, then Bauer provides the needed natural depth.
— Consensus three-star Ovie Oghoufo (Harrison; Farmington, Mich.): Unless Oghoufo presents an unexpected surge a la current freshman defensive tackle Myron Tagovailoa-Amosa, then logic suggests he may preserve a year of eligibility in 2018.
DEFENSIVE LINEMEN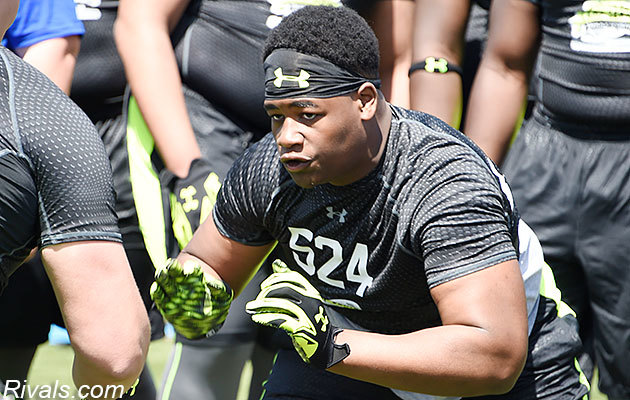 — Consensus four-star defensive tackle Jayson Ademilola (St. Peter's Prep; Jersey City, N.J.): Given the 2017 impacts of Tagovailoa-Amosa and classmate Kurt Hinish, the immediate need for Ademilola may not be as distinct as expected, but senior Jonathan Bonner has said he does not intend to use a fifth year and junior Jerry Tillery could still head to the NFL. In that instance, Ademilola would need to make an impact right away.
— Consensus three-star defensive tackle Ja'Mion Franklin (North Caroline; Ridgely, Md.): Franklin fits the mold of filing out the requisite roster balance while also offering a chance at a high future ceiling.
— Consensus three-star defensive end Justin Ademilola (St. Peter's Prep; Jersey City, N.J.): The cynical will see Justin Ademilola as the price to be paid to sign his twin, the aforementioned Jayson. That would be ignoring the never-ending virtues of defensive line depth, wherever it can be found. Either way, Justin is likely to preserve eligibility for 2018 and may struggle to see much playing time shortly thereafter, given the glut of current sophomores excelling at defensive end.
STILL TO COME
In its attempts to restore consistency in the defensive backfield, the Irish coaching staff will likely chase down another defensive back or two either this week or before February's date.
Editor's Note: A piece focusing on the eight offensive commitments should publish in the next few hours.
[protected-iframe id="4322d87b3e2eb4d11caa19723fa3b36c-15933026-22035394" info="//platform.twitter.com/widgets.js" class="twitter-follow-button"]