For a year when there was never any controversy of who should start at quarterback for Notre Dame, it ends with a lot of questions about that exact role.
WHERE NOTRE DAME WAS
After both DeShone Kizer (to the NFL) and Malik Zaire (graduate transfer to Florida) departed in the offseason, each long expected, there was no doubt current junior Brandon Wimbush would lead the Irish offense, even if hee couldn't claim any genuine experience before the 2017 season, having only seen some mop-up duty during his freshman campaign.
Rather, Wimbush's touted physical attributes set him apart from sophomore Ian Book and freshman Avery Davis. Both Book and Davis present as serviceable quarterbacks who could lead to strong seasons, but Wimbush's canon of an arm and dynamic running ability made him the electric possibility for something more.
At least, that was the thinking entering the year.
Unless Wimbush or Book were to suffer a season-altering injury, Davis looked to be headed to preserving a year of eligibility, and as long as Wimbush did not turn over the ball three times a game and rarely find the end zone, his grip on the starting gig seemed secure.
WHERE NOTRE DAME IS
Wimbush was indeed electric, and he found moments to showcase his arm strength. In the season opener, he connected with senior tight end Nic Weishar between two defenders with a laser through only a tight window. Furthermore, Wimbush's legs were a constant threat.
Yet, he was maddeningly inaccurate. That adjective applies sans harshness due to the moments Wimbush would most often miss his targets. Short crossing patterns, check-downs to the flats and screen passes proved especially difficult for Wimbush. Those should be the simplest passes with the highest rate of success; instead, he would throw to junior tight end Alizé Mack's rear hip on a designed route to the flat, he would throw to sophomore receiver Chase Claypool's back shoulder on a screen pass, and he would throw behind junior running back Josh Adams on an open wheel route.
Those are throws designed to establish a quarterback's rhythm, not to stall a drive.
Wimbush's reads were not inherently bad, but they were often the easy way out, usually the only target considered. Not only does that lead to repeated interceptions or near-interceptions, but it also sometimes ignored the preferable play.
Wimbush's running abilities nearly overshadowed these aerial flaws, but the one-dimensional offense could not overcome top-line defenses, no matter how good that dimension was.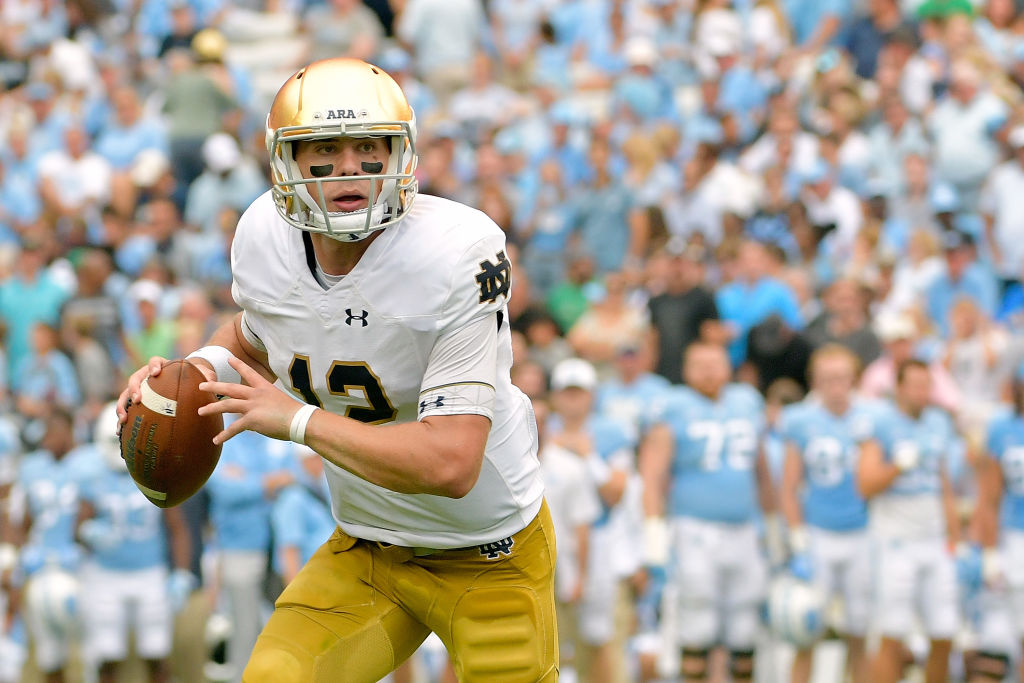 With Wimbush sidelined for a game due to a right foot strain, Book handled all duties at North Carolina, showing he is far more than competent, but also had a limited ceiling.
During the first of bowl preparations, Irish coach Brian Kelly pointed to Davis as someone excelling with the third-string units.
"He's efficient with the football," Kelly said. "Very strong runner. He's an athlete that can impact each and every time he has the football in his hands. He's difficult to defend."
STATISTICALLY SPEAKING
In 11 games, Wimbush threw for 1,818 yards on 133-of-267 passing, a 49.8 completion percentage, with 16 touchdowns and six interceptions. He averaged 6.81 yards per attempt.
Wimbush also added 878 yards and 14 touchdowns on 112 rushes for an average of 7.84 yards per carry (sacks adjusted).
Book threw for 292 yards on 32-of-56 passing, a 57.1 completion percentage, with two touchdowns and three interceptions. He averaged 5.21 yards per attempt.
In 2017, Notre Dame threw for 2,110 yards on 165-of-324 passing, a 50.9 completion percentage, with 18 touchdowns and nine interceptions. The Irish averaged 6.51 yards per attempt.
In 2016, Notre Dame threw for 3,051 yards on 224-of-388 passing, a 57.7 completion percentage, with 27 touchdowns and nine interceptions. The Irish averaged 7.86 yards per attempt.
COMING QUESTIONS
Wimbush will be the starter in the Citrus Bowl on Jan. 1 vs. No. 17 LSU. That much is certain. It also seems decently certain he will take the first snap of the 2018 opener against Michigan.
To do so, he will need to improve his mechanics. Kelly insists Wimbush's mental makeup is fit for the task. Per Kelly, the focus of real competition exposed holes in Wimbush's fundamentals not necessarily seen when working on the scout team during the 2016 season. There, the onus was on educating the first-team defense on the coming opponent's schemes and tendencies. It was not to dissect the quarterback's release point or throwing motion.
If Wimbush makes the necessary adjustments, he will undoubtedly start.
Who will back up Wimbush is a whole other query. Given the hype surrounding consensus four-star quarterback signee Phil Jurkovec (Pine-Richland High School; Gibsonia, Pa.), it does not seem unreasonable to think either Book or Davis may transfer. It would be unfortunate for the Notre Dame depth chart, but if either sees himself fall to third-string this spring and does not expect to outdo Jurkovec in years to come, then finding a better route to playing time would make sense.
Citing Miami (OH) as a possible transfer destination no longer holds the same merit as it did when former Irish assistant Chuck Martin first arrived there as head coach, but use that as an example. The RedHawks will have two senior quarterbacks with starting experience next season in Gus Ragland and Billy Bahl. Neither will have eligibility afterward. If Book or Davis were to transfer to Oxford, his greatest competition for the QB1 honors in 2019 would be current freshman Jackson Williamson. Miami also does not yet have a quarterback committed in the class of 2018.
Compare that to spending the coming fall behind both Wimbush and the other of this Book or Davis hypothetical, only to then be passed up by Jurkovec in 2019 and remain third-string.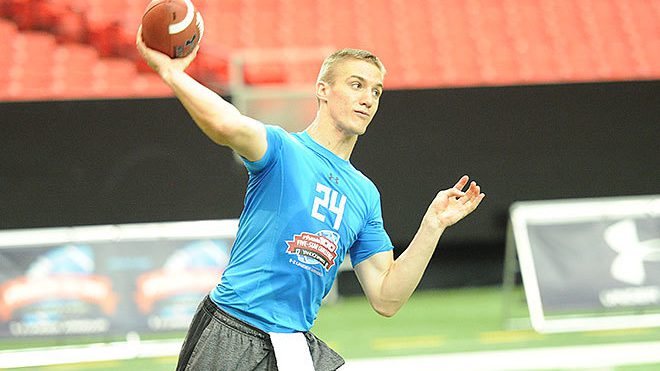 There is every expectation for Jurkovec to make his presence known, even if that is only as an announcement of his pending involvement in the 2019 discussion. Less than a week ago, Kelly responded to a softball of a question rather than dodge it. Even on a day full of hype such as national signing day, evading the thought of Jurkovec competing with Wimbush for playing time would have been the smart play.
"I want him to challenge. I want Brandon to feel competition, and I'm sure Brandon wants to be challenged," Kelly said Wednesday. "Any great competitor wants that feeling that somebody is pushing him every day and, not that Ian Book doesn't, but let's bring in another really good quarterback, a great quarterback.
"That's our job here at Notre Dame. I'm not doing a good enough job if I don't bring in a great quarterback to challenge the incumbent quarterback. If that threatens Brandon, then he's not the guy I think he is. I'm pretty certain he's going to be excited about Phil being here and the competition."
Now that is not saying Jurkovec will start. That is not even saying Jurkovec may start. But it is saying the thought has crossed Kelly's mind.
Although, Wimbush's November gave the musing plenty of reason to cross Kelly's ponderings.
RELATED READING: Notre Dame gets the letter: Phil Jurkovec
INSIDE THE IRISH READING
Where Notre Dame was & is: Defensive Line
Where Notre Dame was & is: Linebackers
Where Notre Dame was & is: Special Teams
Where Notre Dame was & is: Receivers
Where Notre Dame was & is: Tight Ends
Where Notre Dame was & is: Running Backs
Where Notre Dame was & is: Defensive Backs
Where Notre Dame was & is: Offensive Line
[protected-iframe id="4322d87b3e2eb4d11caa19723fa3b36c-15933026-22035394" info="//platform.twitter.com/widgets.js" class="twitter-follow-button"]