For the last rendition of "And In That Corner …" in Notre Dame's 2017 season, Andrew Lopez of The Times-Picayune was kind enough to spend some of his holiday break dabbling with these questions as part of bowl preparations …
Thanks for taking the time to educate some Notre Dame fans, Andrew. I suspect you would agree it has been a more hectic than usual bowl season thanks to the early signing period.
Before I get rolling, how long have you been covering the Tigers?
This is my second full season covering LSU, but I've lived in South Louisiana all my life so I'm more familiar with the Tigers than most.
Now let's start with that recruiting note. How did LSU balance the added December emphasis on recruiting with bowl preparations? Notre Dame relied on hand-holding more than increased pursuits, focusing on signing its class of 20 and hoping for an addition or two from long-standing relationships. Overall, the strategy worked on that front, but we'll have to see Monday how the bowl prep went. Where did Ed Orgeron's staff focus?
Orgeron and his guys pretty much did the same thing. There was one big target they had their eyes on in the early period — consensus five-star receiver Terrace Marshall (Parkway High School; Bossier City, La.) — and it paid off with his commitment and signature. Orgeron talked earlier this week about how the offensive and defensive coordinators stayed back and game planned while other coaches hit the road to lock up their commitments. The focus going forward with LSU's final four spots are to target the big name guys that can help elevate a class into the top 10.
Obviously drawing many comparisons to the LSU team the Irish faced in the 2014 Music City Bowl would be misguided, especially since Coach O leads the way now, not Les Miles. Are there any similarities between 2014 and 2017 to note?
In that game, the Tigers threw the ball 14 times and ran the ball 38 times — that might be the thing you see this time around as well. LSU is still a run first, pass second kind of team. Fifth-year quarterback Danny Etling is better than Anthony Jennings was but the Tigers are still going to lean heavily on junior running back Derrius Guice. Defensively, it's still a fast SEC team so not much has changed on that end either.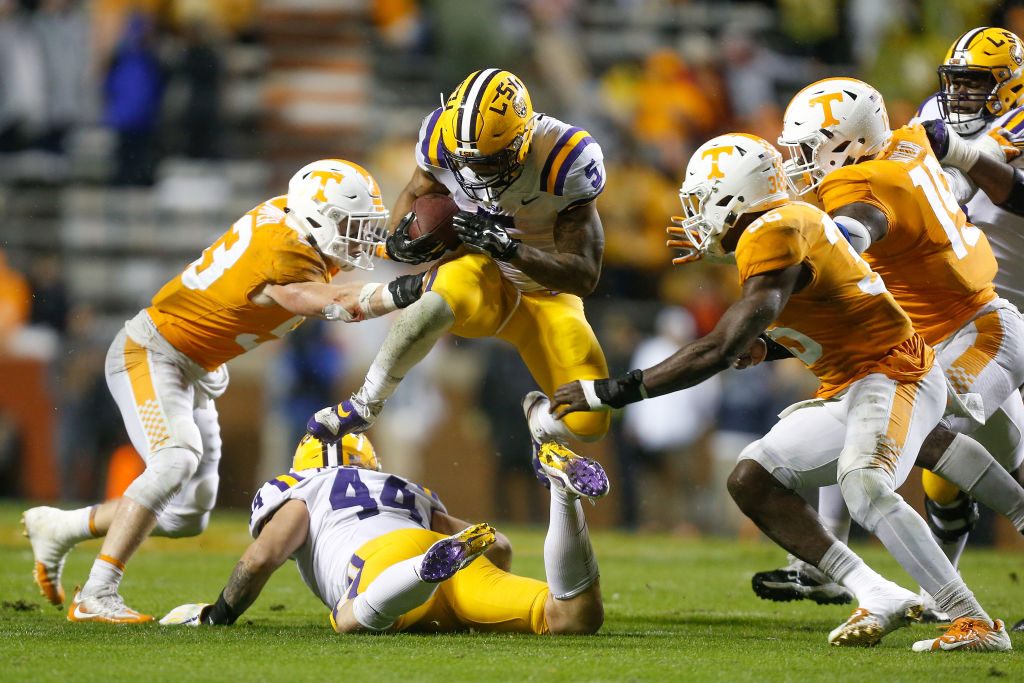 I suppose few teams have (possible) first-round picks at running back, as 2014 did with Leonard Fournette and this year's Tigers may in Derrius Guice. He hasn't declared for the NFL Draft and insists on playing in the Citrus Bowl. What makes him such a threat and what have teams done successfully to slow him down? Alabama held him to only 71 yards on 19 carries, a 3.7 average, and Auburn kept Guice to 71 yards on 20 carries, a 3.6 average.
Alabama and Auburn dared LSU to beat them with the pass. It's what teams have been doing against LSU for years — it's the reason Fournette never had much success against Alabama, either. Guice wasn't fully-healthy for the Auburn game but Alabama … well that's just Alabama for you. Everyone expects this to be his final game and I know he's going to want to go out with a bang.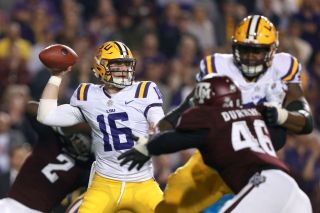 The Irish last saw LSU in 2014. In an odd coincidence, they saw quarterback Danny Etling that year, too, then with Purdue. In a 30-14 Notre Dame victory, Etling threw for 234 yards on 27-of-40 passing with two touchdowns matching two interceptions. He then headed south. Since arriving in Baton Rouge, La., how has Etling changed?
Etling has become a much more patient quarterback. He doesn't have the big arm that offensive coordinators dream about but he doesn't make many mistakes. He may be off on some deep throws but for the most part, he's going to manage the game you want. In 242 passing attempts this season, Etling has thrown only two interceptions — and one of those was a desperation throw against Troy when LSU was attempting to avoid a monumental upset. Etling has thrown one interception for every 73 pass attempts he's thrown since he's been at LSU. That's the second-best ratio in SEC history. He may not beat you, but he won't go out and lose the game.
In true LSU/SEC form, the Tigers have an excellent defense. As the No. 8 unit in the country in passing efficiency defense, it seems quite likely Notre Dame has to rely on its running game even more than usual, which was quite a bit to start with. Facing the country's best offensive line and a possible NFL Draftee in running back Josh Adams, will LSU be ready to stop that ground game?
Well, it better be, or else it's going to be a long afternoon on New Year's Day. But the Tigers rushing defense has been stout as the team has gotten healthier on the front line (more on that in a second) toward the latter half of the season. In LSU's last four games, the Tigers are holding opponents to just 87.8 yards rushing per game, including holding Alabama to a season-low 116 yards. How impressive was that? The Crimson Tide had 173 yards rushing in the season opener against Florida State and then had 200 yards or more in every game, averaging 265.3 yards per contest. In the last two games, LSU held Tennessee and Texas A&M to 93 yards … combined.
My notes here point to a few injuries along the Tigers' defensive front. Who is missing, and will their absences be the difference in stopping Adams?
LSU is going to have some replacing to do with the linebackers. The Tigers will be without outside linebacker Corey Thompson, inside linebacker Donnie Alexander and — the big one — edge rusher Arden Key for the game. They've played spurts without those players throughout the season so they should be well-adjusted.
On the defensive front, LSU is as healthy as can be. Christian LaCouture (who had three tackles against Notre Dame in 2014) and Rashard Lawrence start on the ends while Greg Gilmore and Ed Alexander provide a heck of a 1-2 punch in the middle. Senior Frank Herron, who will play in the NFLPA bowl game in January, rotates in to give the team some fresh legs after he missed the first six games of the season.
Let's finish off with a catch-all here before getting to the biggest question. What and/or whom have I missed?
Well, three things here: 1) Notre Dame has to be ready for the jet sweep. LSU wide receivers have 56 carries this season and that doesn't count Tigers running backs who will take jet sweeps from Matt Canada's F-Back position. 2) Running back Darrel Williams might be one of the best back-up running backs in the country. Williams has 776 yards rushing and nine touchdowns and is LSU's second-leading receiver with 22 receptions for 327 yards.
And last is the relationship between Canada and Orgeron. It broke Wednesday night LSU and Canada are planning to part ways following the bowl game. How this relationship functions during the game – if Canada even makes it that far – will be interesting to watch.
LSU is favored by three. Rather than ask you what you think of that spread, let's use the seasonal parlance. You assuredly entered a confidence points bowl pool somewhere, right? Who did you take in the Citrus Bowl and how many points did you place on that pick?
I actually just participate in a regular old bowl pick 'em — although I might try to get them to switch to a confidence points pool next season — and I did pick LSU but if I had to put confidence points on that, it'd be about a 1, as in the least confidence in any game. This one can truly go either way and I think that's what makes it such a compelling bowl matchup.
LSU's defense has been playing extremely well and are going to try to force Notre Dame to throw the ball against it's top-flight secondary. But if LSU can't stop the run — as they had problems with earlier in the season — then the Tigers could be done for.
[protected-iframe id="4322d87b3e2eb4d11caa19723fa3b36c-15933026-22035394" info="//platform.twitter.com/widgets.js" class="twitter-follow-button"]