Notre Dame had not put together a successful two-minute drive all season until sophomore quarterback Ian Book found junior receiver Miles Boykin for the winning score in Monday's Citrus Bowl, topping No. 17 LSU, 21-17. The 55-yard touchdown delivered Notre Dame its 10th win of the season and first New Year's Day victory since 1994.
"To get to 10 wins in two of the last three seasons, it's really a nice mark for our football team," Irish head coach Brian Kelly said.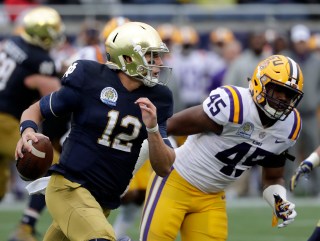 Book took over for junior quarterback and season-long starter Brandon Wimbush late in the second quarter. The three preceding Notre Dame drives all failed to gain a first down, netting a total of five yards. Book preceded to lead an 11-play, 51-yard drive for a field goal four seconds before halftime, breaking a scoreless tie.
"We have confidence in Ian," Kelly said. "He hasn't played a lot of football, but we threw him right into the fire and he leads a winning drive in a game that was on the line. He has that ability. It doesn't surprise us that he's able to do that."
Kelly said he intended to play both Book and Wimbush all along in bowl preparations, but that plan was apparently shelved at halftime. Wimbush never saw the field again, finishing the day 3-of-8 for 52 yards passing and 38 rushing yards on four carries.
After that initial success, it took Book a bit to find a sustainable rhythm. He threw an interception to end the first Irish drive of the second half, and then turned excellent field position into only another field goal toward the end of the third quarter.
In that interim, Notre Dame's defense held the Tigers in check, barely. Though LSU gained 399 yards and averaged a strong 5.3 yards per play, the Irish forced three field goal attempts in the red zone, including two on drives that reached the one-yard line.
TURNING POINT OF THE GAME
Book took one snap in the first-quarter, throwing an incomplete pass on a third-and-10. When he returned to the field to lead the two-minute offense, it seemed he would take that opportunity and then Wimbush would return after halftime. Book went 3-for-4 for 33 yards on the drive, rushing for 27 more.
He should not have taken a sack on a third-and-four at the end of the drive, but the six-yard loss did not knock Notre Dame out of junior kicker Justin Yoon's range, and there was hardly time left to take more than one more shot at the end zone, anyways.
The first signs of production from the Irish offense ensured Book would remain at quarterback the rest of the afternoon.
OVERLOOKED POINT OF THE GAME
LSU missed two first-half field goals. Those were hardly defensive successes. What was a defensive accomplishment, though, was tackling Tigers junior running back Derrius Guice inches from the end zone in the fourth quarter's closing minutes.
Sophomore defensive end Daelin Hayes and freshman safety Jordan Genmark-Heath brought down the future early NFL Draft pick on a third-and-goal from the three-yard line, but LSU going for the last few inches on fourth down seemed a certainty. Instead, head coach Ed Orgeron sent out his field goal unit, a questionable move on a good day but an even more surprising one given the two misses earlier.
"Obviously, you think about it, but you go ahead," Orgeron said. "You go ahead with two minutes left to go. Your defense had played well. I didn't think they were going to score. I thought we could stop them. I wanted to give our team a chance to win."
Orgeron will now have eight months to second-guess that decision.
PLAY OF THE GAME
Obviously, Boykin's game-winning, one-handed, tackle-shedding touchdown will be the moment to remember.
Book and Boykin gelled from the moment Book took to the field. Two of his five first-half pass attempts went toward Boykin, completing one for 18 yards and a first down on that drive for Yoon's first field goal. Boykin finished with three catches for 102 yards, earning Citrus Bowl MVP honors.
"We were in practice, and we knew we were going to have to get a couple of one-on-one matchups on the outside, and I told Miles, you're going to win the MVP trophy," Kelly said. "He looked at me like I had two heads, but I felt like he had a chance.
"He has the ability if we can get him the football."
PLAYER OF THE GAME
Book may have had a stronger claim to the postgame hardware. For that matter, his first touchdown may have been more impressive than the deep ball to Boykin. Six yards from the end zone with five receivers and an empty backfield, Book had plenty of time but no open targets. When pressure did start to develop, he rolled out while keeping his eyes moving, surveying his targets.
Finally, he found a window to freshman receiver Michael Young.
Book finished the day 14-of-19 for 164 yards and two touchdowns passing, also adding 64 yards on seven rushes (sacks adjusted). His ability to genuinely consider both the run and the pass in run-pass options made life more difficult than LSU had expected.
"[Book] made a difference," Orgeron said. "We had a plan. He came in and scrambled. Zone-read gave us problems. [He] extended plays."
DEFENSIVE PLAYER OF THE GAME
Junior linebacker Te'von Coney made 17 tackles Monday, underscoring Notre Dame's hopes he will return for his senior season, a decision he said he has not yet made.
STAT OF THE GAME
The Irish offense lacked three of its top four pass-catchers from the regular season, with sophomore receiver Kevin Stepherson and junior tight end Alizé Mack both suspended and sophomore receiver Chase Claypool out with a shoulder injury. Freshman tight end Brock Wright, used as a situational blocker, was also sidelined by a shoulder injury, and sophomore running back Deon McIntosh, the team's third-leading rusher, was suspended, as well.
"We were a little shorthanded out there," Kelly admitted afterward. "… Young players out there that I think started on scout team."
Yet, Notre Dame averaged 6.07 yards per play against one of the country's best defenses. For context, the Irish offense averaged 6.42 yards per play in the regular season.
With Book taking snaps, Notre Dame worked even more efficiently. Book's offense gained 267 yards on 40 plays, an average of 6.68 yards. Wimbush's time in the game gained 103 yards on 21 plays, an average of 4.90 yards.
SCORING SUMMARY
Second Quarter
0:04 — Notre Dame field goal. Justin Yoon 46 yards. Notre Dame 3, LSU 0. (11 plays, 51 yards, 2:00)
Third Quarter
11:37 — LSU touchdown. Derrius Guice 20-yard reception from Danny Etling. Jack Gonsoulin PAT good. LSU 7, Notre Dame 3. (5 plays, 43 yards, 2:16)
2:47 — Notre Dame field goal. Yoon 49 yards. LSU 7, Notre Dame 6. (5 plays, 18 yards, 2:20)
Fourth Quarter
11:13 — LSU touchdown. Guice two-yard reception from Etling. Gonsoulin PAT god. LSU 14, Notre Dame 6. (12 plays, 75 yards, 6:34)
7:49 — Notre Dame touchdown. Michael Young six-yard reception from Ian Book. Two-point conversion good. Josh Adams two-yard reception from Book. LSU 14, Notre Dame 14. (10 plays, 75 yards, 3:24)
2:03 — LSU field goal. Gonsoulin 17 yards. LSU 17, Notre Dame 14. (12 plays, 76 yards, 5:46)
1:28 — Notre Dame touchdown. Miles Boykin 55-yard reception from Book. Yoon PAT good. Notre Dame 21, LSU 17. (3 plays, 73 yards, 0:35)
[protected-iframe id="4322d87b3e2eb4d11caa19723fa3b36c-15933026-22035394" info="//platform.twitter.com/widgets.js" class="twitter-follow-button"]