WHO? No. 14 Notre Dame (9-3) vs. No. 17 LSU (9-3).
WHAT? The merits of bowl games have been discussed at relative length in these parts, but when kickoff comes, one would hope competitive juices and instincts take over on the field. The Citrus Bowl will have only some of the country's attention, as two other notable bowls start within the hour preceding it, but it is the marquee matchup of the day's early slate.
WHEN? 1:00 p.m. ET. Or, right about when that feeling of New Year's-shenanigans-induced nausea is beginning to abate.
WHERE? Camping World Stadium, Orlando, Fla. Formerly known as the Citrus Bowl Stadium, where Notre Dame met Florida State in the 2011 Champ Sports Bowl.
This will be the final game of the season broadcast on ABC. It will presumably also be available on all Watch ESPN platforms.
WHY? Both Tigers head coach Ed Orgeron and Irish head coach Brian Kelly have spent the week in Orlando pointing to a distinct want to get to double-digit wins. Amid bowl activities including go-kart races, amusement park visits and community service events, focusing on a 10th victory has been a motivational point. With a national championship out of the short-term picture, a New Year's Day victory is seen as a building block to that long-term pursuit.
"You go into every season, and there's … 120-plus teams all coming for the same goal, and that's to be one of those four teams [in the College Football Playoff]," Kelly said Sunday morning. "If you're not able to get that, you're still on the same mission after this game, and that is to keep working toward a national championship.
"In the meantime, it's to play on a Jan. 1 bowl game … 10 wins is usually the mark in college football. Everybody is looking to get to double digits, so it would be a big accomplishment to get to 10."
AN ED ORGERON COMPLIMENT WORTH NOTING: Orgeron was asked what stood out from watching film of Notre Dame this season. Orgeron has spent more than three decades in coaching, almost all of them with an emphasis on the defensive line. He has studied more opposing offensive line units than most of us have simply seen in any capacity in our lives.
"The left guard [senior Quenton Nelson] and left tackle [fifth-year Mike McGlinchey], I can't keep my eyes off of them," Orgeron said. "They're the best combo I've ever been against. They're not only good players, they're really well-coached.
"Their combo blocks, I remember watching an opponent, they had a defensive tackle that we know very well, and he was nine yards off the ball."
This will be McGlinchey's last game with the Irish and almost certainly will/should be Nelson's, as well.
MEANINGLESS STAT: In watching Iowa's 27-20 victory over Boston College in the Pinstripe Bowl on Wednesday, a graphic touting the Hawkeyes' recent bowl struggles was noticed. Before the victory over the Eagles, Iowa had lost its last five bowl games, dating back to a 31-14 defeat to Oklahoma in the 2011 Insight Bowl. Since then, Iowa lost to LSU, Tennessee, Stanford and Florida. In many respects, drawing any type of conclusion from that stretch would have been foolish. Those five games hold no ties to each other, and hardly a tie to the seasons preceding each of them. In all five, the Hawkeyes drew a tough matchup as dictated by factors well outside of their control.
The somewhat-similar streak critics point to relating to Notre Dame is how long it has been since the Irish won a "major" bowl game. Pretending there is some connection between a Jan. 2, 1995, loss to Colorado in the Fiesta Bowl and a Jan. 1, 2016, loss to Ohio State in the same occasion is beyond comprehension and filled with logical failings.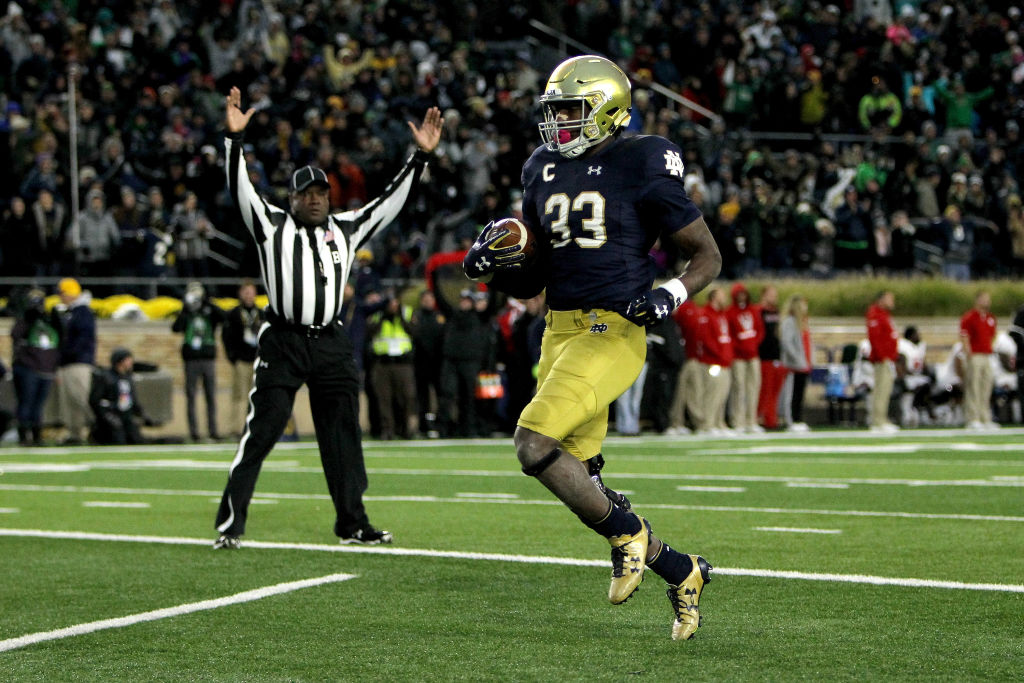 EQUALLY MEANINGLESS BUT MORE INTERESTING STAT: This same topic filled this exact space leading into the regular season finale at Stanford. … Irish junior running back Josh Adams sits 91 yards shy of breaking Vagas Ferguson's single-season Notre Dame rushing record. Including yardage lost, Adams has 1,386 yards this season. Back in 1979, Ferguson gained 1,477. If arguing Ferguson needed only 11 games to reach that mark, a counterargument can be readily made by pointing out Adams has only 191 carries thus far this season. Ferguson had 301 rushing attempts in that record-setting season.
This may or may not be Adams' last game with the Irish. Even if he returns in 2018, expecting a chance to break this record again would be rather ambitious.
BY HOW MUCH? This line has consistently favored LSU by three points with a combined point total over/under of 51.5. That math indicates a finish of Tigers 27, Irish 24. Considering LSU gave up an average of 18.8 points this season and never more than 24 points since the end of September, the low expected point totals are symptoms of LSU's stout defense and an average offense (28.1 points per game, No. 71 in the country) unlikely to easily exploit Notre Dame's vulnerable secondary.
LSU 24, Notre Dame 20. (8-4 record on the season.)
To use the parlance of bowl season, this scribe put 23 confidence points (out of a maximum of 40) on LSU in his two bowl pool entries. It may warrant noting those entries are in eighth (of 11) and ninth (of 10) with only six games remaining. For pride's sake, let's also mention it is not mathematically possible for those entries to finish in last. Whew. (Tough break, Edgar.)
INSIDE THE IRSH READING:
— Notre Dame adds a third OL commit in Luke Jones
— Things To Learn: Notre Dame's offense filled with questions for the Citrus Bowl
— And In That Corner … The No. 17 LSU Tigers in the Citrus Bowl
— Friday at 4: On Notre Dame's six-star recruits
— Notre Dame's coordinators on the Irish and Tigers rushing attacks
— Notre Dame sends RB McIntosh home from Citrus Bowl
— Notre Dame's Opponents: 5-4 in bowls thus far with Georgia to go
WHERE NOTRE DAME WAS & IS SERIES:
— Coaching
— Quarterbacks 
— Offensive Line
— Defensive Backs
— Running Backs
— Tight Ends
— Receivers
— Special Teams
— Linebackers
— Defensive Line
OUTSIDE READING:
— My Journey, by Notre Dame receiver signee Braden Lenzy
— OL Luke Jones commits to Notre Dame 
— Mike Elko back at Notre Dame in 2018
— LSU, Matt Canada likely to part ways after bowl game
— St. Brown looking for a bowl win before making an NFL decision
— A Q&A with Brian Kelly on getting Notre Dame back on track — "I have to have our football team playing its best football in November, and that was not the case this year."
[protected-iframe id="4322d87b3e2eb4d11caa19723fa3b36c-15933026-22035394" info="//platform.twitter.com/widgets.js" class="twitter-follow-button"]