Notre Dame did not intend for sophomore quarterback Ian Book to lead the offense throughout all of Monday's second half in its 21-17 victory over No. 17 LSU in the Citrus Bowl. If anything, Irish head coach Brian Kelly expected to give opportunities to both Book and junior quarterback/season-long starter Brandon Wimbush.
"We went in with the idea of both of them playing," Kelly said afterward. "This wasn't a surprise to Ian. Brandon knew as well that both of them were going to play."
Book's effectiveness to close the first half, after three consecutive stalled Wimbush drives, showed the reserve would provide the best path to a season-ending victory. Much as he did when starting for an injured Wimbush at North Carolina, Book showed he is a more than capable collegiate passer. He is composed in the face of pressures big (a top-flight defense on national television) and small (an effective pass rush), and he works through his progressions well when needed.
"He really is extremely accurate in throwing the football," Kelly said. "We took advantage of what his strengths are. … He's a [redshirt] freshman, so he's going to learn more within our offense."
Book finished with 164 yards and two touchdowns on 14-of-19 passing.
Learning he could perform against a defense as strong as the Tigers' is notable knowledge moving forward. What is more ground-shifting is Kelly willingly opening the door to a quarterback competition simply by planning on playing Book in the first place. Following the regular season-ending loss at Stanford, Kelly declared Wimbush his starter with hardly any prompting. He left no room for qualifiers or wonderings otherwise.
"He's our starting quarterback," Kelly said then. "He'll be starting in the bowl game."
Technically, that was true, but something changed between Nov. 25 and Jan. 1. Book entered the gameplan. A conversation was started.
Perhaps that began with migraines keeping Wimbush out of two practices during bowl preparations, allowing Book to take every first-string snap those days. That may have been his moment to shine, forcing Kelly and Notre Dame offensive coordinator Chip Long to recognize he deserved a New Year's Day opportunity.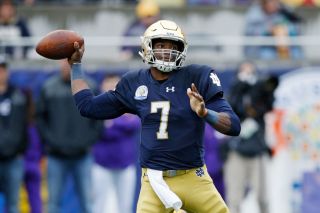 Considering that at all, and then following through on it, means Kelly, Long and the Irish expect a quarterback competition to unfold over the next eight months. Whether that expands beyond Book and Wimbush to include current freshman Avery Davis and/or incoming freshman Phil Jurkovec is a conversation for another day.
Brandon Wimbush will need to earn the honor of starting against Michigan on Sept. 1, 2018. He will not be the only one vying for the distinction.
Yes, Wimbush still deserves to be in the competition. He missed throws again on Monday, most egregiously throwing too high for junior receiver Equanimeous St. Brown on a drag route. Even if throwing over the defensive line, that ball needs to be within St. Brown's range on a pattern designed for yards after the catch, a la his 75-yard touchdown reception at Stanford.
Wimbush also accounted for 30 touchdowns (16 passing, 14 rushing) this season. Kelly used that fact to illustrate Notre Dame's depth at the position.
"We're very talented at the quarterback position," Kelly said. "Ian showed today. Brandon showed that he's very capable of running. … We are just very deep at the quarterback position and very fortunate that we have [Book]."
That depth will produce a starter in the next eight months. It is no longer an assurance it will be Wimbush.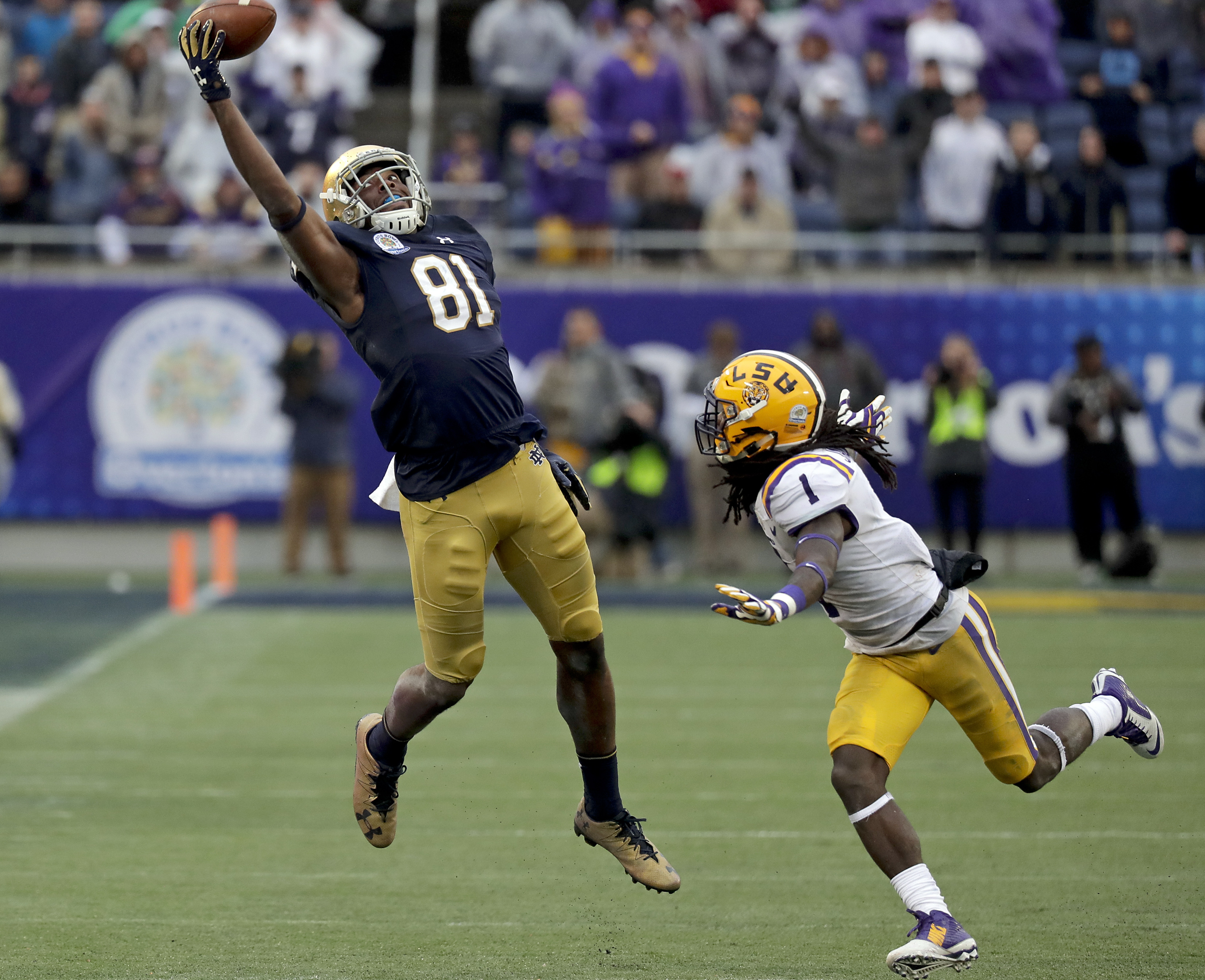 That starter better be ready to throw to Miles Boykin.
The junior receiver finally broke through in the Citrus Bowl. With two of the top three Irish receivers sidelined, someone needed to step up. Boykin did so in such a manner his name will be in Notre Dame lore for decades to come. Three catches do not make for a great afternoon, but when the last of those is a one-handed, tackle-shedding, 55-yard game-winning touchdown, the spectrum shifts.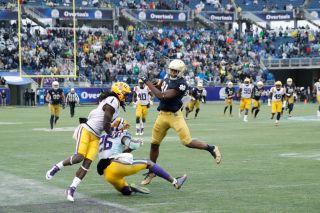 Boykin's frame makes him a threat. It was why he was considered a likely starter throughout all of spring practice and a good portion of preseason practices. That range made him an excellent counter to LSU's excellent coverage cornerbacks.
"One of the things that was really important in this game was to get him the ball in a position where — their defensive backs were outstanding — that they couldn't make a play on the ball," Kelly said. "… That's something that [Boykin] and Ian and Brandon work on."
There is little-to-no chance sophomore receiver Kevin Stepherson is with the Irish when the Wolverines arrive in South Bend. There is still a chance St. Brown declares for the NFL this month. New targets will be needed, and Boykin finally showed what he offers in a competitive environment.
Michael Young will also be in that conversation.
Kelly predicted the freshman receiver would be heard from. Indeed he was, even if to the tune of only two catches for eight yards and a touchdown. Young saw plenty of snaps, very much a part of Long's planning. That faith alone indicates Young has moved up the depth chart enough to be involved from the outset of next season.
Same goes for Nic Weishar.
The senior tight end has already indicated he will return for his final season of eligibility. His two catches for 13 yards may be underwhelming, but they came within the scheme and demonstrated he may be a perfect fit as the attached tight end offering a large target in short-yardage situations. Twice on the same third-quarter drive, Book turned to Weishar along the sideline. Weishar caught both passes cleanly, converting a third down with the second grab.
Losing fifth-year senior Durham Smythe could be a step backward for the offense. He put together an exceptional final season. Instead, Weishar should be able to step right into that role.
On the other side of the ball, freshman safety Jordan Genmark-Heath joined what will be an active spring conversation.
Notre Dame needs better safety play. That is undeniable and, again, a topic for further discussion yet this week. Genmark-Heath saw extended action for the first time this season, making five tackles and avoiding any catastrophic mistakes.
Facing LSU is not a situation to trot out an inexperienced safety. Tigers offensive coordinator Matt Canada uses more motions and misdirections in one day than some teams do in an entire season. Genmark-Heath needed to be properly prepared to not be embarrassed, and Irish defensive coordinator Mike Elko had him ready.
Revealing a gem like that is one of the purposes of bowl practices. Notre Dame did not need 15 sessions to focus on LSU. Instead, some of those were used to work on fundamentals and basics. That aspect moved Genmark-Heath into a spot where he could be counted on.
He may not start at safety in 2018, but as that position enters eight months of utter uncertainty, Genmark-Heath will get his chance.
Quenton Nelson is heading to the NFL, obviously.
The senior left guard removed any naïve hopes of him returning for another year of college football after the Irish victory.
"It was my last rep at Notre Dame and this week was sentimental," Nelson said. "I'm so happy we finished strong."
He is a presumptive top-10 NFL Draft pick. He should go.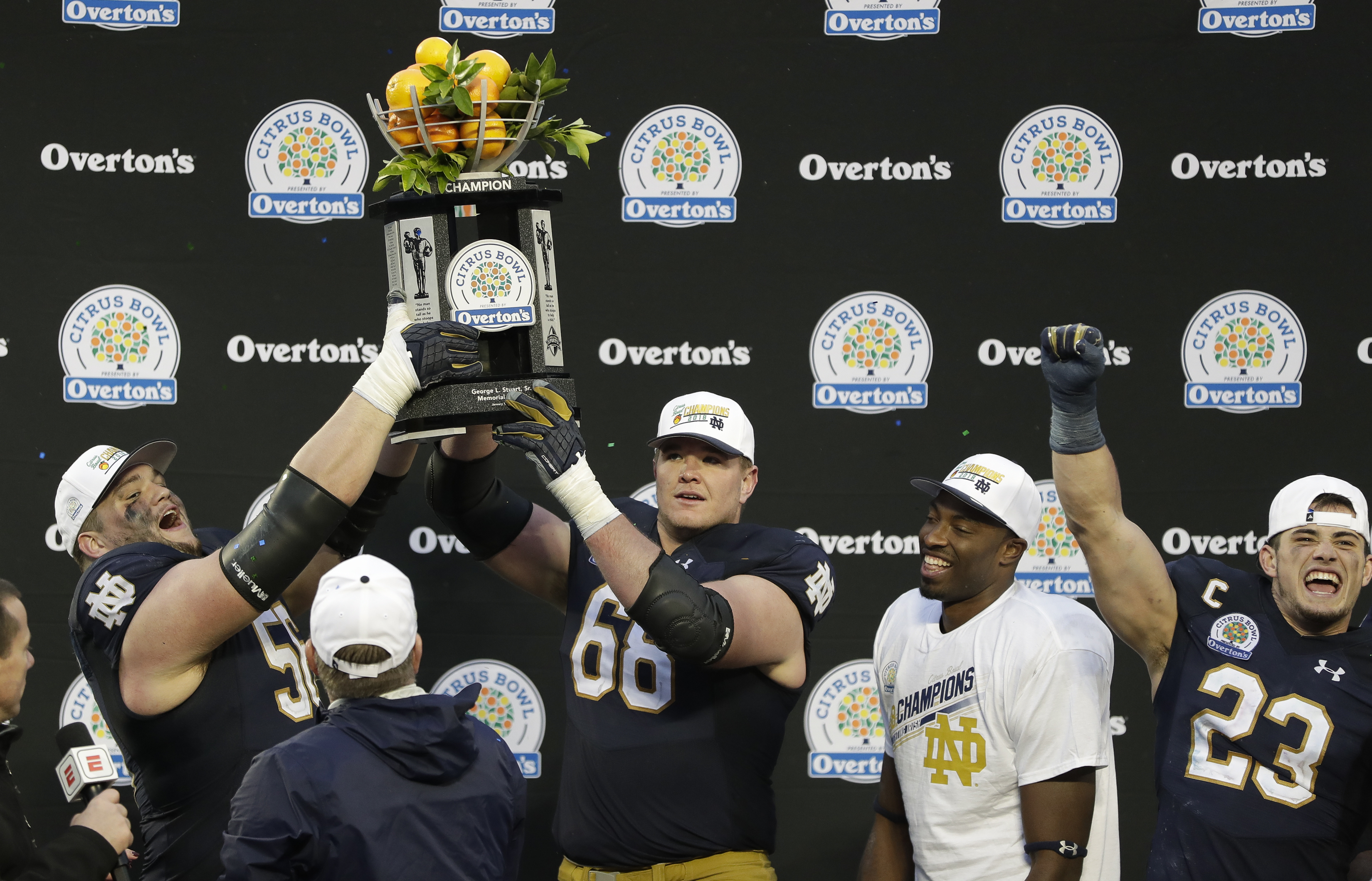 No other decisions were announced immediately after the bowl game. The likes of St. Brown, junior running back Josh Adams, junior tight end Alizé Mack and junior linebacker Te'von Coney have until Jan. 15 to make up their minds.
Kelly will once again hold one-on-one meetings with each and every player in the coming weeks.
Kelly credited that implementation for sparking many of the program-wide changes following last season's 4-8 debacle. He intends to do it again.
[protected-iframe id="4322d87b3e2eb4d11caa19723fa3b36c-15933026-22035394" info="//platform.twitter.com/widgets.js" class="twitter-follow-button"]