How do you turn 4-8 into 10-3? Start with better coaching. Add in thought-out offensive scheming to hide an inexperienced quarterback's deficiencies. Then rely on defensive strengths to compensate for undeniable weaknesses.
It also helps to have been more talented than that 4-8 reflected in the first place.
Now, how do you turn 10-3 into a College Football Playoff spot? That is the question facing Notre Dame head coach Brian Kelly this offseason, a much less drastic task than dealt with a year ago, but a no less pressing one.
The change in direction after 2016 focused on staff changes, program overhauls and a general change in philosophy. Each of those maneuvers hit the right note.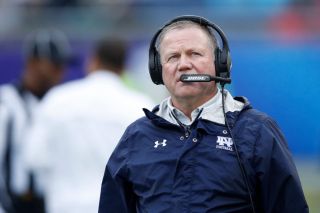 Irish defensive coordinator Mike Elko found a worthwhile defense where a vacuum had been last September. Notre Dame may have tired by the end of the season, but the physical benefits created by a new strength and conditioning staff were apparent, nonetheless. Kelly's relationship with the players appeared more genuine than it had in at least five years, most notably when senior left guard and captain Quenton Nelson didn't think twice about wrapping his head coach in a spine-crushing bear hug from behind after the victory at Michigan State.
Building on those foundational blocks will be an equally-difficult task. That will need to come from a more tangible category, the players on the field. Specifically, success in 2018 — scoring against a top-flight Michigan defense in the season opener on Sept. 1, avoiding any mistakes in a raucous environment at Virginia Tech in early October, limiting what could be a potent USC offense to close the season — will hinge on two positions that underperformed in 2017: quarterback and safety.
Obviously, Irish junior quarterback Brandon Wimbush and the rest involved in that starting competition will get the headlines. That was guaranteed as soon as Kelly dodged a question on the topic after Notre Dame beat No. 17 LSU in the Citrus Bowl on Monday, 21-17.
"I don't think I'm ready to get into all of those things," Kelly said. "We just won a football game, and then we'll make all those decisions later."
That postgame was not the time for Kelly to begin prognosticating the futures of sophomore Ian Book and freshman Avery Davis. Nor was Orlando, Fla., the place. The time will be in early March at the beginning of spring practice, the place being the practice fields with "FIGHTING IRISH" plastered two stories high across its edge.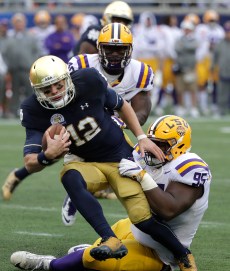 When Kelly gave Book a lengthy leash throughout the Citrus second half, he immediately established there would be a chance for the season-long backup to wrest away first-string job before kicking off against the Wolverines. It may have happened anyway, even if Kelly pulled Book after an avoidable mistake of a red-zone interception. In fact, it should have either way.
That is not to say Book should have taken over as a starter earlier in the season. The scheme deployed by offensive coordinator Chip Long relied on the Irish offensive line and its running game. Wimbush made that aspect much more dangerous. His struggles with accuracy and passing progressions, however, limited the offense from any greater performances.
If Notre Dame wants to become more than an impressive 10-3, an arm cannot be tied behind its back like that. If Book doesn't break loose, by offering him that opportunity in the spring, Kelly also inherently cracks the door open a bit to Davis. Come summer, incoming freshman Phil Jurkovec will have his chance, as well. Any coaching staff aversion to change has been dismissed already.
The Irish know they need to find a quarterback. He may already be around. He may have started 11 games this year and merely needs an offseason focused on his throwing motion.
He may be playing in the U.S. Army All-American Game on Saturday at 1 p.m. ET (NBC). If that is the case, Jurkovec will not shy from the challenge.
"I have no expectations for myself," Jurkovec told ND Insider's Tyler James while in San Antonio. "I'm going in, I'm competing. Nothing's going to be given to me, so I'll earn whatever I get."
Let's reiterate this: Jurkovec may not be 2018's answer. This season only showed he could be.
Similarly, Notre Dame may need to turn to an incoming freshman to solve its greatest weakness — perhaps 2017's only — on defense. The Irish safeties could not have impacted games much less. The three relied upon, senior Nick Coleman and sophomores Jalen Elliott and Devin Studstill, combined for 105 tackles, one tackle for loss and five pass breakups. The leading tackler of the trio, Coleman with 44 tackles, finished behind six other defenders.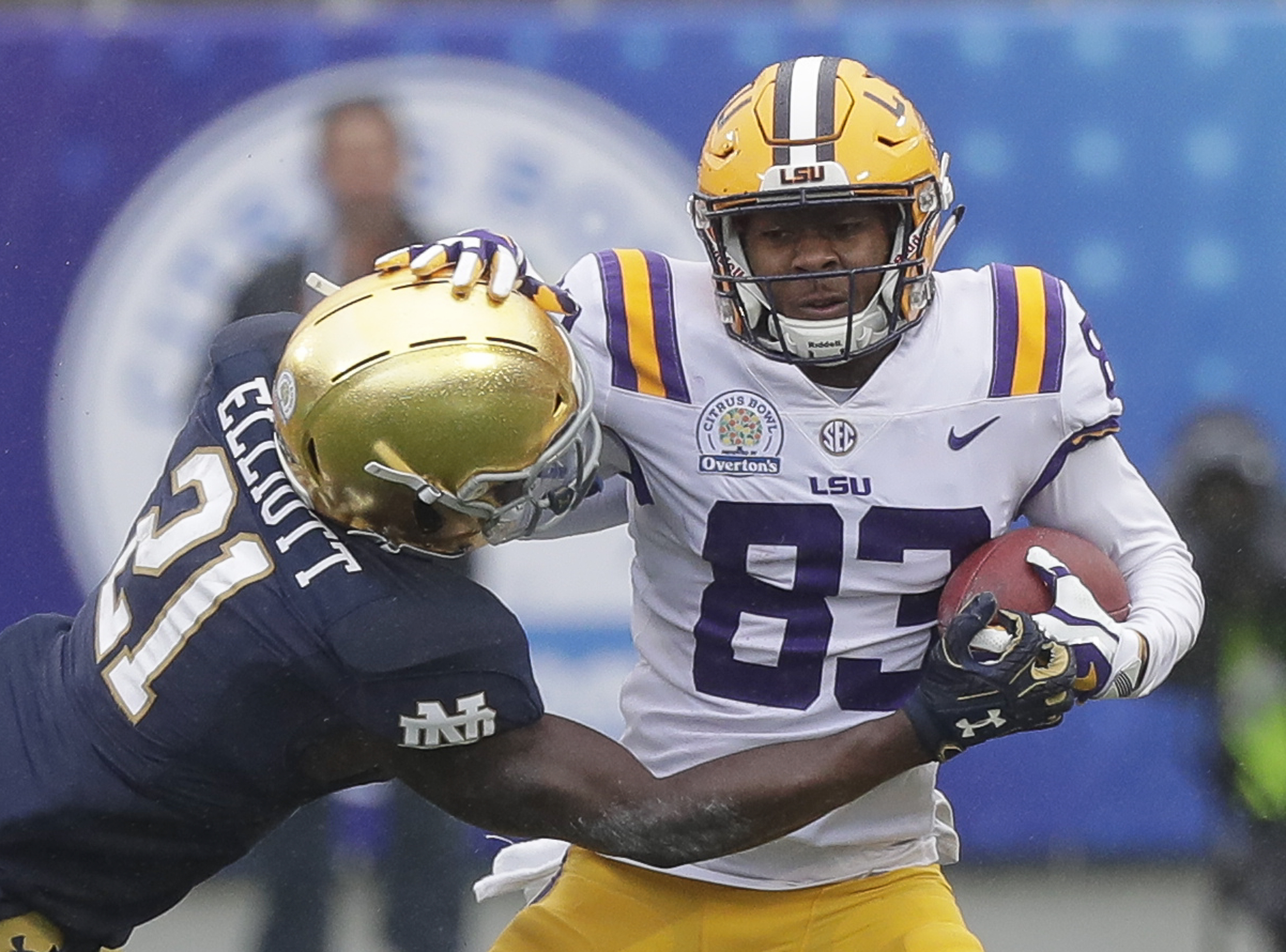 An argument could be made safeties not making many tackles is a sign of strong play from the front seven. It is not an inaccurate argument. This season, strong play up front kept the pressure off the safeties, lest their ineffectiveness manifest itself in more dramatic ramifications. For Elko's defense to grow even further, a playmaker on the backline will be necessary.
And to be clear, Elko expects his unit to be even better next season.
"Year two really allows you to attack the details of what you're trying to get accomplished," he said Friday. "You get to a point where so much [of] year one is broad stroke because you've got to get it all in and you've got to be able to run and that clock is coming to start the first game.
"Now that the kids have a really solid base, you can really go back and refine everything you're trying to do and you'll see a group that understands the details of what we want to accomplish a lot better."
Nine positions were ready by the time that first game came around in Elko's debut campaign at Notre Dame. They had the solid base. Adding details at those spots is a tantalizing thought for 2018.
The safeties had not reached such a point even by the season's end. When Tigers quarterback Danny Etling completed a 30-yard pass to a sliding receiver on a third-and-16 in Monday's second quarter, it was more indicative of a safety's failing than of anyone else's blown coverage. In a third-and-long, the safety's entire purpose is to prevent a big play, a break downfield.
Elko will need to refocus his efforts on the broad strokes at safety, if nowhere else, heading into year two, but he may not need to with both openings. Current sophomore Alohi Gilman would have started for the Irish this season if the NCAA had granted him a waiver for immediate eligibility following his transfer from Navy. There is every reason to think that will still be the case in 2018.
Elko will have three options to place alongside Gilman. Stick with Coleman, move sophomore cornerback Julian Love or turn to incoming freshman Derrik Allen.
The late-season emergence of sophomore cornerback Troy Pride makes the thought of Love at safety tenable. Notre Dame has a number of viable options at cornerback in Pride, senior-expected-to-return Nick Watkins, junior Shaun Crawford and sophomore Donte Vaughn. Love is the best of the bunch, but he is presumably and likely the best of the safeties, as well. His instincts for the ball border on unteachable, as evidenced by his thirst for one final interception this season during LSU's final, desperate drive.
As for Allen, Kelly pointed to his playmaking ability as a primary reason he was such a priority in recruiting.
"He was the first guy that we saw that had the ability to cover man-to-man, play the ball in the air and get the ball down on the ground with his size," Kelly said on Dec. 20, the early signing day. "That was the trait that we had to have in this class. It was a must, must, must. It was underlined five times. We have to find this player."
The Irish needed to find that player because he wasn't around at safety this season. While the trio there tallied three pass breakups, Love managed 20 with three interceptions.
Aside from the two holes, Notre Dame looked to be a viable contender in 2017. Special teams need improvement, but they never cost a game and junior kicker Justin Yoon was as excellent as always. Long and Elko showed an acumen for their personnel, most obvious in outcoaching LSU's rightfully-heralded coordinators. Statement wins over USC and North Carolina State, not to mention the at-the-time under-the-radar victory at Michigan State, proved the Irish had the talent to compete.
Except, quarterback and safety — neither performed nor showed ready potential necessary to push Notre Dame to the next level. In different ways, each of the three losses made that clear. Safety's solutions are somewhat clear, and it is likely none of this year's starters have that honor next season. That would be a step forward for the defense.
Quarterback may be a bit trickier. It may rely on development, it may come down to a phenom, it may not happen.
[protected-iframe id="4322d87b3e2eb4d11caa19723fa3b36c-15933026-22035394" info="//platform.twitter.com/widgets.js" class="twitter-follow-button"]