It would have been an ideal scenario for Notre Dame if junior running back Josh Adams returned for his senior year, but that may not have been in his best interests. Thus, Adams announced Friday afternoon he will head to the NFL.
"With a lot of thought, prayer and discussion with my family, I've decided to forgo my senior year and enter the 2018 NFL Draft!" Adams wrote. "… I'll always have Notre Dame in my heart.
"With my decision, I hope that people will know, and kids will see how it's okay to chase your dreams, because with God 'ALL things are possible.'"
Adams went on to state he will "definitely" return to the University to earn his degree.
The Irish running game hinged on Adams and the dominant offensive line in front of him this season, with the one-time Heisman candidate finishing the year with 1,430 yards gained on 206 attempts, adding nine touchdowns. He finishes his career with 3,198 yards and 20 touchdowns, averaging a startling 6.6 yards per carry. His career total places Adams fifth in Notre Dame history. His 229 yards at Boston College in September are fourth in single-game school history and paced the team to its most-efficient rushing performance in modern history.
Perhaps not a first-round draft pick, Adams will still likely hear his name called in an early round. Given the career longevity for running backs in the NFL — rather, the lack thereof — seizing that opportunity makes an abundance of sense.
"I chose Notre Dame because it was a place that allowed me to pursue my full potential," Adams wrote. "It was a decision that would affect the rest of my life."
Without Adams, the Irish backfield still has both depth and talent, led by current junior Dexter Williams and sophomore Tony Jones, with sophomore Deon McIntosh and (currently suspended indefinitely) freshman C.J. Holmes adding further depth and incoming freshman Jahmir Smith on the way to round off the options.
Arguments can be and have been made Williams was not used enough in Notre Dame's offense in 2017, but that can be somewhat attributed to Adams' record-setting successes. In addition, nagging ankle and quad injuries limited Williams throughout the season, as did an ankle to Jones.
The most likely scenario moving forward is Williams sees the most action only if he develops as an every-down back, as in, only if he develops as a pass blocker. For example, he followed two successful runs in the Citrus Bowl by immediately missing a block and exposing sophomore quarterback Ian Book.
If that progress occurs, Jones can continue to serve as a positional mismatch putting defenses in a bind. Irish offensive coordinator Chip Long relished opportunities to deploy a healthy Jones as a second running back due to his threefold abilities as a rusher, receiver and blocker. With him lined up with Adams, defenses truly did not know what type of play could be coming. Long's ideal will presumably have Jones in a similar role alongside Williams.
With junior receiver Equanimeous St. Brown declaring for the NFL Draft on Thursday, Notre Dame now awaits for decisions from three more juniors: linebacker Te'von Coney, defensive tackle Jerry Tillery and tight end Alizé Mack. They have until Jan. 15.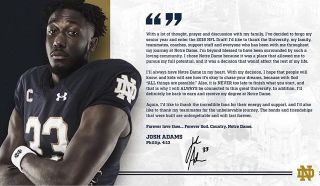 [protected-iframe id="4322d87b3e2eb4d11caa19723fa3b36c-15933026-22035394" info="//platform.twitter.com/widgets.js" class="twitter-follow-button"]