WHO? More than a hundred of the best high school seniors of the class of 2018, including five Notre Dame signees and two more targets, one of which will announce his commitment during the game.
The signed commits: Consensus four-star quarterback Phil Jurkovec.
Rivals.com four-star tight end George Takacs.
Consensus four-star defensive tackle Jayson Ademilola.
Consensus four-star linebacker and possible future rover Shayne Simon (pictured above).
Consensus four-star safety Derrik Allen.
Consensus five-star receiver Amon-Ra St. Brown (Mater Dei High School; Anaheim, Calif.) will announce a commitment to either USC, Stanford or the Irish during the game. The Trojans seem his most likely choice.
Consensus four-star linebacker Solomon Tuliaupupu (Mater Dei H.S.; Anaheim, Calif.) will also play in the exhibition, with Notre Dame still among the contenders for his commitment.
WHAT? Arguably the top of the high-school all-star games, the U.S. Army All-American Bowl is in its 19th season, having featured more than 400 eventual NFL players, per its website.
WHEN? 1:00 p.m. ET.
WHERE? The Alamodome; San Antonio, Texas. The game will be broadcast on NBC, hence its featuring in this space.
If considering watching online, this should work out for you.
WHY? It is a pretty simple argument: This will be the last chance to see these incoming freshmen in any form of competition until September, with the exception of Takacs. The Naples, Fla., product will enroll this month and should be involved in the Blue-Gold Game to conclude spring practices. Otherwise, the five, perhaps seven, will be behind a figurative curtain until any action seen in the fall.
Of the committed five, at least three of them and possibly four are likely to play for the Irish in 2018, with Takacs ironically the exception.
Ademilola's and Simon's chances of seeing consistent defensive snaps will rise significantly if current juniors defensive tackle Jerry Tillery and linebacker Te'von Coney opt to head to the NFL rather than return for their final seasons of collegiate eligibility. Coney's decision notwithstanding, Simon seems primed for special teams duties.
Allen may well become a starter, as has been detailed concerning the situation at safety. He told ND Insider's Tyler James he strives to prove he is ready for that possible opportunity.
"Just show people I can move," Allen said of the U.S. Army All-American Bowl. "I'm fast. I can play safety at the next level. Show people I can do it."
Similarly to Allen at safety, Jurkovec's potential impact at quarterback speaks as much to the dearth of confidence there currently as it does to his talent.
ALLEN'S RESPONSE TO ELKO'S DEPARTURE
He may be only a high school senior, but Allen's reaction to Notre Dame defensive coordinator departing for the same gig at Texas A&M was more mature than most fans' or even current players'.
"Part of the buisness [sic]," Allen posted to Twitter on Thursday. "Sign to a place cause of their cultures and beliefs not because of a coach."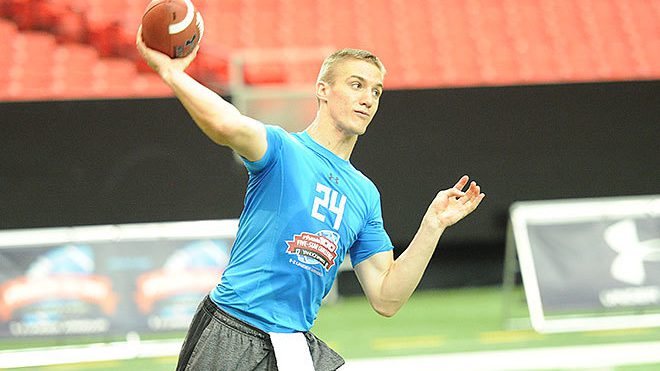 HOW COME JURKOVEC ISN'T ENROLLING EARLY?
Any debate about enrolling early seems unnecessary and inconceivable for those through college or irrationally cheering for a particular football team. But do not forget the subject of the debate is still a high schooler, looking to appropriately conclude what has been nearly two decades with friends. The cliché example of that nostalgic concept is prom. There are other reasons at hand, though.
Jurkovec has not only excelled on the gridiron at Pine-Richland High School, Gibsonia, Pa., but also on the hardwood.
"I've been playing [basketball] my whole life, so I wanted to play [this year]," Jurkovec told James while in San Antonio. "It helps me, too. For me, it shows I'm not really tapped out with football, because I don't play football year-round. Playing basketball has really helped me develop athletically."
BY HOW MUCH? Just kidding. It would take a real degenerate to know of a betting spread on a high school exhibition game.
WHO ELSE? Consensus four-star defensive back Houston Griffith and consensus four-star linebacker Jack Lamb partook tin the Under Armour All-American Game earlier this week.
ANOTHER OUTGOING NOTRE DAME TRANSFER
Freshman defensive end Jonathon MacCollister announced on Twitter on Friday he will head to Central Florida … as a tight end. Originally from Florida, MacCollister spent this season on the sideline, as he will be required to again in 2018 due to transfer restrictions.
"I would like to thank the University of Notre Dame and Coach [Brian] Kelly and his coaching staff for giving me an amazing opportunity to be part of one of the best institutions in the country," MacCollister wrote. "I would also like to thank my teammates for accepting me into their family and treating me like their brother from day one, and to me they will always be my brothers."
One of two defensive ends in his class, along with Kofi Wardlow, the likelihood of MacCollister seeing imminent playing time decreased with the rapid development of sophomore Khalid Kareem and the presumed return of senior Jay Hayes after a productive season from the veteran. Additionally, sophomore Daelin Hayes (no relation) continued strong progression and MacCollister had a future of competing with sophomores Julian Okwara and Ade Ogundeji for any remaining playing time.
At tight end, MacCollister never would have seen the light of day with the Irish.
INSIDE THE IRISH COVERAGE OF THE CITRUS BOWL VICTORY:
— Book and Boykin heroics give Notre Dame a Citrus victory
— Things We Learned: Kelly is open to a Notre Dame QB competition; WRs emerge
— Things We Learned from the season: 10-3 Notre Dame is two glaring holes from being much more
INSIDE THE IRISH COVERAGE OF DEPARTURES:
— Notre Dame defensive coordinator Mike Elko leaves for Texas A&M
— Friday at 4: Notre Dame not at fault in Mike Elko's departure, but the next decision could determine 2018
— C.J. Sanders to transfer from Notre Dame; DT Pete Mokwuah, as well
— Notre Dame's leading receiver, Equanimeous St. Brown, heads to the NFL
— One-time Notre Dame Heisman candidate, Josh Adams declares for the NFL
OUTSIDE READING:
— Future Irish QB Phil Jurkovec catches Notre Dame's fantastic Citrus Bowl finish
— Analysis: Sizing up Brian Kelly's next step after Mike Elko's departure from Notre Dame
— Fisher tabs Elko as Aggies' defensive coordinator
— Nelson, Yoon make AP All-Bowl Team
— Under Armour All-America Game viewing guide for Notre Dame fans
— USC QB Sam Darnold declares for NFL Draft
— The final steps of Baker Mayfield's inimitable college football career ($)
[protected-iframe id="4322d87b3e2eb4d11caa19723fa3b36c-15933026-22035394" info="//platform.twitter.com/widgets.js" class="twitter-follow-button"]