There are no hard feelings between Notre Dame and departing offensive line coach Harry Hiestand as he heads to the Chicago Bears. That much was most clear when the Irish released a statement not only from head coach Brian Kelly but also from Hiestand late Wednesday evening, a clear difference from just last week when Kelly issued a standalone statement in a seemingly-similar circumstance.
"Harry is an outstanding coach — one of the best offensive line coaches in football," Kelly said. "He developed young men in the spirit of Notre Dame. I know this was a difficult decision for him based upon his feelings for this program, this University and his student-athletes."
For six years, Hiestand and Kelly worked together by essentially working apart. By no means was that a sign of a strained relationship. Rather, Kelly trusted the most-veteran assistant on his staff to operate autonomously. Hiestand rewarded that trust by producing cohesive and productive units time and time again, no matter what first-round NFL Draft pick had just walked out the door.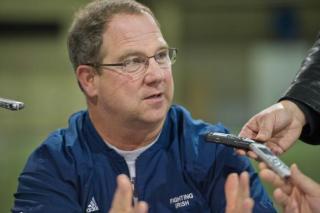 "I'm thankful to Coach Kelly for letting me coach my way," Hiestand said. "I'm also appreciative of the offensive linemen for being the best part of every day here and working extremely hard to be the best."
There are no hard feelings between Hiestand and his positional charges, either. Rather than take to social media with shocked emojis or vague questions of loyalty, senior center Sam Mustipher and senior right guard Alex Bars both praised Hiestand alongside Kelly's words.
"Coach Hiestand built upon the standard of Notre Dame offensive line play," said Mustipher, expected to anchor that line in his fifth season with Bars at his side once again. "He helped bring it back to where it made those before us proud to tune in every weekend. The lessons he taught me as a football player, and as a man, will carry me through the rest of my life."
Praising a football coach for growing a player into a man may come across as cliché, and lauding offensive linemen in general for being better-spoken than many of their teammates no matter the team is a premise widely-accepted by football media members. But the degree of which that latter statement has been true among the Irish for the last few years is a testament to Hiestand upholding the former sentiment.
"Harry's been an incredible influence on me and all the offensive linemen that he's coached," Bars said. "He's shown us the way and we'll continue to maintain the standard of excellence expected by a Notre Dame offensive lineman."
Without Hiestand, reaching that standard of excellence will become much harder. Exactly how much harder cannot be known until the vacancy is filled, but there are few, if any, offensive line coaches of Hiestand's caliber. One with a delicate touch will be needed to figure out the process of replacing two first-round picks in left guard Quenton Nelson and left tackle Mike McGlinchey.
Irish Illustrated's Pete Sampson gathered from offensive coordinator Chip Long before the Citrus Bowl that Notre Dame will look to move freshman tackle Robert Hainsey over to left tackle, leaving sophomore Tommy Kraemer at right tackle. The two split time at right tackle this season.
In that scenario, the new offensive line coach will need to prepare Hainsey for arguably the toughest offensive line spot, coach up Kraemer in pass protection and, most of all, find a left guard to complete the unit. He will have a number of highly-touted and well-coached options to choose from, beginning with junior Trevor Ruhland, sophomore Liam Eichenberg and freshman Josh Lugg.
Hiestand would have looked at that puzzle with a version of zest. Unseen, of course, as he hardly ever showed any emotion* aside from frustration with anything not focused on football and, more specifically, the finer points of offensive line play. Such tunnel vision will be nearly impossible to find in any possible candidate.
That single-mindedness earned his players' respect. It, and Hiestand, certainly played a role in repeatedly convincing highly-considered draft picks to return for one more season with the Irish. The likes of Nelson, McGlinchey, Ronnie Stanley and Zack Martin all turned down possible first-round selections for another season under his tutelage. They both trusted Hiestand to improve them further and felt some degree of loyalty to his cause that they wanted to aid it for another fall, helping groom another generation of offensive linemen in doing so.
It paid off. Stanley heard his name called with the No. 6 pick in 2016. Martin went No. 16 in 2014. There is a good chance both Nelson and McGlinchey are drafted sooner than that this spring.
Chris Watt turned a third-round selection into a three-year career thus far, despite hampering injuries. Nick Martin went from the 50th overall pick in 2016 to starting the first 14 games at center for the Houston Texans this season before injury cut short his season.
Hiestand's methods yielded dividends both for the players and the team as a whole. In three of the last six years, Notre Dame's rushing attacked finished in the top 40 in both yards per game and yards per rush. Twice in the last three years that latter figure landed in the top 10, at No. 3 in 2017 and No. 8 in 2015. (As always when discussing national ranks in regards to rushing totals, these were not adjusted for sacks, although Hiestand's offensive lines gave up only a few of those, highlighted by 0.62 per game in 2013.)
This departure is one that will set the Irish back, but it was not unforeseen and it was entirely understandable.
"While disappointed to see Harry go, I'm not surprised by his decision," Kelly said. "We knew six years ago when we hired him that his final step in coaching could be in the NFL."
Filling Hiestand's shoes might not be truly possible for Kelly, but aiming high for a top-line coach will be a priority, nonetheless. That unit's success affects literally every offensive decision.
---
*One occasion Hiestand did border on showing emotion came when Notre Dame received the Joe Moore Award as the country's most outstanding offensive line this year. Kelly set up the presentation by calling Hiestand in front of the team. Unless the video shared on social media was heavily-edited, Hiestand responded by not moving, averse to the spotlight as any offensive line aficionado would be. As soon as Kelly hands the moment over to former Irish offensive lineman and Joe Moore Award founder Aaron Taylor, Hiestand knows what is happening and a smirk flashes across his face.
The response of the entire auditorium illustrates a respect the entire Notre Dame program had, rather, has for Hiestand and his work.
Coach Kelly had a surprise for Coach Hiestand and the offensive line today - the @JoeMooreAward, honoring the best O-line in the country.

What's not surprising? There's no group more deserving than these young men.#GoIrish ☘️ pic.twitter.com/Je1LfL5oQA

— Notre Dame Football (@NDFootball) December 21, 2017
OUTSIDE READING: Notre Dame's Moore Award personal for Taylor
---
2012: 189.4 rushing yards per game, No. 38 in the country; 4.87 yards per rush, No. 31.
2013: 151.3 yards per game, No. 80; 4.47 yards per rush, No. 52.
2014: 159.5 yards per game, No. 68; 4.28 yards per rush, No. 67.
2015: 207.6 yards per game, No. 28; 5.63 yards per rush, No. 8.
2016: 163.3 yards per game, No. 80; 4.47 yards per rush, No. 63.
2017: 269.3 yards per game, No. 7; 6.25 yards per rush, No. 3.
[protected-iframe id="4322d87b3e2eb4d11caa19723fa3b36c-15933026-22035394" info="//platform.twitter.com/widgets.js" class="twitter-follow-button"]