Notre Dame's defense found some stability last week with the promotion of linebackers coach Clark Lea to defensive coordinator and defensive line coach Mike Elston to associate head coach following Mike Elko's abrupt departure, but only some stability.
That foundation is much more solid now after the Irish announced the returns of both junior linebacker Te'von Coney and junior defensive tackle Jerry Tillery on Monday.
Both Coney and Tillery enjoyed noticeable developmental progress in one year under Elko.  Coney totaled a whopping 116 tackles to lead Notre Dame, far and away his best season. Among those takedowns, he managed 13 for loss, including three sacks. Tillery, meanwhile, led the Irish with 4.5 sacks this season, adding another 4.5 tackles for loss and a forced fumble.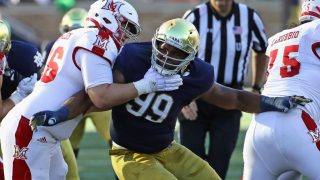 With Lea and Elston sticking around, Coney and Tillery are well-positioned for even further growth. If nothing else, they will step into starring roles in a rather complete front seven.
Notre Dame loses senior linebackers Nyles Morgan and Greer Martini, as well as senior defensive tackle Jonathan Bonner and senior defensive end Andrew Trumbetti. If Coney and Tillery had joined that group, the front seven would have been rife with unproven commodities and little depth. Instead, Coney will fill in at linebacker, meaning only one youngster will need to step forward, and Tillery will headline a defensive line surging under Elston.
After amassing 17 tackles in the Citrus Bowl victory over LSU, Coney insisted he had not yet put much consideration into his future.
"I'm just right now still focused on the win," he said. "We just got this 10th win. I'm just trying to soak up the moment. This is a great moment. … Focusing on that and the win and enjoying it with my brothers."
Those words combined with Elko's sudden departure for Texas A&M made Coney's return seem unlikely. His breakout season at least placed him into NFL draft conversations and capitalizing on that chance would have made a good amount of logical sense.
With Lea in his ear for another season, Coney will have a chance to become more than a physical player excelling in run defense and develop his coverage skills. Coney and senior Drue Tranquill will lead an otherwise lacking linebacker corps.
Sophomores Jonathan and Jamir Jones (no relation) made 10 and four tackles, respectively, this year. Jonathan saw more playing time on defense, occasionally spelling senior Nyles Morgan, but has not yet looked the part of an every-down contributor. Irish coach Brian Kelly has previously admitted to considering a move to defensive line for Jamir, but that unit's progression made that position shift less of a necessity.
If any of the incoming four linebackers or the two current freshmen, David Adams or Drew White, were to emerge, however, such a move may become an available luxury. Only Tillery's return makes it a genuine luxury, though.
Tillery's 56 tackles this year showed a level of consistency not seen in his first two seasons. His length alone makes Tillery an intriguing draft prospect. Logically speaking, a second season of such production, if not even increased output, should further his professional hopes. By returning along with Elston, the player/coach combination will provide experience to a position group otherwise devoid of it. With Bonner having said he will not return, Tillery and current freshmen Myron Tagovailoa-Amosa and Kurt Hinish are the only returning defensive tackles of contributory note.
Freshman Darnell Ewell will also certainly enter the rotation after spending 2017 preserving a year of eligibility. Juniors Micah Dew-Treadway and Brandon Tiassum will be in the mix, as well. Incoming freshmen consensus four-star defensive tackle Jayson Ademiloloa (St. Peter's Prep; Jersey City, N.J.) and consensus three-star defensive tackle Ja'Mion Franklin (North Caroline High School; Ridgely, Md.) will complete the fray.
Reports on Monday indicate junior Elijah Taylor will leave Notre Dame after missing 2017 with a LisFranc fracture suffered in spring practice. He appeared in four games in 2016, making four tackles including one for loss. More than anything else, his departure is a step toward reaching the NCAA maximum of 85 rostered players. With Coney and Tillery returning but Taylor departing, the Irish roster currently stands at 86 players, though a few more recruits may be added. (This does not count sophomore receiver Kevin Stepherson, indefinitely suspended and presumed not likely to play for Notre Dame in 2018.)
[protected-iframe id="4322d87b3e2eb4d11caa19723fa3b36c-15933026-22035394" info="//platform.twitter.com/widgets.js" class="twitter-follow-button"]