Irish head coach Brian Kelly and Notre Dame parted ways with four underclassmen Tuesday, in a move only partially-expected. Sophomore receiver Kevin Stepherson, sophomore running back Deon McIntosh, freshman running back C.J. Holmes and junior defensive tackle Brandon Tiassum are no longer part of the team, a University spokesperson confirmed.
Pete Sampson of Irish Illustrated first reported the dismissals. The spring semester began Tuesday.
Stepherson's departure, at least, was widely-expected after a December weekend of bad decisions brought his count of mishaps to four during his brief Irish career and induced an indefinite suspension. The lesser of those transgressions came with Holmes at his side, as the duo was charged with shoplifting from a nearby mall. Stepherson was also charged with possession of marijuana, speeding and driving without a valid license. Back in August of 2016, he was one of five players charged with marijuana possession, though no suspension came from that issue.
Following the shoplifting incident but before the additional Stepherson charges had come to light, Kelly expressed distinct disappointment in the choice made on a Friday night.
"You can't steal, and they did," he said. "I can tolerate a lot of things, but I can't tolerate stealing. That's why they're suspended indefinitely and they put themselves in jeopardy."
Kelly said he did hope to keep the players, specifically Stepherson, eligible so if they were removed from the team a transfer may be in their futures.
"If I wasn't to have him back in the football program we want him to maintain his eligibility here so he can transfer to another program," Kelly said.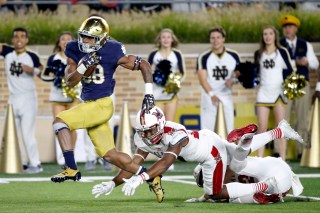 McIntosh was sent home from Orlando during Citrus Bowl preparations due to a violation of team rules. Tiassum's exit will be a question for the time being, with no public knowledge of any issues.
While long-presumed, the loss of Stepherson still bears the most notice. When engaged, he was Notre Dame's most explosive receiver, finishing 2017 with 359 yards and five touchdowns on 19 catches in only eight games, with genuine offensive involvement in only six. He caught 25 passes for 462 yards and five scores in his freshman season.
Cutting ties with both McIntosh and Holmes comes as a bit more of a surprise and will cut deep into the Irish running back depth. As ankle injuries limited the running game mainstays, McIntosh provided a reserve option, finishing the year with 368 yards and five touchdowns on 65 carries, a 5.7 yards per rush average. Holmes was activated to further counteract the injury concerns. If McIntosh were banged up, Notre Dame theoretically had one more option. He finished with eight carries for 32 yards.
Without the two backups, the Irish have only three running backs currently on the roster in junior Dexter Williams, sophomore Tony Jones and early-enrolled Jahmir Smith. Williams and Jones were likely to remain the top two on the depth chart, mitigating McIntosh and Holmes again, but the depth is always crucial at running back, as 2017 certainly proved.
Tiassum was unlikely to see much playing time in the future thanks to the returns of junior defensive tackle Jerry Tillery and senior defensive tackle Jonathan Bonner announced Monday and Tuesday, respectively. Tiassum made two tackles in 2017.
Bonner's decision to return brought the Irish roster up to 87 players with three spots open in the current recruiting cycle. That count had already presumed Stepherson off the roster. Thus, this development drops that number to 84, including committed consensus three-star offensive tackle Luke Jones. The NCAA maximum allowed come fall is 85.
[protected-iframe id="4322d87b3e2eb4d11caa19723fa3b36c-15933026-22035394" info="//platform.twitter.com/widgets.js" class="twitter-follow-button"]