Notre Dame split with four players Tuesday night, two of them having a more noticeable ripple effect than the others.
Kevin Stepherson's Irish career coming to a premature conclusion became an inevitability in December. The sophomore receiver forced the issue with back-to-back legal missteps underscoring a disregard for what must have already been a zero-tolerance situation. Though unproven, Notre Dame has a litany of options to replace Stepherson's big-play potential.
To be blunt, the Irish will hardly notice Brandon Tiassum's absence on the field in 2018. The junior defensive tackle was passed on the depth chart by two freshmen this past fall, and a few more newcomers may have pushed him further from playing time between now and Sept. 1.
But in losing two running backs — current sophomore Deon McIntosh and freshman C.J. Holmes — from the roster, Notre Dame will have to make some adjustments. If health were guaranteed the two remaining known commodities at the position, then the absences of McIntosh and Holmes could be written off with only a bit more consternation than Tiassum's. At running back, though, health is not guaranteed. It is, in fact, rare.
Between junior Dexter Williams and sophomore Tony Jones, the Irish have the makings of a top-flight backfield. Williams has an abundance of playmaking ability, if lacking as both a receiver and a blocker, while Jones excels in those latter two capacities and can pick up chunks of yardage simply by bowling over defenders. But, at some point in the next 11 months, at least one of the two will be hampered. Maybe yet another ankle will turn balky. Maybe Williams' quad will seize up again. Perhaps something more severe will befall one of, if not both, Notre Dame's lead backs.
At that point, as the roster is currently, only early-enrolled freshman Jahmir Smith will be available. That will not be enough.
A year ago, the Irish entered spring practice with known-stalwart Josh Adams, Williams and Jones ready to go. Holmes had enrolled early. Those four were expected to be the running back corps. Then Holmes injured his shoulder early in the spring. The idea of only three healthy running backs was such an uncomfortable thought, the coaching staff opted to move McIntosh to the backfield from receiver.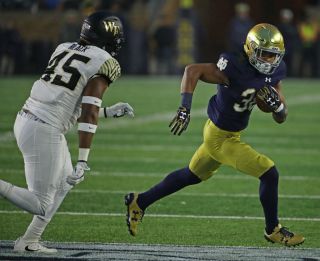 As anyone who watched the latter half of the 2017 season will attest, it was a good thing they did.
How Notre Dame goes about finding a fourth back this year will sort itself out only with time. Some will bandy about the thought of moving rivals.com three-star cornerback Tariq Bracy to the offensive backfield. He excelled both as a running back and a cornerback in high school, and the Irish have depth at the latter position these days. Bracy is certainly a possibility.
The fringe will posit this is a prime opportunity to move junior quarterback Brandon Wimbush away from taking snaps. That concept will not and should not be considered for even the five seconds it took to read that sentence.
Most likely — perhaps in combination with turning to Bracy or another, less obvious suspect — Notre Dame is already urgently looking for a second running back in this recruiting class. Finding one will be easier suggested than executed, and doing so will likely take away from adding at another position.
The Irish currently have 22 commitments in this class, 21 signed and consensus three-star offensive tackle Luke Jones (Pulaski Academy; Little Rock, Ark.) ready to do so in February. They were likely planning to reel in another offensive lineman, another defensive back and a receiver with the remaining three spots in the class.
For example, rivals.com four-star/247sports.com five-star offensive tackle Nick Petit-Frere (Berkeley Prep; Tampa, Fla.), consensus four-star cornerback Noah Boykin (H.D. Woodson High School; Washington, D.C.) and consensus three-star receiver Lawrence Keys (McDonogh 35; New Orleans, La.). There are a litany of other permutations of that combination, but the point stands. Adding a running back to that limited capacity will take away from somewhere else.
RELATED READING: With four spots remaining, what recruits is Notre Dame still chasing? (Dec. 23)
Notre Dame does theoretically have the option to exceed 25 recruits in the class by counting some of the newly-arrived seven early enrollees toward last year's recruit class numbers. It is essentially a known loophole within NCAA rules, but that theory is unlikely to become reality.
In the long view, it could create an exacerbated roster crunch in years to come. That algebra is constantly shifting. Exceeding 25 players in this class would also necessitate four recruiting successes in an abbreviated period with a shallow pool of prospects remaining after the early signing period.
Thus, the odds stand at slim of the Irish coaching staff exceeding 25 signees in this class, meaning Jones plus only three more Feb. 7. With Tuesday's churn, a running back will likely be one of those three, and thus another position will not be.
Losing McIntosh and Holmes drains Notre Dame's running back depth in 2018. It also shifts, ever so slightly-yet-noticeably, the roster in the years immediately afterward.
[protected-iframe id="4322d87b3e2eb4d11caa19723fa3b36c-15933026-22035394" info="//platform.twitter.com/widgets.js" class="twitter-follow-button"]