Less than a week from National Signing Day, Notre Dame is in a position of power compared to most schools. The Irish have just one unsigned commit — consensus three-star offensive tackle Luke Jones (Pulaski Academy, Little Rock, Calif.) — and that is a firm pledge by every indication. Instead of worrying about losing committed high schoolers to last-minute impulses, Notre Dame stands to possibly gain a few.
Technically speaking, the Irish can exceed 25 scholarships in this class by counting up to four of the early enrollees toward last year's signing class. That remains unlikely both from a roster construction standpoint and in considering the streak of possibilities that would need to align in a row for Notre Dame to close on four players in the next six days. Even if there were four players leaning 75 percent toward the Irish, for example, there would be only a 31.64 percent chance of landing all four.
That is clearly an example using a relatively round initial number to make a point. It is not to say there are four distinct recruits leaning that strongly toward Notre Dame, or that weakly if wanting to be critical.
There are eight prospects remaining in play for the Irish coaching staff, albeit to varying degrees. Without attempting to get too far into the minds of 17- and 18-year-olds making life-changing decisions, the eight are listed below in vague order of most- to least-likely to commit to Notre Dame no later than Feb. 7. These rough estimations are intentionally based on facts more than anything else because, again, these are teenagers considering the sales pitches of literal recruiters.
Consensus three-star running back C'Bo Flemister (Pike County High School; Zebulon, Ga.)
Any pledged commit from before Dec. 20 who did not sign during the early signing period is a dubious commitment at best. That is part of why Notre Dame emphasized receiving a National Letter of Intent from each and every one of its then-commitments. That removed all doubt.
Flemister has been committed to Georgia Tech since early December, but he did not seal the deal during that three-day period. Though he remains committed to the Yellow Jackets, the Irish have pursued Flemister diligently since dismissals ravaged their running back depth. Perhaps more notably, Notre Dame has not chased other running backs in a similar fashion, indicating some sense of comfort with Flemister.
He is also considering Tennessee to some degree, visiting both the Vols and the Irish this month.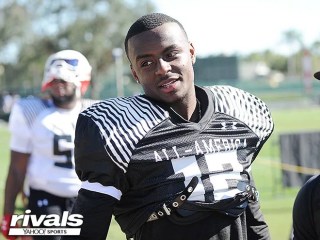 Consensus three-star cornerback DJ Brown (St. John's College H.S.; Washington, D.C.)
Brown de-committed from Virginia on Tuesday, and then to add insult to injury, he announced a top three not including the Cavaliers. It did include Notre Dame, Cal and Northwestern.
Such a shift should bode well for the Irish, who will continue to take as many cornerbacks as they can after not signing any last year. The Under Armour All-American may create an abundance of options at the position in the short-term, but the depth chart is only a year or two away from needing every piece of this class.
Consensus three-star defensive lineman Derrick Eason (Norview; Norfolk, Va.)
Eason committed to North Carolina State back in late July. Care to guess what he did not do in December? That's right, Eason did not sign with the Wolfpack. At 6-foot-4 and 240-plus pounds, Eason could yet end up at defensive end or tackle. Either way, adding a fourth defensive lineman to the class would create a sustainable roster distribution for Notre Dame.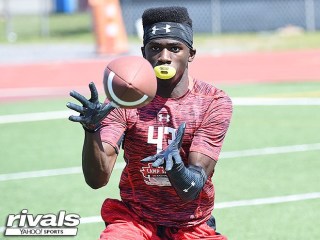 Consensus three-star receiver Lawrence Keys (McDonogh 35; New Orleans)
The first holdover from a December look ahead to this coming Wednesday, the Irish have maintained the recruitment of Keys despite landing three quality receiver prospects in the early signing period. That consistency will be needed if Notre Dame is to keep Keys from heading to Texas.
Consensus five-star offensive tackle Nick Petit-Frere (Berkeley Prep; Tampa, Fla.)
There was some consideration to adding a ninth, superfluous name to this list in order to make the No. 5 spot the exact midpoint. Petit-Frere's possibilities include the Irish, Michigan, Alabama, Florida and Ohio State, and he is unlikely to tip his hand before National Signing Day.
The reason Petit-Frere, pictured above, ends up a slot ahead of the next name is simple: Notre Dame would move roster heaven and earth if it needed to make space for the future stud at offensive tackle, the No. 1 tackle in the class, per rivals.com. From day one, Petit-Frere would change the landscape of the Irish offensive line — even if he did not start as a freshman, the looming days of him doing so would force other Notre Dame linemen to reconsider their best paths to playing time.
Rivals.com three-star offensive tackle Jarrett Patterson (Mission Viejo; Calif.)
The Irish may want another lineman in the class, and Patterson would fill that distinction nicely, but that would require convincing a Los Angeles product to walk away from UCLA.
Consensus four-star linebacker Solomon Tuliaupupu (Mater Dei; Santa Ana, Calif.)
Similarly, landing Tuliaupupu as the fifth linebacker in the class would mean talking him out of joining two high school classmates at USC. Could it happen? Sure, but it does not seem probable.
Consensus four-star cornerback Noah Boykin (H.D. Woodson; Washington, D.C.)
Boykin ended his commitment to Maryland shortly after visiting Florida. Those tea leaves point to him becoming a Gator.
[protected-iframe id="4322d87b3e2eb4d11caa19723fa3b36c-15933026-22035394" info="//platform.twitter.com/widgets.js" class="twitter-follow-button"]