December's early signing period allowed Notre Dame to focus its final efforts in this recruiting cycle, narrowing its range of targets to defensive backs, offensive linemen and — due to roster reductions — running back. In discussing Wednesday's six signees, both Irish head coach Brian Kelly and recruiting coordinator Brian Polian mentioned going 3-for-3 in those categories, at least in part thanks to securing those 21 prospects six-plus weeks ago.
Adding in a receiver provided even further depth.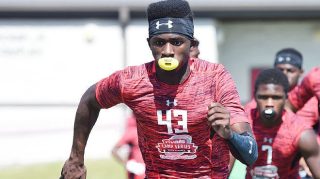 Kelly on consensus three-star receiver Lawrence Keys: "[He] really gives us an explosive playmaker. He adds to the depth at that class. … We just felt like we were looking for a guy that could make plays with the ball in his hand."
Receivers coach Del Alexander on consensus four-star receiver Braden Lenzy, a December signee who made that decision after Kelly's comments during the three-day early signing period: "Just a spark plug. A kid that has a wealth of knowledge of everything sports, is really intelligent outside of sports. It was just great listening to him and his dad argue back-and-forth about current and past players of their favorite teams and watch that father-son bond and also appreciate where he is mentally. He is a gym rat, he is a junkie, and he wants to be really good as a football player, but he also wants everything that Notre Dame has to offer off the field."
Kelly on the class of 2018's depth at both receiver and defensive back, setting it apart from most years: "It's probably from an across the board depth standpoint on the back end of our defense and at the wide receiver position, an area that I feel is good about as any class that we've recruited here at Notre Dame. Now, look, they're all young players, and they've got to prove themselves. But I think when I walk away at the end of the day and take a step back, those two areas I feel really good about relative to what we've done there.
"That stands out to me."
Kelly on consensus four-star cornerback Noah Boykin: "We love the intangibles about Noah. He comes from a school that is not a predictor, a school that we would normally not recruit here at Notre Dame, but I will tell you that one of the things that we were so impressed with — and maybe this doesn't happen everywhere — we weren't certain about Noah and his ability to come to Notre Dame and be a great fit until after his admissions meeting. The feedback that we got from admissions in terms of his interview really sold us on this was the right place for him.
"Here's a young man that wanted to reach for the best and not settle, and that's what really, for us, drove this.
"… He has got a confidence about him at that corner position. He's a natural corner, and just gives us great flexibility and depth at that position that we've been lacking for so long here.
"But here's a young man that chose Notre Dame for the right reasons, and we're really excited about having him here."
Kelly on consensus three-star cornerback DJ Brown: "We really think that we've got somebody here that is a true corner. He's long at 6'1″. Very smart player. I think what stood out for us is his football intelligence, the way he played the game.
"… DJ has got the skills to play corner right now, but he's 6'1″, 190, so we know that he's got length. We know he's got the ability to be a bigger, stronger player, as well. We liked his football IQ. We liked the way he played football. And so that was first and foremost, and then his length. Those are things that I think you can't teach, and we wanted some size at that position. He brings it to us."
Kelly on three-star offensive tackle Jarrett Patterson: "He's a guy that's long but can play both guard and tackle, as well. So versatility was really what we were looking for at that offensive line position. Again, augmenting, obviously, the depth there. I think we did an incredible job of adding two offensive linemen that are going to shape this class quite well."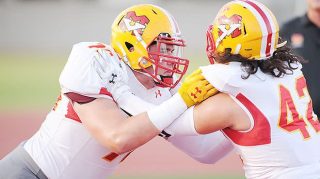 Offensive line coach Jeff Quinn on Patterson: "A great athlete, great size, length, moves well. The one thing also that I felt that was really key for me, when I saw his film, it caught my eye: There was a focus and a determination, he was intentional with his technique, his hands, his body positioning, how he was finishing guys.
"You could tell between his junior year and his senior year, he made great strides in the weight room, he dedicated himself into the weight room, he was eating better. He had that mindset. There was a purpose that he had in terms of what he wanted to demonstrate on the field because he knew that was going to provide him some opportunities to be able to come to Notre Dame."
Kelly on consensus three-star offensive lineman Luke Jones: "Luke gives us great versatility, can play the guard position, can play center. We were looking for that. In particular an inside guy that had that versatility."
Kelly on consensus three-star running back C'Bo Flemister: "The running back position, obviously, was a need for us, and C'Bo Flemister is a guy that really was attractive to us with his running style. From a football standpoint, we loved the fact that we had a north-and-south back here that played with low pads, and that's what we were looking for, a guy that could really hit it inside-out for us and be extremely productive at the position. Great fit for us, really solid student that fits here at Notre Dame. So really excited about C'Bo."
Running backs coach Autry Denson on Flemister: "I call him my throwback player. He is a down-dirty, old-school, get-it-done kind of player. It was refreshing to watch his film."
[protected-iframe id="4322d87b3e2eb4d11caa19723fa3b36c-15933026-22035394" info="//platform.twitter.com/widgets.js" class="twitter-follow-button"]