Thanks to signing 21 prospects during December's early signing period, Notre Dame's coaching staff began looking ahead to the 2019 recruiting cycle sooner than it usually would. The Irish needed to focus on only a handful of remaining 2018 possibilities, thus taking the time usually spent checking in on verbal commits and devoting it toward the needs of the future.
"[The early signing period] really allows us to accelerate and reach out into '19, '20 and beyond," head coach Brian Kelly said in December. "You always feel in recruiting that you're a click behind. You're always trying to get ahead of it. This is the first time you truly feel like you're about to get ahead of it."
When Kelly or another coach says something to the effect of being ahead of schedule, they mean in terms of evaluating, communicating and beginning the year-long wooing more than they mean securing verbal commitments. Nonetheless, Notre Dame already has three pledges in the class of 2019.
Consensus four-star quarterback Cade McNamara (Demonte Ranch High School; Reno, Nev.) made it the second-consecutive cycle in which a highly-touted quarterback was the first Irish commitment, following Phil Jurkovec's lead. Consensus four-star defensive tackle Jacob Lacey (South Warren H.S.; Bowling Green, Ky.), pictured above, committed shortly after McNamara, both in July, and rivals.com three-star cornerback K.J. Wallace (Lovett; Atlanta) made it a trio in late January.
Moving forward, the class's success or failure may largely be determined by the defensive line commitments joining Lacey, or lack thereof. It is already the driving emphasis, part of that head start provided by the early signing period, and the preliminary responses have Irish defensive line coach Mike Elston optimistic.
"I've been at Notre Dame now going on for nine years, and I haven't had a stronger group of underclassmen that I'm recruiting than I have this year in 2019," Elston said on Feb. 7. "This could be the best defensive line haul we've ever had here.
"A lot of it is because I've been able to put '18 to bed and get moving on the '19s, go visit in their schools all throughout January."
The Irish hosted about 20 juniors for a day in late January, and among them were five of the reasons Elston is so bullish on the defensive line possibilities, including the committed Lacey.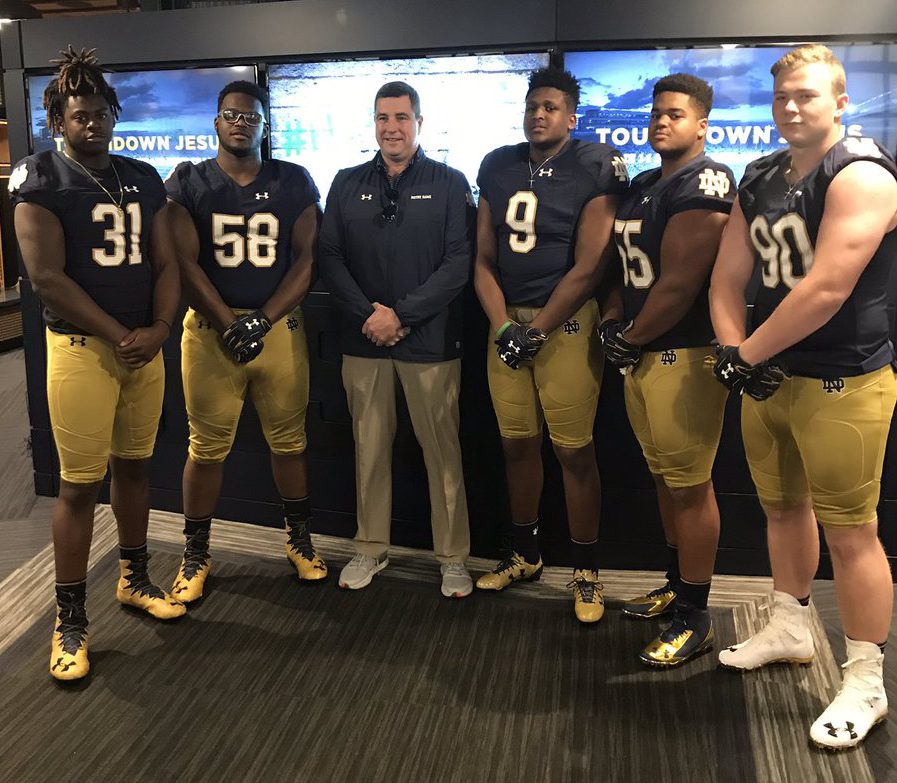 Pictured, from left to right: Consensus four-star defensive end/outside linebacker Nana Osafo-Mensah (Nolan Catholic; Forth Worth, Texas); consensus four-star defensive end Joseph Anderson (Siegel; Murfreesboro, Tenn.); Elston; consensus four-star defensive tackle Mazi Smith (East Kentwood; Kentwood, Mich.); Lacey; and consensus four-star defensive end Hunter Spears (Sachse; Texas).
Obviously, it is early in the cycle, any relative success or failure in the 2018 season could prove to be influential, and the number of other variables is innumerable, but getting such a group on campus a full year before they need to put pen to figurative paper is a big step for any recruiting process.
Notre Dame will also need to focus on finding more running back talent. Pulling in two this class only replaces what was lost in the dismissals of current sophomore Deon McIntosh and current freshman C.J. Holmes. It does not create depth for the future, and with rising senior Dexter Williams entering his final season of eligibility, the Irish will need to find that depth immediately following 2018.
Similarly, one of the 2019 recruits will almost certainly be a punter, with Tyler Newsome entering his fifth and final year with Notre Dame.
Williams will be one of six rising seniors entering their final years of eligibility. Add them to Newsome and the eight other fifth-years on the roster, and that makes for an immediate 15 spots to fill in the class of 2019.
Obviously, 15 recruits would be a small class. The subsequent question is usually, "How many players will Notre Dame be able to sign in 2019?" That is not the question to ask. The question to ask is, "How many players will leave Notre Dame before August of 2019?"
The Irish roster, as it stands now, would have 89 players this fall, four more than the NCAA maximum. Presume the four who depart before this coming August are not rising seniors. (Any such player would be better served to wait a year, get his degree and transfer as a graduate with immediate eligibility.)
After the 2018 season, eight then-seniors would have one more year of eligibility available, but it is unlikely more than three or four are asked to return for a fifth year. In rough order of likelihood: quarterback Brandon Wimbush, cornerback Shaun Crawford, receiver Miles Boykin, offensive lineman Trevor Ruhland, tight end Alizé Mack, linebacker Asmar Bilal, receiver Chris Finke, defensive tackle Micah Dew-Treadway. If only three of those are asked to return, now 20 spots have theoretically opened up for the recruiting class of 2019.
If rising junior Julian Love puts together a third stellar season, he will have an NFL decision to make. His departure would immediately raise the operating figure to 21.
That becomes the floor for the size of the next recruiting class. Next offseason's natural, and perhaps presumed, attrition can raise that total. Another year of 27 recruits is unlikely, but 24 or 25 would create what could be by then a familiar numbers crunch.
[protected-iframe id="4322d87b3e2eb4d11caa19723fa3b36c-15933026-22035394" info="//platform.twitter.com/widgets.js" class="twitter-follow-button"]