When Notre Dame got five heralded defensive line recruits on campus together in January, it turned heads. When Irish defensive line coach Mike Elston offered public optimism about the possible 2019 commitments, it raised expectations.
Notre Dame has now secured a second of those five with the Tuesday commitment of consensus four-star defensive end Hunter Spears (Sachse High School; Texas). He joins consensus four-star defensive tackle Jacob Lacey (South Warren H.S.; Bowling Green, Ky.) as the early foundation to the recruiting class, now with four prospects pledged.
"Honestly, just talking with the guys today — Jacob Lacey, Mazi Smith, Joseph Anderson, Nana Osafo-Mensah, and myself — if Notre Dame can land all of us, that would be the dream d-line class for Notre Dame," Spears told Irish Illustrated. "I could see another pass-rusher or two, also."
The other three names Spears mentioned all joined Lacey and him on Jan. 27 at an on-campus Junior Day. All five qualify as consensus four-stars, with Smith (East Kentwood; Kentwood, Mich.) a tackle, Anderson (Siegel; Murfreesboro, Tenn.) an end, and Osafo-Mensah (Nolan Catholic; Fort Worth, Texas) a possible end/linebacker hybrid.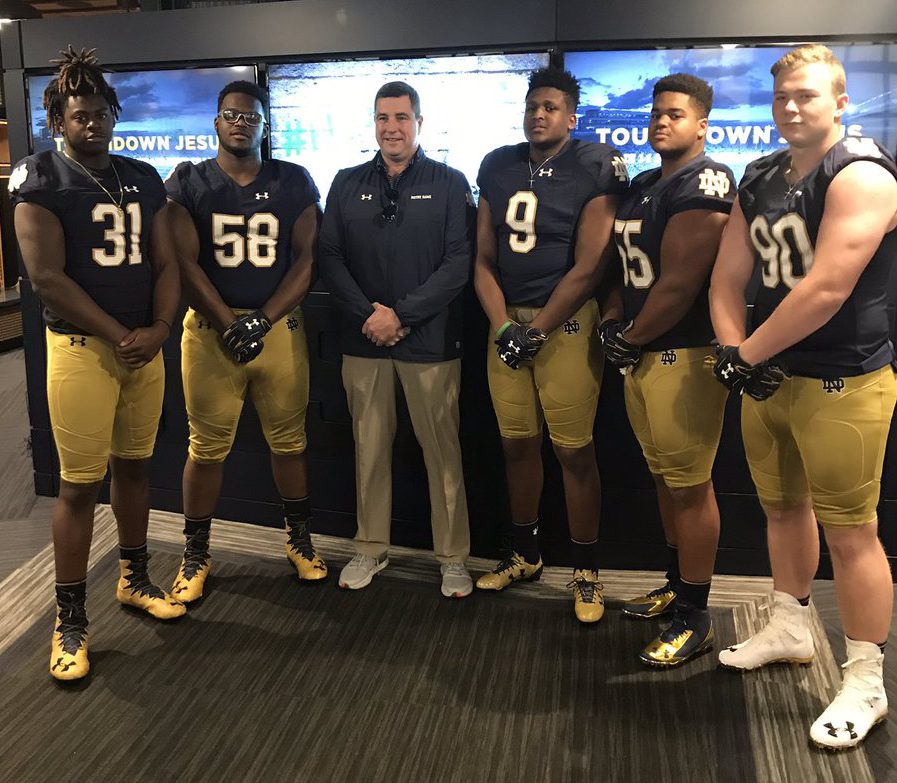 Landing all five may be ambitious, but it would also be the envy of most of the country.
Spears already held offers from the likes of Alabama and Michigan State, despite missing his junior season with a knee injury. The Irish extended a scholarship offer to him in June, prompting an unofficial visit to watch a 49-14 Notre Dame victory over USC in October. In a video released by 247Sports.com, Spears cited that experience as one of the three primary reasons he committed, along with the educational opportunity and the "overall tradition and culture."
Editor's Note: That video has since been removed from this post due to its incessant auto-play function, but it can still be viewed here.
Spears shows quickness for a defensive lineman, but not such that he would ever be considered an outside linebacker in any form. His size makes him an ideal candidate to set the edge against the run or possibly move inside when the Irish need a quicker defensive line to handle certain opponents. His agility, though, will make him a three-down threat, both a pass-rusher and an edge-setter.
Notre Dame currently has depth at defensive end, but with only one signed in the class of 2018 (Justin Ademilola) and one remaining from the class of 2017 (Kofi Wardlow), an influx will be a priority this recruiting cycle. Spears will theoretically have one season to adjust to collegiate competition before the quartet of rising juniors Daelin Hayes, Khalid Kareem, Julian Okwara and Ade Ogundeji run out of eligibility. (The first three have two seasons remaining, while Ogundeji has the possibility of three more years.)
Hence, that Junior Day emphasis and Elston's confidence on National Signing Day.
"I've been at Notre Dame now going on for nine years, and I haven't had a stronger group of underclassmen that I'm recruiting than I have this year in 2019," Elston said. "This could be the best defensive line haul we've ever had here."
Expect to read that quote again and again (and possibly again) if any of the remaining three in the above photo follow Spears' and Lacey's lead.
RELATED READING: 'Accelerated' start creates bright outlook for Notre Dame's 2019 recruiting cycle
[protected-iframe id="4322d87b3e2eb4d11caa19723fa3b36c-15933026-22035394" info="//platform.twitter.com/widgets.js" class="twitter-follow-button"]