Notre Dame returns eight of its top nine defensive linemen. Such a year-to-year retention is nearly beyond most possibilities, so it should not be understated how much that defensive line could determine any Irish success found in 2018.
Spring Roster:
— The theoretical starters: Rising junior Daelin Hayes at drop (pass-rushing) end, rising senior Jerry Tillery at three-technique (pass-rushing) tackle, fifth-year Jonathan Bonner at nose tackle and fifth-year Jay Hayes at strong-side (edge-setting) end.
— The likely second-unit: Rising junior Julian Okwara at drop end, rising sophomore Myron Tagovailoa-Amosa at three-tech, rising sophomore Kurt Hinish at nose and rising junior Khalid Kareem at strong-side end.
— The presumed third-stringers: Rising junior Ade Ogundeji at drop end, rising senior Micah Dew-Treadway at three-tech, rising sophomore Darnell Ewell at nose and rising sophomore Kofi Wardlow at strong-side end.
Summer Arrivals:
Incoming freshman Justin Ademilola at drop end, incoming freshman Jayson Ademilola at three-tech and incoming freshman Ja'Mion Franklin at nose tackle.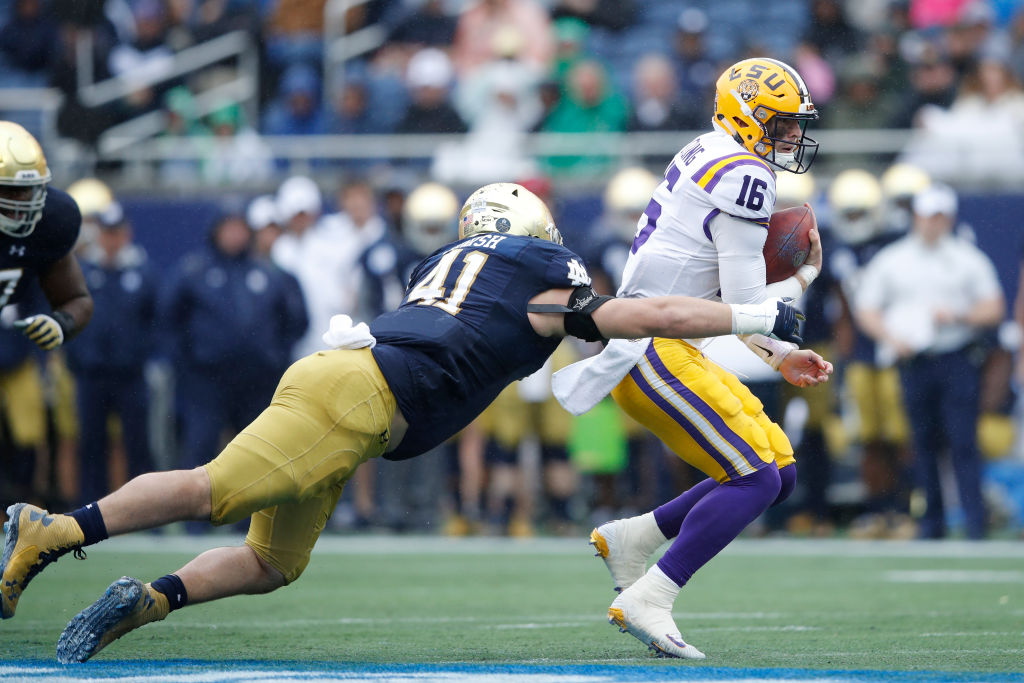 Depth Chart Possibilities:
A lot of cross-training has and will occur among the defensive linemen, so nailing any one player down to the above position is a fool's errand. Jay Hayes will be ready to move inside against quicker and lighter opponents, just like Justin Ademilola will dabble a bit in strong-side development to keep future options available, simply as examples.
Nonetheless, the primary rotation should carry over from last year with the exception of flipping Tillery and Bonner to three-tech and nose, respectively. Entering 2017, Bonner was not a sure thing to withstand the physical duties of the nose position, hence the alignment then.
Daelin Hayes and Okwara will spell each other enough to be sure there is always a viable pass-rush threat on the field. Ogundeji could possibly further that rotation, but he did not see much action last year and would need to progress greatly to do so in 2018; that is as much a credit to Hayes and Okwara as it is a criticism of Ogundeji, if not even more of the former.
Jay Hayes will feature against run-dominant opponents and obvious running situations, while Kareem will offer a strong pass-rush from that side when needed. If another year under the tutelage of strength and conditioning coordinator Matt Balis has furthered Kareem's physicality, perhaps he will cut into Hayes' snaps, but their frames alone emphasize the difference between the two. Last season, both were listed at or just shy of 6-foot-4, but Hayes carried an additional 24 pounds, 290 to 266.
Tagovailoa-Amosa and Hinish will keep Tillery and Bonner fresh, presumably even more so than last year.
Biggest Question:
That brings the defensive line conversation to Ewell. He arrived on campus much more-heralded as a recruit than either Tagovailoa-Amosa or Hinish, but the latter two were more college-ready. That is not inherently an indictment of Ewell's recruiting rankings, based more so on future potential than immediate readiness.
Will a full year of collegiate coaching, not to mention strength and conditioning, have Ewell primed to live up to his recruiting hype?
He will not usurp any of the four already established in the middle. Tillery is the best current talent among the grouping and Bonner proved to be able to hold the point of attack in 2017. Tagovailoa-Amosa's knack for finding the backfield was an unexpected strength, and the depth provided by Hinish is part of what helped Tillery finally shine and contributed, in part, to making Bonner's breakthrough possible.
Nonetheless, Ewell could further that rotation, only freshening the legs available at the point of attack.
Defensive line depth cannot be emphasized enough, and if Ewell shows up ready and willing this spring, Notre Dame may be more ready in the middle than it has been in, hmmm, at least a long while. (Note to self: This could be a comparison to find an answer to.)
2017 Statistically Speaking:
Tillery: 56 tackles with nine for loss, including 4.5 sacks and one forced fumble.
D. Hayes: 30 tackles with 6.5 for loss, including three sacks and two fumbles recovered.
Bonner: 30 tackles with 3.5 for loss, including two sacks.
J. Hayes: 27 tackles with 3.5 for loss, including one sack with one fumble recovered.
Kareem: 21 tackles with 5.5 for loss, including three sacks and one fumble recovered.
Okwara: 17 tackles with 4.5 for loss, including 2.5 sacks and one interception along with one fumble forced.
Tagovailoa-Amosa: 12 tackles with 1.5 for loss.
Hinish: Eight tackles with 0.5 for loss.
2017 Stats Departed:
The point in this series is to look forward, but it bears noting just how little the Irish lost from the defensive line after 2017, a season in which the unit proved preseason expectations very wrong and became quite a strength. Of the contributing defensive linemen from the fall, only two are not expected to return in 2018:
Andrew Trumbetti: 28 tackles with four for loss, including 0.5 for loss.
Brandon Tiassum: Two tackles.
Notre Dame gets the letter: Jayson and Justin Ademilola
Notre Dame gets the letter: Ja'Mion Franklin
Spring Outlook: Notre Dame's running backs, as few of them as there are
Linebackers, a proven two and then many questions
Tight ends, a surplus of depth, unproven talent
[protected-iframe id="4322d87b3e2eb4d11caa19723fa3b36c-15933026-22035394" info="//platform.twitter.com/widgets.js" class="twitter-follow-button"]