Unknown applies to Notre Dame's receiver corps, but that is as much because of struggles at quarterback as it is due to the very different exits of Equanimeous St. Brown and Kevin Stepherson.
With only eight receivers around this spring, each should get a genuine look. Come fall, the position group will welcome three more incoming freshmen, creating some version of depth.
Spring Roster:
— Rising junior Chase Claypool (pictured above) will lead the way at boundary receiver, if recovered from December shoulder surgery. Despite that injury qualification, Claypool may be the only sure thing of the initial alignment.
— Rising senior Miles Boykin will at least get a chance to earn a starting role at field receiver.
— Rising junior Javon McKinley and rising sophomore Jafar Armstrong are the obvious candidates to fight for backup duties at boundary and field, while early-enrolled freshman Micah Jones presents as a prototypical field option.
— Rising sophomore Michael Young, fifth-year Freddy Canteen and rising senior Chris Finke will all be in the mix at slot receiver.
Summer Arrivals:
Incoming freshman Kevin Austin joins Jones as a physical option in the class, offering a large target for whomever starts at quarterback, while incoming freshmen Braden Lenzy and Lawrence Keys will provide top-end speed.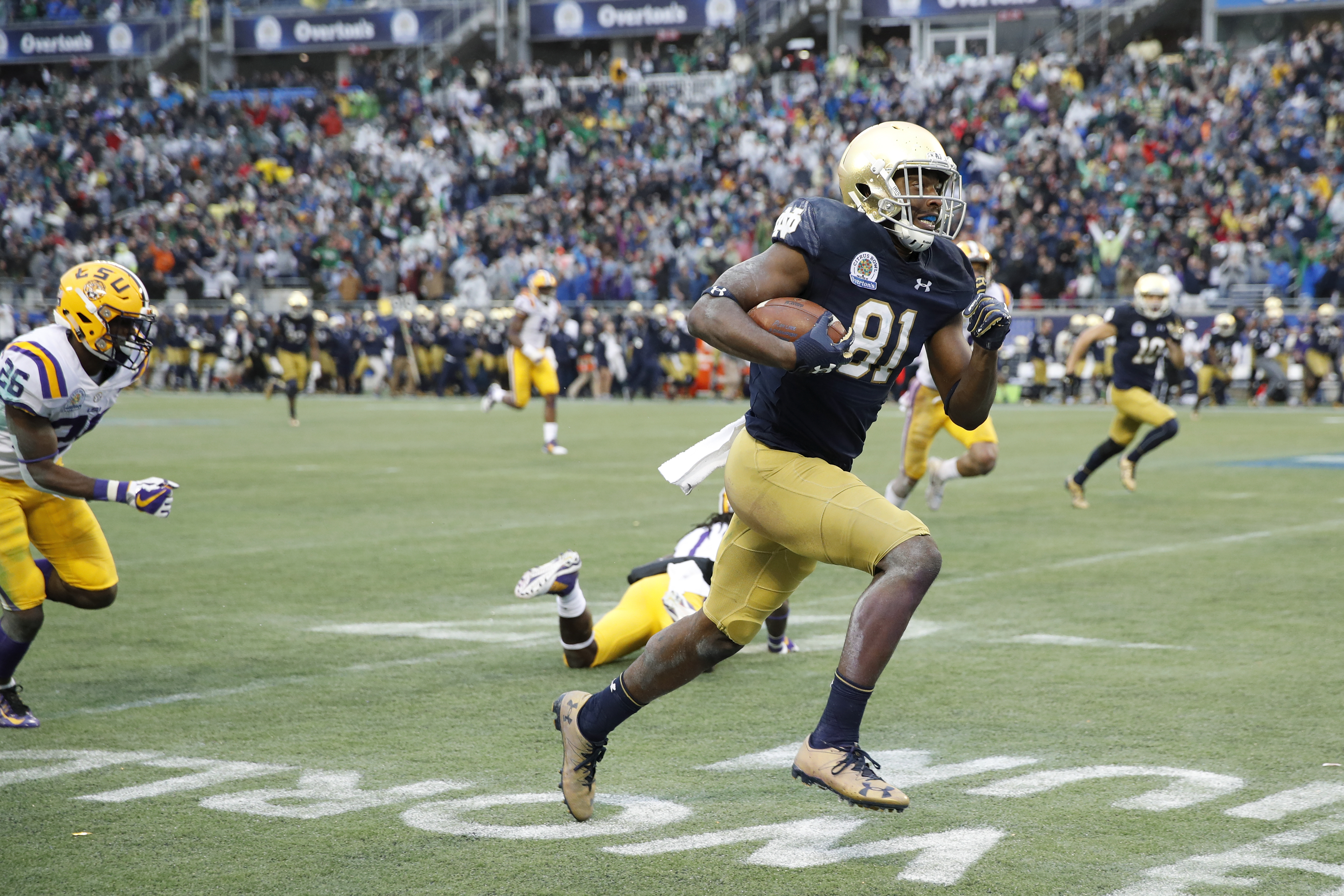 Depth Chart Possibilities:
Claypool and Boykin should get the first chances at starters' roles, and Claypool's 2017 performance will likely give him some cushion in that competition moving forward. Boykin's Citrus Bowl heroics, however, are not necessarily enough to outright overshadow the rostered talent untapped to date, namely McKinley, who spent last season recovering from a broken leg suffered in late October of 2016.
A year ago, Irish offensive coordinator Chip Long considered the possibility of starting three large targets at receiver. In time, Claypool established himself as a quality counterpart to St. Brown, but Boykin never quite broke though, one memorable catch aside. That positional theme will likely be brought to the surface again, but Boykin will need to prove its merit.
The competition among Young, Canteen and Finke could last into the fall. Notre Dame presumably promised Canteen two years when he transferred from Michigan, thus the invite for a fifth year, and upholding that guarantee is the right decision. Nonetheless, Canteen will need to earn a starting spot. Health will be the first key for him, after nagging injuries limited him throughout 2017 just like they did when he was with the Wolverines.
Young and Finke create the stereotypical "young talent against consistent producer" dilemma. Young's ceiling may be higher, but Finke has been reliable each and every time he has been given an opportunity in his career. As much as some like to say the Irish may have beaten Georgia if Stepherson wasn't silently suspended, one could wonder what might have happened if Finke had been involved in the passing game before the fourth quarter. He was not targeted a single time before that final frame, at which point he turned five attempts into three catches for 36 yards.
Biggest (Reader) Question(s):
Curious if you think these speedster WRs can play right away. I think ND really lost something when Stepherson got the boot. That kid was quick and it would be nice to know these guys can match his speed and step in right away." — nudeman
This specific view may be more of a summer or fall concern, when Keys and Lenzy arrive, than it will be a spring possibility, but the overlying point is valid. Notre Dame lost its greatest speed threat with the continued missteps from Stepherson.
This spring, that absence may be where Canteen justifies his fifth-year roster spot. Again, if the Irish coaching staff assured him he would get to fulfill his collegiate eligibility at Notre Dame, standing by that is the right choice. Such an offer may have been made based solely on Canteen's (healthy) speed.
Even if Keys and/or Lenzy arrive in the summer and prove faster than Canteen, his knowledge of the system would give him a leg up for at least the first few weeks of the season, and his speed could be the difference in a game or two.
Of those receivers around this spring, Canteen is likely the fastest, and he may be the one to look to when replacing Stepherson's breakaway abilities.
Javon McKinley was a "big get" for Notre Dame, but seems to have dropped off the grid. I'm not seeing him in any projected two-deeps for 2018. — Ken M.
McKinley was spending a prototypical freshman season contributing on special teams before he broke his leg. With the receiver depth chart not a concern last season, the decision to have him preserve a year of eligibility while getting back to full health made sense, but it also led to him "dropping off the grid."
He will be back in the mix this spring. Worry not, Ken.
2017 Statistically Speaking:
Claypool: 29 catches for 402 yards and two touchdowns in 12 games.
Boykin: 12 catches for 253 yards and two touchdowns in 12 games including that one ho-hum reception to end the season.
Finke: Six catches for 102 yards.
Young: Four catches for 18 yards and one Citrus Bowl score.
Canteen: One catch for seven yards in three games.
2017 Departures:
The exits of St. Brown (33 catches for 515 yards and four touchdowns) and Stepherson (19 catches for 359 yards and five scores in eight games) will continue to get the most mention, but outgoing transfer C.J. Sanders should be included, as well, even if he failed to gain a receiving yard last season. When discussing a lack of speed options this spring, his absence will be quite noticeable. The same could be said for Cam Smith (eight catches for 60 yards and a score in score games), but he was out of eligibility, so the departure is not as stark.
Notre Dame gets the letter: Kevin Austin and Micah Jones
Notre Dame gets the letter: Lawrence Keys
Notre Dame signs consensus four-star WR Braden Lenzy at end of early signing period
Spring Outlook: Notre Dame's running backs, as few of them as there are
Linebackers, a proven two and then many questions
Tight ends, a surplus of depth, unproven talent
Defensive line, a returning strength
[protected-iframe id="4322d87b3e2eb4d11caa19723fa3b36c-15933026-22035394" info="//platform.twitter.com/widgets.js" class="twitter-follow-button"]