Notre Dame will hold a quarterback competition this spring. That much is clear, and necessary. Given it is only spring practice, though, the odds are extremely slim any result comes from the competition before August.
Spring Roster:
Rising senior Brandon Wimbush, rising junior Ian Book and rising sophomore Avery Davis.
Summer Arrivals:
Incoming freshman Phil Jurkovec.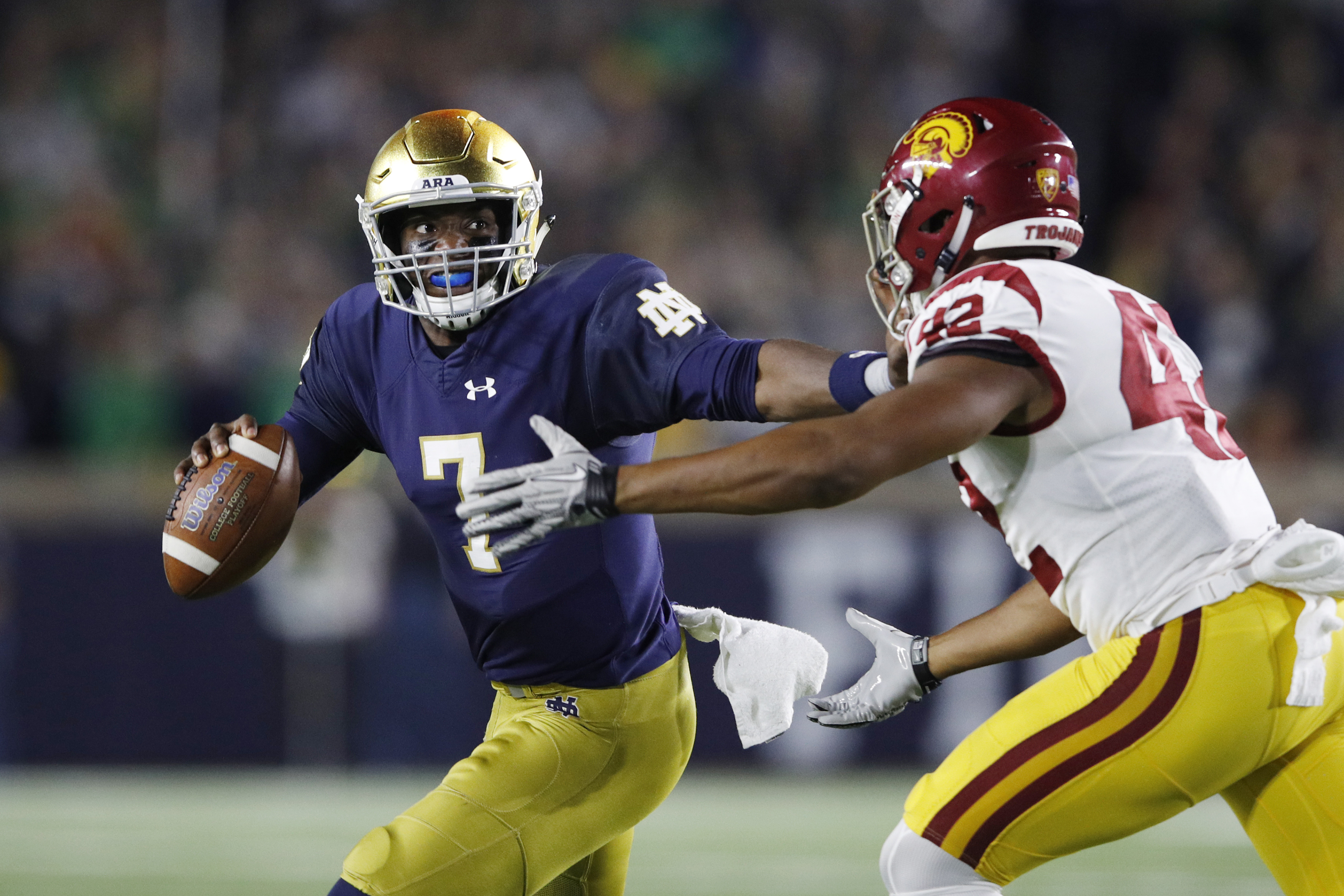 Depth Chart Possibilities:
Come Monday, Irish head coach Brian Kelly may indicate it is a three-man spring competition, including Davis, but it is more likely Wimbush and Book get the focus. The depth chart possibilities are rather obvious: One will be the starter and the other will be his backup.
For these concerns, Jurkovec is not factored in much. This is a spring outlook, after all, and he will not join the mix until the summer. Even then, it will remain unlikely a freshman takes the reins by the start of September.
Biggest (Reader) Question(s):
Obviously the QB battle will be the most-watched story of the offseason. Much of the narrative seems to focus on Wimbush, Book and Jurkovec. Where does Avery Davis stand? Can he force his way into the conversation? — Taylor G.
Short answer: Yes.
Long answer: Kelly praised Davis during bowl preparations, citing his multi-faceted attack making life difficult for the defense.
"He's efficient with the football, [a] very strong runner," Kelly said in mid-December. "He's an athlete that can impact each and every time he has the football in his hands. He's difficult to defend."
If willing to open the quarterback spot up to a competition, even if expecting it to be open to only Book and possibly to Jurkovec, then Kelly has already opened the door for Davis. That first decision was the more difficult one to reach. It mandates change, and as we all know, change is hard. If change is on the table, Davis is a possibility, just not as likely a one as Book considering Davis didn't get to offer Citrus Bowl heroics.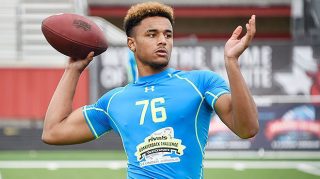 It seems that most people have forgotten about Avery Davis. In most of the articles I've read, everyone talks about Wimbush, Book or Jurkovec, but nowhere has there been mention of Davis potentially pushing for the starting job. I seem to remember hearing or reading somewhere that he was tearing it up while running the scout team, which I realize doesn't mean much, but he received some high praise from coach Kelly during the season. Considering he now as a year in [offensive coordinator] Chip Long's system under his belt, why do you think he's been the forgotten one in this situation and do you think he has a realistic shot to push for the starting job? — Ron M in South Bend, Ind.
Davis has been forgotten because it has been so long since he was seen in a competitive environment. Wimbush dazzled throughout September and October. Book proved himself more than competent at North Carolina and in the Citrus Bowl. Even Jurkovec spent the fall putting up gaudy numbers in the WPIAL.
Davis was busy challenging Notre Dame's starting defense, learning opponents' offensive schemes and remaining a practical fourth on the depth chart behind former walk-on Montgomery VanGorder due to the goal of eligibility preservation.
"When you're a quarterback and you have to redshirt, it's hard for a lot of guys, because when you're used to being the guy and you have to sit him down for a little bit, it's tough," Irish quarterbacks coach Tom Rees said Feb. 7. "He did a great job mentally getting himself reading for those practices in the winter. He was able to go out there and execute the offense and move the team and play at a high level."
Could that become a contributing role in 2018? It is not impossible, but it seems unlikely. Davis was never considered as a challenge to Book in 2017. If he was, that season on the sidelines would not have been as assured from the outset as it was. Much like outstanding defensive linemen, a quarterback challenging for a spot in the two-deep from the first day of his freshman year is not likely to stay in college for five years anyway, so preserving a year of eligibility is a pointless cause. A quarterback behind two others, however, might end up needing that fifth year.
Davis does some things well: He is another athletic option, possibly the mid-point between Wimbush's big-play running ability and Book's knack for getting a first down with his legs when available. Nonetheless, Davis still needs to develop, and unless that occurs much quicker than expected, his role in 2018 will likely be a minimal one.
"When you watch him work out this winter, he's taking another step in his comfort level," Rees said. "… I'm really excited to see what he can do when he's given more reps. I think he does a great job of moving the offense. He understands, here's my easy throw, I'm going to take it and we're going to get a completion and keep going. He has a great understanding of how to run the show.
"Now it's let's develop these other characteristics. Let's develop these other traits, this deeper understanding of what we're trying to do offensively."
In an effort to get the best athletes on the field, do you start Book, move Wimbush to some sort of jack-of-all-trades offensive player and let Davis be the backup? — Philip Q.
No.
Let's rephrase the question: In an effort to get the best athletes on the field, do you move the only quarterback with experience to a role he has never played before, risk alienating him as a senior, not to mention more of the locker room, and hand the offense to two players with almost no experience and certainly lower ceilings?
Perhaps that is being dramatic, but it is an attempt to underscore the logical issues with the thought experiment. Arguing to move Wimbush to running back or receiver is something of a lazy approach. He has never played either position. Book has hardly played, and in his time has thrown an interception once every 18.75 attempts. Context: Wimbush threw an interception once every 45.83 attempts last season.
Frustration with Wimbush's accuracy issues and overall progression as a passer is well-founded, but there has been little evidence Book is a significantly option in those regards. Even in yards per attempt, Book averaged 6.09 yards while Wimbush averaged 6.8 yards.
The only passing statistic in which Book outshines Wimbush is in completion percentage, 61.3 percent compared to 49.5 percent, but a sample size asterisk must be included with that note, as Book attempted only 75 passes last year, a full 200 fewer than Wimbush.
Again, Wimbush needs to improve as a passer, but moving him to a skill position away from center does not necessarily improve Notre Dame's passing game. Book is not a proven commodity.
Thus, the risk of Wimbush not fitting at running back or receiver, of Wimbush becoming upset over the move, and/or of Book's inexperience showing itself makes the concept of such a positional move an extremely flawed one.
One more note:
Again, today's thinking does not much include Jurkovec. This space will likely maintain skepticism a freshman will take the reins on day one of Kelly's ninth season, but if both Wimbush and Book fail to complete 50 percent of their passes in the Blue-Gold Game on April 21, perhaps that thinking will change.
2017 Statistically Speaking:
Wimbush: 1,870 yards on 136-for-275 passing with 16 touchdowns; 944 yards on 112 rushes with 14 touchdowns (sacks adjusted).
Book: 456 yards on 46-of-75 passing with four touchdowns; 207 yards on 37 rushes.
Notre Dame gets the letter: Phil Jurkovec
Spring Outlook: Notre Dame's running backs, as few of them as there are
Linebackers, a proven two and then many questions
Tight ends, a surplus of depth, unproven talent
Defensive line, a returning strength
Receivers, now without both St. Brown & Stepherson
Defensive backs, stellar cornerbacks and concerning safeties
Offensive line, a search for a fifth starter
As always, further reader questions are welcomed at insidetheirish@gmail.com.
[protected-iframe id="4322d87b3e2eb4d11caa19723fa3b36c-15933026-22035394" info="//platform.twitter.com/widgets.js" class="twitter-follow-button"]