Position changes? Check, highlighted by two offensive skill players adding to their descriptions without shedding their previous tags.
Strength and conditioning praise? Notre Dame head coach Brian Kelly offered that as well Monday, noting an emphasis on change of direction bursts.
Positive remarks about the early-enrolled freshmen? Kelly made it three in a row by describing linebacker Bo Bauer as a "tiger" in the weight room and picking out safety Houston Griffith's skillset as a possible standout this spring.
Obviously, the topic Kelly returned to most as he previewed Notre Dame's spring practice was that of the Irish quarterbacks. It will be a genuine competition between rising senior Brandon Wimbush and rising junior Ian Book, with Wimbush seeming to have the leg up simply because one or the other needs to take the first snap in the first practice.
"By virtue of a lot of the really good things that Brandon did last year, he'll go out with the first group," Kelly said. "But we all know Ian was integral in our last win against LSU, and he deserves an opportunity to compete as well."
It would not be an honest quarterback competition if Wimbush were to take a noted majority of the first-team snaps, so those will be split between him and Book, although that may be more by day than within each practice.
The odds are Kelly and Notre Dame offensive coordinator Chip Long will still be pondering both quarterbacks after the spring. For now, the focus will be on needed development.
"You always hope that one guy just says, I'm head and shoulders (above)," Kelly said. "If we have that situation, we're in pretty good position.
"It's more important that we do a really good job of developing both of the quarterbacks. … What I want to know is that our quarterbacks are equally adept at running it and throwing it, and that wasn't the case this year. We have to be equally adept, and that's really going to be the goal of the spring, more so than if one guy separates himself."
Notice the usage of both. Rising sophomore Avery Davis will still be a quarterback first and foremost, but he will see opportunities elsewhere moving forward. After a year spent on the scout team, spending another offseason watching Book and Wimbush compete would stifle Davis' development only further. Getting him some time at receiver or possibly on a kick return unit should help counteract that to a degree, and it could perhaps unearth an unexpected fit.
"We want to give him a chance to really continue to develop his skills at quarterback, but when he's not playing quarterback, we want to see what else he can do for us," Kelly said. "[Davis is] a very gifted player, and we may try to get him involved in opportunities where he touches the ball other than just in the quarterback position."
Davis' part-time move should serve to get him on the field, rather than simply bury him on the depth chart at another position.
"He's going to be a guy that definitely comes out on the field and helps us next year."
Rising sophomore receiver Jafar Armstrong will similarly add duties to his workload, but in Armstrong's case, it is a positional need forcing the issue, not the depth at receiver. The Irish need at least one more running back, and Armstrong will now cross-train there. Kelly compared the intended role to one once manned by Theo Riddick or CJ Prosise.
"[Armstrong is] going to be a guy that I think can touch the ball coming out of the backfield, but can also give us some work at the running back position," Kelly said.
Kelly did note the summer will see three more receivers arrive on campus, so while Armstrong may be somewhat needed for depth there right now, reinforcements are on the way.
Other positional changes of note
Rising junior Jamir Jones will move to drop end from linebacker. Kelly forecast the move last season as arguably inevitable as Jones' body continued to grow.
Rising sophomore Isaiah Robertson and rising junior D.J. Morgan will both move to linebacker from safety, presumably candidates at rover as Kelly confirmed fifth-year Drue Tranquill will move to a more traditional linebacker alignment.
Robertson gained 12 pounds from his weight entering the 2017 season, now at 207 pounds, while Morgan added 11 to get to 220, both signs of linebacker preparations.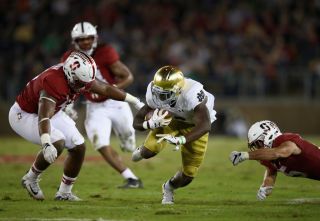 On Dexter Williams
One other impossible-to-ignore weight change would be rising senior running back Dexter Williams losing 12 pounds. That may be the effects of a second year listening to strength and conditioning coordinator Matt Balis, it could be renewed dedication to fitness, or it could simply be the positive result of Williams staying healthy.
"This year he's been healthy," Kelly said. "He's made really positive strides in his volume of work, his ability to sustain over a longer period of time. If there was one area where I really feel good about what he's been able to do is that he's broken through some barriers as it relates to his volume and his workload."
Three captains this morning
Kelly will announce three captains at practice this (Tuesday) morning. For the record-keeping of those in the predictions business: As a captain in 2017, Tranquill is a mortal-lock to be one again. Fifth-year center Sam Mustipher emerged as a leader last year, notable considering the two captains then already on the offensive line. Thus, Mustipher will likely join Tranquill.
From there, the likes of rising senior defensive tackle Jerry Tillery or rising junior cornerback Julian Love would seem the obvious candidates.
On 'Speed School'
Balis' winter workouts included what Kelly described as a "speed school." Whereas the NFL Combine's 40-yard dash is often lampooned as pointless and hardly a football activity for the majority of players, a quick 10-yard dash is pivotal to gridiron success, especially coming off a change in direction. Kelly and Balis identified 1.5 seconds as the mark to get under for a 10-yard dash off a change of direction.
Apparently, only rising junior cornerback Troy Pride could reach that when speed school started, not surprising considering Pride routinely picks up ACC honors in indoor sprints during the winter.
Now, seven others have joined Pride. Kelly relayed this while praising rising senior receiver Miles Boykin, identifying him as one of those seven.
Limited this spring
Early-enrolled freshman tight end George Takacs needed cartilage surgery, so he will be out this spring. Fifth-year tight end Nic Weishar and rising sophomore tight end Brock Wright will both be limited following shoulder surgeries this offseason, each likely in a non-contact jersey. Rising junior receiver Chase Claypool (shoulder) will have similar restrictions, as will fifth-year defensive tackle Jonathan Bonner as he recovers from wrist surgery, having played much of last year's end with a broken wrist.
[protected-iframe id="4322d87b3e2eb4d11caa19723fa3b36c-15933026-22035394" info="//platform.twitter.com/widgets.js" class="twitter-follow-button"]