Last week, Notre Dame head coach Brian Kelly named three captains for the 2018 season. He also said he would hold a team vote for a fourth captain by the end of spring practice. That naturally leads to some speculation as to who could prevail in that balloting.
Kelly indicated "six or seven" players were in the mix after the first tally this spring, the one that made captains out of fifth-years Drue Tranquill, Sam Mustipher and Tyler Newsome. Considering which seniors stand out as productive playmakers, which fifth-years were invited back to contribute and thus create a roster crunch, and who led the offseason "SWAT" teams, a few frontrunners emerge.
The Irish have long had multiple leaders along the offensive line, and fifth-year right guard Alex Bars could join Mustipher as a team-wide captain. Similarly, fifth-year tight end Nic Weishar returned despite not yet being a vital piece of the passing game — instead, Kelly has often cited Weishar's influence within the tight end group and the offense as a whole.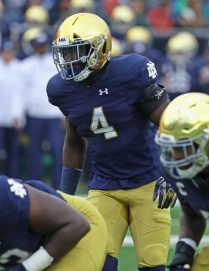 The returns of rising seniors Te'von Coney and Jerry Tillery, each opting to forgo the NFL draft, certainly made Notre Dame's defense a force to be reckoned with as far as paper is concerned. Usually, when a player up the middle comes off a strong junior season and opts to return, a captainship may soon follow, but both Coney and Tillery have faced disciplinary issues during their Irish careers. Such could jeopardize a captainship from an administrative standpoint, no matter how a player vote turns out.
Rising senior cornerback Nick Watkins is leading one of those spring SWAT units. Watkins may otherwise be off the possible captain radar, but that position of leadership has been an indicative piece of data the last two years. Exhibit A: Newsome led a group each of the last two years, bringing him to a more prominent role in the locker room than a punter may usually have.
Rising senior quarterback Brandon Wimbush heads a SWAT team, as well, as a co-leader with Weishar. Naming Wimbush a captain coming out of spring would create some level of expectation of him being the starting quarterback, something Kelly does not intend to establish before August, at the earliest. Of course, Wimbush's play, or rising junior Ian Book's subpar play, could force that issue before then.
That makes six candidates. Rising junior cornerback Julian Love (pictured above) could be a seventh. Love has comported himself well both on and off the field in his two years as a starter, and he may not be around to be a captain as a senior.
This is nothing but idle speculation, but it is spring break and the conversation is intriguing, at the least.
Mustipher on new o-line coach Jeff Quinn
The verdict on Quinn's promotion to fill the void left by Harry Hiestand will not be returned until November, at the earliest. Until then, the opinions of Mustipher and the rest of the offensive line are the best clues to Quinn's interactions with the offensive line. When asked about Quinn on Tuesday, there was no chance Mustipher would offer anything but praise, but some insight can be gained by what praise Mustipher provided.
"He brings a motivational and inspirational energy to the offensive line room," Mustipher said. "He understands the way the standard needs to be set."
That is pretty generic to start. Mustipher then spoke of the "privilege" of being part of the interview process, along with Bars. It would seem the two made it clear to Kelly they wanted not only consistency in message and system, but also some investment in that approach.
"We understand that standard of excellence," Mustipher said. "We wanted a guy that wanted to be here and wanted to coach, and that it meant a lot to him to be here."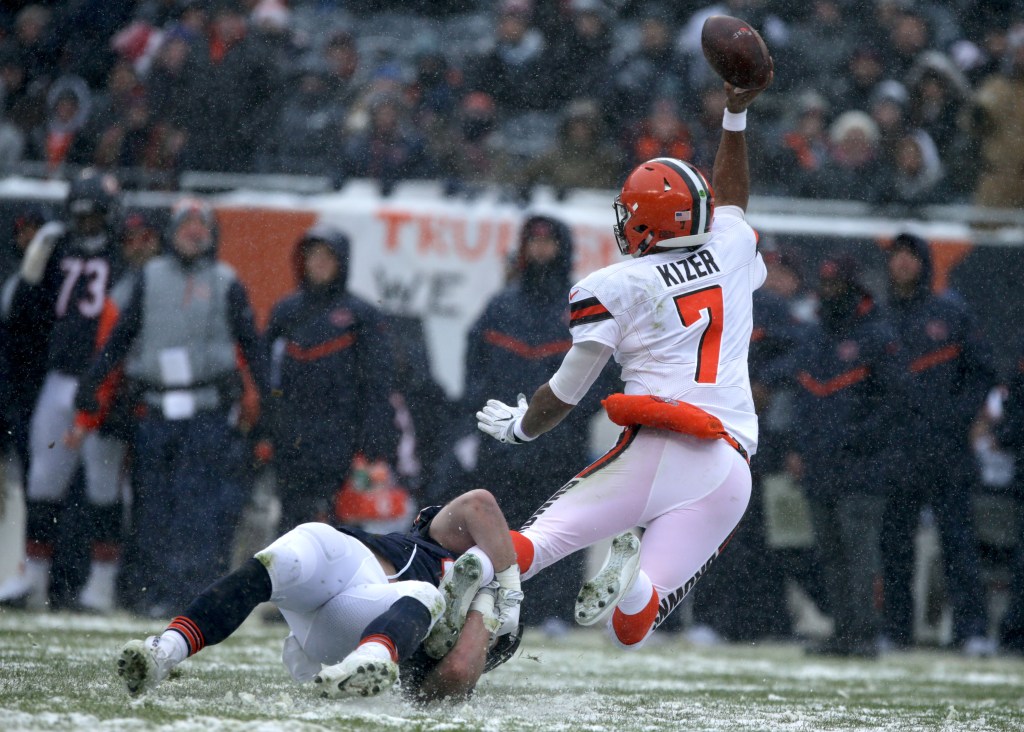 Kizer to the Green Bay Packers
Former Irish quarterback DeShone Kizer was traded to the Green Bay Packers from the Cleveland Browns on Friday for a cornerback, per the NFL Network's Ian Rapoport. Without a doubt, getting away from the Browns will be good for Kizer, but do not presume he will ever throw many passes on the shores of Lake Michigan.
In trading oft-injured cornerback Damarious Randall, the Packers not only received Kizer, but they also moved up in both the fourth- and fifth- rounds in next month's NFL draft. That alone may have been enough incentive to move on from a defensive back who publicly feuded with an assistant coach last season.
Securing a contract-controlled backup quarterback solidified the deal, and it is likely Kizer is never more than a backup for the Packers. Starting quarterback and future Hall of Famer Aaron Rodgers is only 34. He should have another four or five or even more years left in his career. Kizer's contract, meanwhile, expires after the 2020 season.
If he minds his manners, learns from Rodgers and makes a few cameos in the next three seasons, then perhaps an opportunity elsewhere will await Kizer. Knowing the NFL and its preference for the newest inventory, though, this may be a step toward a career as a backup for the 2017 second-round draft pick.
Kizer finished his rookie season with 2,894 yards, 11 touchdowns and 22 interceptions on 255-of-476 passing in 15 games. He added 419 rushing yards and five touchdowns on 77 attempts with nine fumbles sprinkled in.
(Off-topic, but near to the heart: Quarterback rushing statistics do not need to be adjusted for sacks in the NFL.)
Kudos to Oklahoma
With the Sunday night reveal of the NCAA men's basketball bracket, Oklahoma continued a rather impressive streak. The Sooners athletic department is the only one in the country that can claim AP Top-10 finishes in football and men's basketball tournament teams in each of the last two years. For that matter, Oklahoma actually managed the double in 2015, as well.
'Inside the Irish' March Madness Pool
Every online community has a bracket pool. On good days, this space is an online community. Thus, applying logic, it should have a bracket pool.
There is nothing at stake except for bragging rights and a chance to embarrass this scribe by finishing well ahead of him. What more could one possibly need?
For the sake of being different, the group will utilize a Fibonacci scoring sequence (2-3-5-8-13-21) with a seed-difference upset bonus throughout the Tournament.
At least with Notre Dame out of the bracket, the group's results will not be skewed by unrealistic Irish hopes.
Speaking of Notre Dame not making it …
The Irish did not have much of a résumé, injuries or no injuries. Looking at analytical measurements, though, Notre Dame appeared to have a much better chance than Syracuse, who squeezed in as the last at-large team. The Irish were the first team left out.
The differences between the two? Well, aside from Notre Dame winning at the Carrier Dome while without their two best players? The Irish have the nation's No. 28 offense when adjusted for efficiency, per Ken Pomeroy. The Orange have the No. 128 offense, offsetting it with the No. 11 adjusted defense.
It was indeed that difference that helped Syracuse to a 55-52 win over Clemson in its March 3 regular-season finale, a credentials-boosting victory the likes of which Notre Dame did not have.
INSIDE THE IRISH READING:
— Monday's Leftovers: Spring begins, a 2019 QB de-commits from Notre Dame & NFL Combine results
— Position changes, weight loss and quarterback questions welcome Notre Dame's spring
— Notre Dame names three captains: LB Drue Tranquill, C Sam Mustipher … and punter Tyler Newsome
— With two captains gone, only natural another pops up on Notre Dame's offensive line
— Tranquill's move to linebacker should benefit both him and Notre Dame

OUTSIDE READING:
— What a hospital stay sparked inside new Notre Dame captain Tyler Newsome
— Damonte Ranch's Cade McNamara de-commits from Notre Dame
— AG Lobo probe expands to football rape case

[protected-iframe id="4322d87b3e2eb4d11caa19723fa3b36c-15933026-22035394" info="//platform.twitter.com/widgets.js" class="twitter-follow-button"]