Notre Dame held two practices before spring break, both without pads. At the most, they set a base line, but much more should be learned in the coming month building up to the Blue-Gold Game on April 21.
Instinct, public opinion and headlines may presume the most-important thing to learn this spring focuses on the competition between rising senior Brandon Wimbush and rising junior Ian Book to be named starting quarterback. The fact of the matter, though, is that duel will almost assuredly extend well into the summer. It is thus not among the items to learn this spring.
Who will "start" at running back, however, may come into focus in the next five weeks. Whether rising senior Dexter Williams or rising junior Tony Jones gains an advantage over the other, both will receive plenty of carries in the fall.
For one thing, Josh Adams is no longer around to take 206 carries for 1,430 yards. If including the dismissals of Deon McIntosh and C.J. Holmes, 279 attempts for 1,831 yards and 14 touchdowns will need to be replaced from last season. That task begins with health, which neither Williams nor Jones had much of in 2017. Thus, the question of who takes the step forward has little previous evidence to provide an answer.
"Most people just see you on Saturday when you have your helmet on and shoulder pads, and wonder why isn't he in the game," Kelly said March 5 in discussing Williams. "Well, there's four other days leading up to it, and his inability to really practice and provide the kind of work necessary to get to Saturdays put him behind a little bit."
Kelly had similar thoughts regarding Jones, also acknowledging the first season of collegiate contact may have taken a toll on the then-sophomore.
"His strength in work volume is better than it was last year," Kelly said. "He wasn't healthy most of the season, as well. Stronger, he's got a coat of armor on him. His work volume is better.
"Finally, we recognize how important he is and we have to make sure he gets the proper touches within the offense."
Again, both Williams and Jones will have plenty of opportunities in the fall … if healthy. As much as this is a question of who gets more opportunities, perhaps it should be a wondering of who will stay healthiest, if either.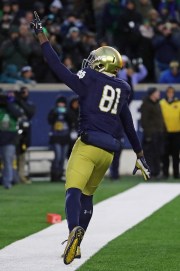 The Irish have to replace even more at receiver.
Notre Dame's receivers totaled 113 catches for 1,716 yards and 15 touchdowns in 2017. With all of Equanimeous St. Brown (to the NFL draft), Kevin Stepherson (repeated legal issues), Cam Smith (out of eligibility) and C.J. Sanders (outgoing transfer) gone, the Irish lost 61 receptions for 934 yards and 10 touchdowns of that productivity. To put it more aptly, that is 53.98 percent of the receivers' receptions, 54.43 percent of their yardage and exactly two-thirds of their scores.
That is, well, a lot.
With rising junior Chase Claypool only somewhat involved this spring due to shoulder surgery, even more of a vacuum awaits filling. Claypool leads the returnees with 29 catches for 402 yards and two touchdowns.
Enter rising seniors Miles Boykin and Chris Finke and rising sophomore Michael Young. With Kelly identifying Boykin as one of roster's quickest players in 10-yard bursts, then that trio is not only diverse in size but also a grouping of genuine speed.
Will they solidify their standing as the leaders at the position, along with Claypool, or will offensive coordinator Chip Long be desperate for the arrival of a trio of incoming freshmen this summer, not to mention early-enrolled freshman Micah Jones or finally-healthy rising junior Javon McKinley?
No production was lost at safety this offseason, but that is not inherently a good thing.
Someone will start at safety in the Blue-Gold Game. Perhaps it will be rising sophomore Jordan Genmark-Heath and fifth-year Nick Coleman. Maybe rising junior Alohi Gilman will confirm a year's worth of reviews this spring and earn the nod, joined by returning starter and rising junior Jalen Elliott.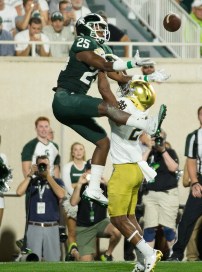 It will not be rising sophomore Isaiah Robertson after his move to rover. Removing him from contention is about the only piece of clarity at safety thus far, and that cloudy view may remain until late August, quite frankly.
Whoever starts at safety to close the spring will have pole position to maintain that honor when incoming freshman Derrik Allen arrives to present an additional challenge.
Of the three position groups discussed thus far, safety is truly the one with the most unknown. Early-enrolled freshman cornerback Houston Griffith could line up at safety on April 21 and it would not be all that much of a shock. It would simply mean the dismal play offered by last season's roster had not developed into something better.
Another early-enrolled freshman could be the answer to the question of, who will be the fourth linebacker?
Rising junior Jonathan Jones is likely the backup to both fifth-year linebacker Drue Tranquill and rising senior Te'von Coney. If injuries were to pillage the rover possibilities, Tranquill would then move back to his former position and Jones would step into Tranquill's place. And yes, Kelly confirmed Tranquill's move to a more traditional linebacker role.
"You can write that down and get used to it," Kelly said.
A number of other names could be plugged in where Jones' appears in that paragraph. Early-enrolled freshmen Jack Lamb and Bo Bauer could both surpass Jones. Lamb and Bauer were such-heralded recruits, a jump past Jones and sophomores Drew White and David Adams could be just a confirmation of those reviews, not necessarily an indictment of the upperclassmen's potential.
The final option, which would not be clear even if it came to be reality in the long-run, would be rising senior Asmar Bilal becoming the backup for both Tranquill and Coney despite also likely starting at rover. With similar logic to Tranquill possibly filling in for an injured rover, it could be determined relying on rising sophomore Jeremiah Owusu-Koromoah or Robertson at rover with Bilal filling in at linebacker would provide the best fix of a lineup.
These are the things spring practice is intended for. A year ago, the questions hinged on new coordinators and new schemes. Even with the departure of Mike Elko to Texas A&M, the promotion of linebackers coach Clark Lea to defensive coordinator ensured consistency in scheme and message. Thus, the questions this spring hinge on a few positions, most notably these four.
Along with … How will Notre Dame's offensive line fill the holes left by two first-round draft picks? and Who will replace Tranquill at rover with the captain now moving to linebacker?
DON'T FORGET ABOUT MARCH MADNESS
In an effort to foster fun and competition and out of a societal need to have as many bracket groups as possible …
There is nothing at stake except for bragging rights and a chance to embarrass this scribe by finishing well ahead of him. What more could one possibly need?
[protected-iframe id="4322d87b3e2eb4d11caa19723fa3b36c-15933026-22035394" info="//platform.twitter.com/widgets.js" class="twitter-follow-button"]